It's cold here in Austin, so this morning I cranked the oven up to 500F and baked a batch of biscuits from Callie's Biscuits and Southern Traditions: Heirloom Recipes from Our Family Kitchen
.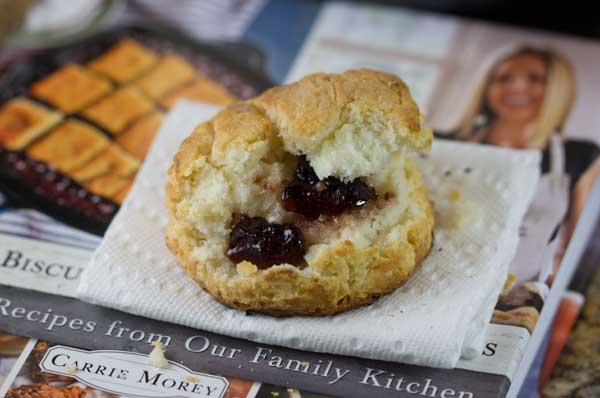 What a fun book! I received a copy from my friends at White Lily Flour who love the fact that Carrie makes her mother Callie's famous biscuits with their product. White Lily, which is made with a lower protein soft wheat, gives you the most tender, flaky, biscuits imaginable. It's also perfect for cakes and muffins.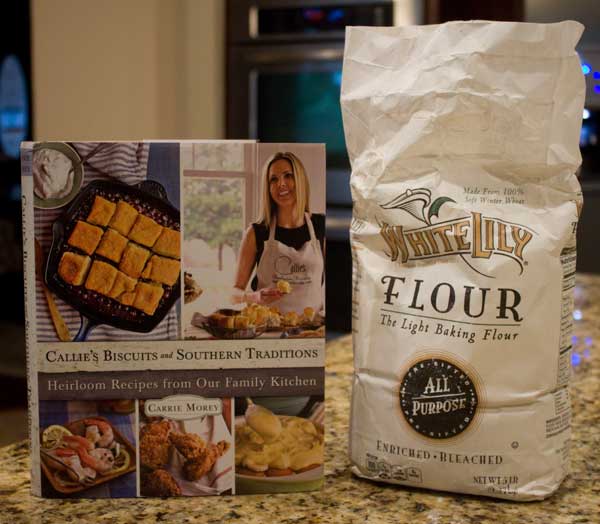 If you live in one of the Southern states, chances are you already have White Lily in the pantry.  Here in Texas, I can find it at Central Market, but what I usually do is just order a couple of bags on-line and keep them in the freezer.  It's nice to have it around, plus I have found tons of ways to use it on White Lily's website.
Now it's your turn! White Lily would like to give one USA based reader a sample of their flour and a copy of Carrie's book. Just leave a comment saying what you put on your biscuit. I will pick one comment at random on Wednesday morning and notify the commenter that afternoon. Good luck!
Callie's Hot Little Biscuit
The giveaway is over, but the recipe from Carrie Morey's cookbook is still here for you to try.
Recipe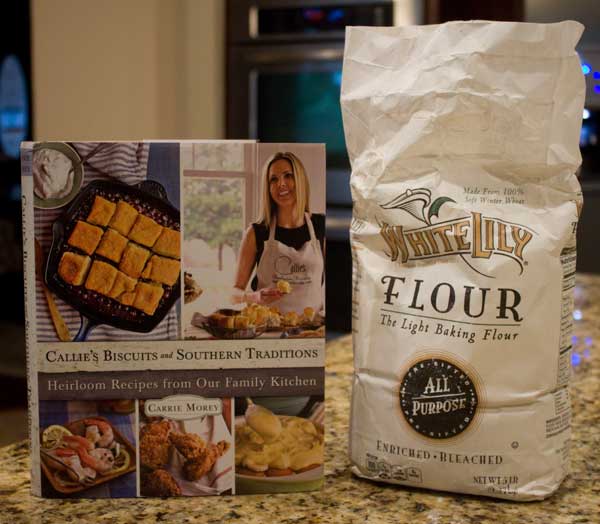 Callie's Biscuits and White Lily Giveaway
Callie's Classic Buttermilk Biscuits
Ingredients 
2

cups

self-rising flour, White Lily preferred, plus more for dusting

260 grams plus

4

tablespoons

cold butter, unsalted or salted

(56 grams)

¼

cup

room temperature cream cheese

(56 grams)

¾

cup

whole buttermilk

(170 grams)

1

tablespoon

of melted butter

(14 grams)
Instructions 
Adjust rack to the center of the oven and preheat to 500 degrees F.

Measure the flour into a large mixing bowl. Add the cubed butter and cream cheese to the flour using your fingers to "cut" it in. It should resemble cottage cheese – chunky and with some loose flour.

Make a well in the center. Pour in the buttermilk and, using your hands or a small rubber spatula, mix the flour into the buttermilk. The dough will be wet and messy.

Sprinkle flour on the top of the dough. Run a rubber spatula around the inside of the bowl creating a space between the dough and the bowl. Sprinkle a bit more flour in the crease. Flour a work surface or flexible baking mat very well. With force, dump the dough from the bowl onto the surface. Flour the top of the dough and the rolling pin. Roll out the dough to ½ inch thick in an oval shape. No kneading is necessary – the less you mess with the dough the better.

Flour a 2 inch round metal biscuit cutter. Start from the edge of the rolled out dough and punch out as many rounds as you can. You should get from 10 to 12 depending on the true size of your biscuit cutter.

Put the biscuits in a cast-iron skillet or on a heavy duty baking sheet and brush tops with butter.

Put biscuits in the oven and immediately reduce heat to 450 degrees F. Bake for 16 to 18 minutes or until golden.
Notes
To substitute all-purpose flour, add 1 tablespoon of baking powder and 1 teaspoon of salt to the 2 cups of flour. Stir well and use as directed.