White Chocolate Cookie Butter Pretzels are an easy treat I came up with years ago while on a chocolate covered pretzel kick. Chocolate Covered Peanut Butter Filled Pretzels came first and were soon followed by Caramel Filled Pretzels. At some point I acquired some Biscoff brand cookie butter, and along came these sweet & salty treats.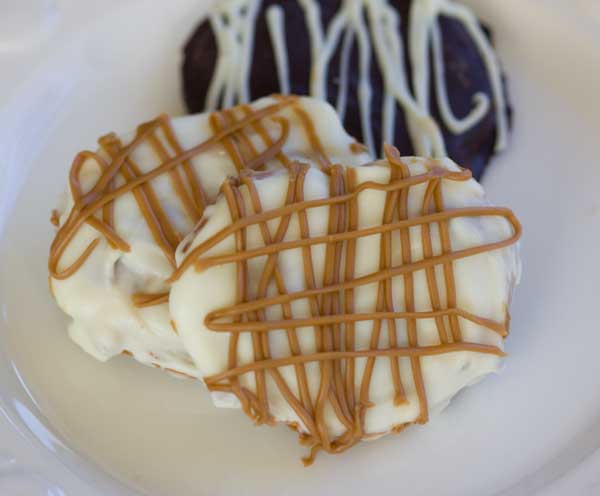 White Chocolate Cookie Butter Pretzels
Below is the technique for making them. I didn't give an exact yield because you can make as many or as few as you want. I usually make about three at a time because I mainly make them for myself, but you may need more if you are not the only salty/sweet craving monster in your house.
Finally, here's a link to Biscoff. If you can't find any, you can use another brand of cookie butter.
Recipe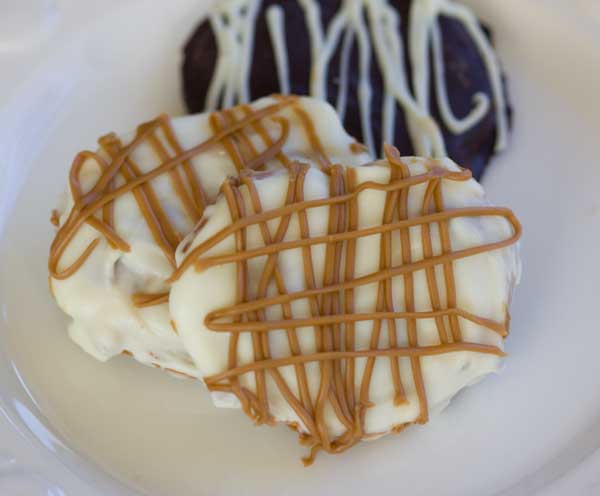 White Chocolate Cookie Butter Pretzels
A very satisfying candy made with pretzels, Biscoff spread and white melting chocolate.
Ingredients 
Large or Small Pretzels

Biscoff Spread

Ghirardelli White Chocolate Wafers or your favorite white coating
Instructions 
Cover a tray with parchment paper. Place however many pretzels you'd like to make on the parchment.

Melt some white wafers and drizzle white chocolate in the loops, gently brushing the white chocolate so it comes up against the sides of the pretzel. You are making the bottoms at this point, so don't fill the loops completely with white chocolate.

Set the chocolate by putting it in the refrigerator. When set, spoon little bits of Biscoff spread in the loops. Melt more white chocolate wafers and drizzle over pretzels, covering the filling and sides. Let set. At this point they still look kind of messy, so it's time for a drizzle.

Put a little Biscoff in an empty decorator bag or heavy duty freezer bag. Snip off the tip (or corner) and squeeze lines of Biscoff over the pretzel. That's all there is to it! You can store these in the freezer, refrigerator or at room temperature.