After a family taste test of the new Candy Corn Oreos, we've concluded they taste like cake batter. As for the Halloween bark, it really was delicious, but I dropped the whole batch on the floor and had to toss it out.  Luckily, it was a small batch.  So moving on.  Here's a brand new recipe for Pretzel Caramel Shortbread Bars.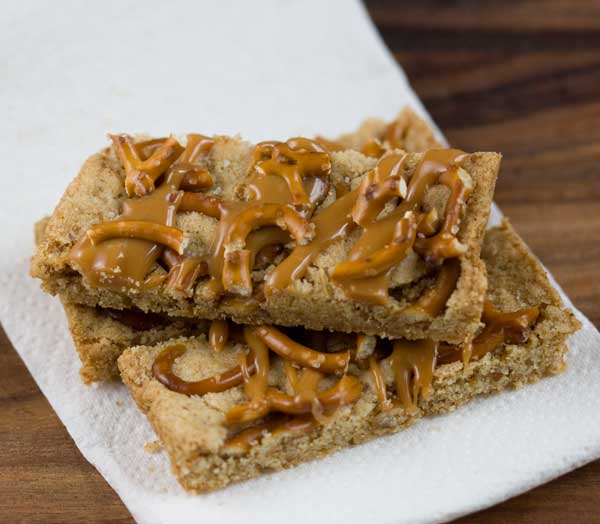 Pretzel Caramel Shortbread Sweet & Salty
This new recipe also falls into the sweet & salty category, but it does not involve any Oreos. Instead, a thin layer of pretzel infused shortbread is topped with more pretzels and a drizzle of melted caramel. The original recipe was given to me by a friend who found it on Martha Stewart, but I made a  few changes including adjusting the pan size (Martha uses an odd size tart pan), adding a little vanilla, and adding a drizzle of caramel.  These were SO good, and perfect for fall -- especially with the caramel drizzle. 
The only drawback to this recipe is it only makes an 8-inch square pan, and you may need to double it.  If you do, I'd suggest using two 8-inch pans instead of a 9x13 so that you get more edge pieces.
Recipe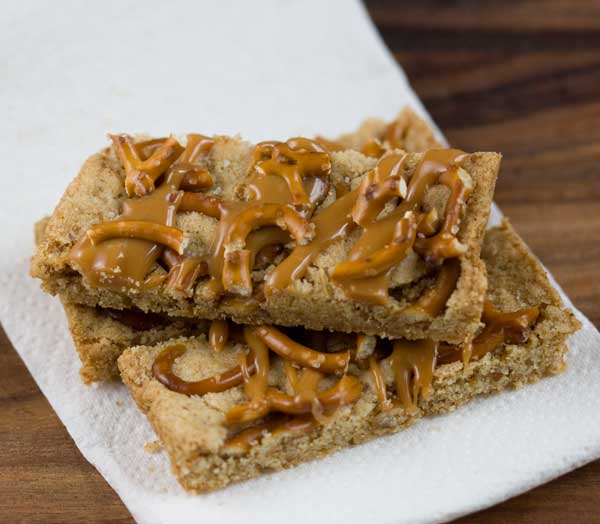 Pretzel Caramel Shortbread Bars
Shortbread topped with pretzels and caramel.
Ingredients 
3 ¼

cups

salted miniature twist pretzels

plus a few more for garnish

½

cup

all-purpose flour

½

teaspoon

baking powder

1

stick

4 ounces unsalted butter, softened

½

cup

granulated sugar

½

teaspoon

vanilla extract

1

large egg yolk

⅓

cup

caramel bits

or 3 ounces of unwrapped caramel

½

tablespoon

milk
Instructions 
Preheat oven to 325 degrees. Line an 8 inch square metal pan with nonstick foil or line with regular foil and spray with cooking spray.

Pulse 1 ¾ cups pretzels in a food processor until powdery. Measure out ½ cup and put in a small bowl. Stir in the flour and baking powder.

Transfer remaining 1 ½ cups pretzels to food processor, and pulse a few times until coarsely chopped.

In a mixing bowl using an electric mixer, beat butter and sugar until pale and fluffy. Reduce speed to low, and beat in vanilla and egg yolk. Add the pretzel-flour mixture and stir until combined. Mix in about ½ cup chopped pretzels.

Press dough evenly into pan and press about ½ cup of the broken pretzels on top.

Bake shortbread on center rack for 25 to 30 minutes or until browned around edges and set in center. Transfer pan to a wire rack, and let shortbread cool for about an hour.

Meanwhile, microwave the caramel bits with the milk on high for about 25 seconds. Stir well and quickly drizzle melted caramels over bars (it's okay if they are still warm at this point). Break up a few more pretzels and press pretzel pieces over caramel drizzle. Let the bars continue to sit until bars are completely cool and caramel has set.

Grasp foil and lift bars from pan. Set on a cutting board, and with a chef's knife, cut into 8 bars.