If you've been wondering what happens when you put potato flakes in your kolache dough, here's the answer!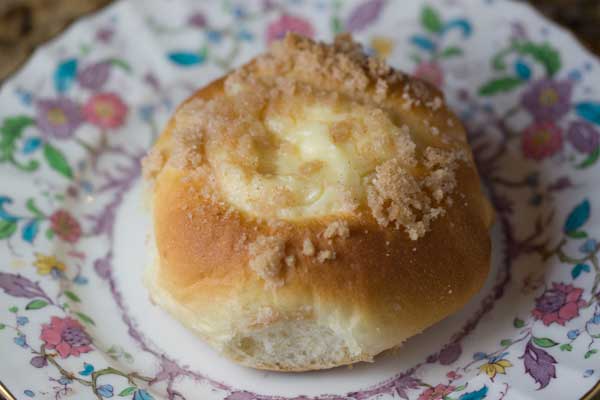 Potato Flakes in the Dough
This might be my favorite kolache recipe yet. Or maybe it's a tie with the Sour Cream Kolache. The sour cream version has a little bit of extra flavor, while the potato dough has a more doughnut-like texture and rose a tiny bit higher. I followed the same procedure for this recipe as I did all the others, which is to mix the dry ingredients with the instant yeast, add 130 degree water, then add remaining flour until dough is soft and sticky.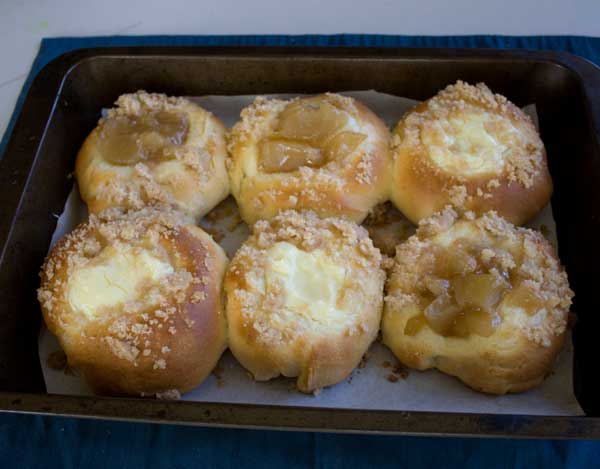 Stand Mixer
I honestly don't know what I'd do without my stand mixer and dough hook attachment, because up until the time I started using a dough hook I could never get the dough quite elastic end stretchy enough. The hook takes a slightly sticky dough and magically transforms it, whereas when doing it by hand, I'd get frustrated with the sticky feeling and use more flour thus creating a dryer dough. So if you're looking for an excuse to buy or just pull out the stand mixer, it's the dough hook. It's possible the dough hook will change your bread baking life.
Finally, here's the recipe!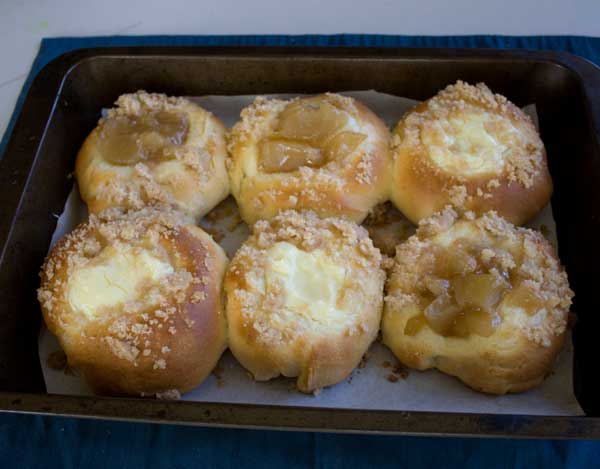 Kolaches Made With Potato Flakes
Soft dough kolaches made with potato flakes and filled with cream cheese filling.
Ingredients 
3/4

cup

whole milk

4

tablespoons

unsalted butter

cut into small chunks

2 1/3 to 2 2/3

cup

bread flour

12 oz

1

teaspoon

kosher salt or table salt

1/4

cup

granulated sugar

A packet

2 1/4 tsp Platinum Red Star instant yeast

1

large egg

3

tablespoons

Hungry Jack potato flakes

Melted Butter for brushing

See Filling and Crumb recipes in notes
Instructions 
Put the milk and butter in a large saucepan or 2 cup Pyrex type microwave-safe measuring cup and heat until it just begins to boil. Remove from heat (or microwave) stick a thermometer in it. Let cool to 130 degrees.

Meanwhile, combine only 2 cups of the flour, salt, sugar, yeast and potato flakes in a mixing bowl – preferably a stand mixer bowl so you can use the dough hook. Add the milk mixture and stir until blended, then add the egg and stir until well blended.

Add another 1/3 cup of flour – dough should still be a little sticky, but not wet. Start kneading with the dough hook. If a lot of the dough still sticks to the sides of the bowl as you start to knead, continue adding flour a few tablespoons at a time. If you weighed your flour, you will probably use the entire 2 2/3 cup (12 oz) of flour. If you are a heavy handed scooper who doesn't weigh, you may need only the 2 1/3 cup. Knead until dough is smooth and elastic. It should be easy to handle at this point.

Transfer to a greased bowl and let it pick up some of the butter/oil from the bowl, then flip it so you have a nice, greasy, ball. Cover and let rise for 1 hour or until doubled in bulk.

Punch down! Pull off egg size chunks, smooth them into balls and arrange them a little over an 1 inch apart in two 9×13 pans that you've lined with parchment. You can also use baking sheets, but I find pans easier to cover. Brush generously with more melted butter and cover pan with plastic wrap. Let rise for one hour.

Make indentations in the buns and fill with cheese mixture or fruit pie filling.Sprinkle with crumb mixture.

Bake at 375 degrees F for about 15 minutes or until golden brown.
Notes
For fillings, use canned fruit pie fillings or make your own. For cheese filling, beat together 8 oz cream cheese and1/4 cup granulated sugar. Add an egg yolk and half teaspoon of vanilla plus a little lemon zest if desired.
For crumb mixture, combine 1/3 cup sugar with 2 ½ tablespoons of flour and ¼ teaspoon of cinnamon. Stir in 4 teaspoons of melted butter until crumbly.
Makes 10 to 12