Do you like making doughnuts but not the frying part? Are you a fan of cream cheese and fruit fillings? If that's a yes, you should be making kolaches right now! They are so fun. And if you've never made kolaches, here is a small batch kolache recipe to get you started.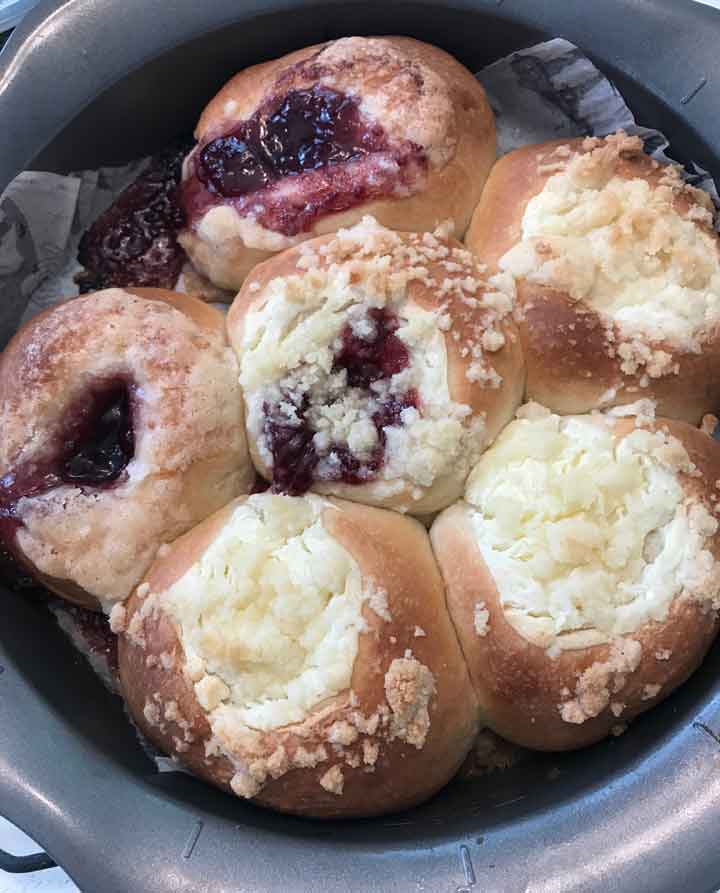 Mrs. Jerabek's Kolaches
This recipe is adapted from one called Mrs. Jerabek's Kolaches. Known as "reliable", Mrs. Jerabek's recipe calls for shortening or margarine and an egg yolk instead of a full egg.  They are very soft and are the closest to the ones we used to buy in La Grange.  I've always suspected margarine makes kolaches softer or at least creates a softer crust, and I still think that's true based on some experiments with Country Crock Plant Butter vs regular butter.  Both versions are great, but the kolaches made with the Country Crock had a softer crumb and thinner crust.  Here's a photo.  The margarine kolache is on the left and the butter kolache is on the right.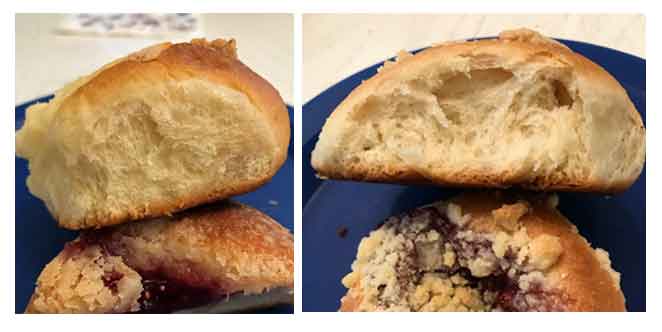 I was happy with both and might even try the shortening version for fun. I hate to say it, but these are better than my older one -- Soft and Fluffy Kolaches.
Kolache Filling
For the cream cheese filling, I always use the same recipe which just so happens to call for ½ an egg yolk, which you'll have leftover from the bread. And to keep things from being to homogeneous, I make half the kolaches cream cheese and the other half with cream cheese and (or just) fruit filling. For the fruit filling canned pastry or pie filling is best because it is heavier and won't bubble up so much, but preserves are more convenient. I use preserves and just make deep indentations so they don't bubble up so much.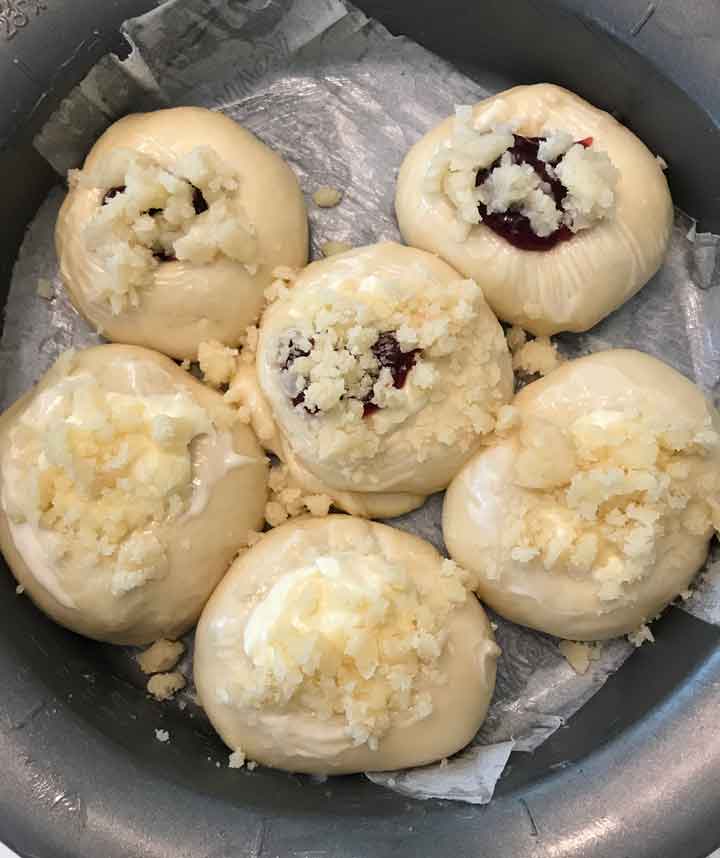 Too Small a Batch?
This may be too small a batch, so if everyone ends up doubling it I'll double it too. The small batches work best for us because we always have so many sweets around. Hopefully some of you will find this useful. I was also thinking this batch might be a good way to experiment with savory kolaches. The dough for the small batch kolaches is not that sweet to begin with so you could probably cut 1 tablespoon of sugar only and wrap the dough around sausage and cheese. I'll update when I try this.
Recipe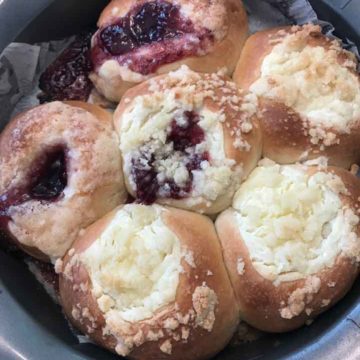 Small Batch Kolache Recipe
An easy recipe that makes 6 kolaches.
Equipment
Stand mixer with dough hook
Ingredients 
3

tablespoons

Country Crock Plant Butter or butter

42 grams

3

tablespoons

sugar

40 grams

½

of an egg yolk

save other half for filling

½

teaspoon

salt

scant**

3 to 4

oz

hot milk

warmed to about 130 degrees

1 ½

cups

all-purpose flour

190 grams

1 ⅛

teaspoons

fast rising yeast

half a packet

⅛

teaspoon

vanilla
Crumble Topping
1

tablespoon

melted butter

2

tablespoons

sugar

3

tablespoons

flour
Cream Cheese Filling
4

oz

cream cheese

softened

2

tablespoons

sugar

½

egg yolk

1

pinch

lemon zest

⅛

teaspoon

vanilla extract
Instructions 
In the bowl of a stand mixer, mix together the plant butter (or butter) and the sugar. Add yolk and salt and mix well. Add flour and yeast. Mix well then add ¼ cup (2 oz) of the warm milk to make what should be a pretty dry dough. Add another 2 tablespoons of milk (1 oz). It should be kind of sticky. If it is still very dry for some reason, add the remaining 2 tablespoons of milk. So far I've only had to use 3 oz of milk total.

Attach dough hook to machine and begin kneading. Dough should go from sticky to smooth and should clear the sides of the mixer while clinging to the bottom. Stop and loosen dough to check elasticity, then continue kneading. This usually takes about 4 to 5 minutes, but it depends on your mixer. The dough should feel really smooth and easy to work with.

Cover the bowl and let rise in a warm place for one hour. You can leave it in the bowl or you can do what I do and shove it in a greased 2 cup Pyrex liquid measure. That way you can really see how much it rises. Most likely it will not double, but rise about 75%.

Make the Cream Cheese Filling and the Crumble while the dough is rising. To make the cream cheese filling, beat together cream cheese and sugar, then beat in remaining half egg yolk, lemon and vanilla until smooth. To make the Crumble, melt the butter and mix it with the sugar. Stir in the flour and mix until crumbly. Set aside.

Divide dough into 6 pieces and shape into balls. Place in a greased 9 inch square or round pan about 1 inch apart. Cover loosely with plastic wrap and let rise for another hour. Make a deep indentation in each piece and fill with cream cheese mixture or preserves or a little of both. Using a pastry brush, brush with melted butter or plant butter.

Sprinkle with topping and bake in a preheated 375 degree oven for about 25 minutes. Let cool for about 20 minutes before serving. To freeze, let cool completely and seal tightly in a freezer bag. To reheat, wrap really loosely in foil and heat at 350 in a toaster oven or until warmed.
Notes
If you use salted butter or margarine, feel free to cut down on the salt a little bit.  Or not!  The salt from the margarine (or butter, if you use salted) doesn't make the recipe too salty.