One of my favorite forms of aromatherapy is going to Dunkin' Donuts and taking in the sweet smell of glazed, chocolate, jelly donuts and coffee all at once. It's kind of a luxury since our Dunkin' Donut shop is on the other side of town, but I have what may be the next best thing: The NEW Bakery Series™ coffee collection from Dunkin' Donuts® packaged coffees.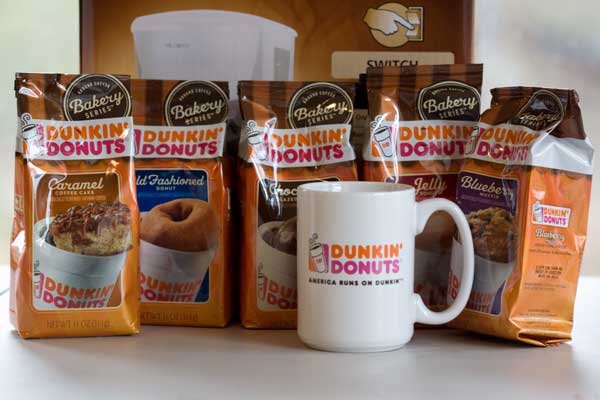 Yesterday I brewed up a mug of the "Old Fashioned Glazed Donut" flavor and pretended we were on a road trip and that we'd just walked into a Dunkin' Donuts.  The kitchen didn't smell quite like the shop, but it was definitely pleasant, and I enjoyed the "Old Fashioned Donut" flavored coffee. It had kind of a nutty, vanilla, cinnamon kick, but was pretty natural tasting as far as flavored coffee goes.  I'll keep you posted on how the other flavors taste, but for now I am giving some away! Courtesy of Dunkin' Donuts packaged coffees, one reader will receive the following:
• Dunkin' Donuts Bakery Series Coffee (1 each): Chocolate Glazed Donut, Jelly Donut, Old Fashioned Donut, Blueberry Muffin and Caramel Coffee Cake coffee flavors
• Dunkin' Donuts coffee mug AND a Mr. Coffee coffee pot
• Hungry Girl's Turtle Donut Blended Coffee recipe to sample and share
• $250 Visa Gift Card to purchase assortment of items to prepare and enjoy Dunkin' Donuts coffee (i.e. more Dunkin' Donuts coffee, recipe ingredients, coffee cups)
For a chance at being the lucky recipient of the following goodies, leave me a comment telling me your favorite flavor of donut or pastry.
Please leave the comment by midnight on Thursday, March 6, 2014.  I will pick a comment at random on Friday morning and will notify that person.  Good luck!  And thank you for reading Cookie Madness. P.S. It would be great if you could like my Facebook Page since I'm actually starting to update it these days. But don't worry — you are still eligible for the contest even if you don't.
Disclosure: In exchange for reviewing and posting, I was given an identical sample pack.  All opinions expressed are my own.