These days I really like the New York Times chocolate chip cookie recipe. It's consistently good, and I usually have both cake and bread flour around and don't mind using both. However, I still like trying new chocolate chip cookie recipes and a friend recently sent me a link to another good one.  It's the Serious Eats Chocolate Chip Cookie Recipe.  And not only does the link include a recipe, but a very informative article called The Science Behind Chocolate Chip Cookies by Kenji Lopez-Alt.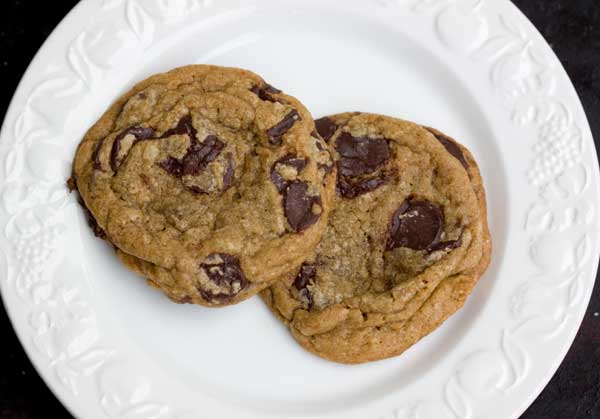 Kenji's post is worth reading for the chemistry alone. He breaks down every step of the chocolate chip cooking baking process and explains why he made certain choices as he developed the recipe. And his choices were interesting. Also, rather than just throw in an unusual ingredient or play with ratios, he came up with a few more innovative techniques for mixing and browning the butter.
I made the Serious Eats Chocolate Chip Cookie dough day before yesterday, let it sit for 24 hours, then baked a batch yesterday and another today. The cookies in the photo are from the first round, which I baked at 325 as indicated. I made a second batch that came out slightly thicker, but the second batch was also darker brown in color, so I had to choose between thinner and lighter or fatter and darker. I'm sure there's a happy medium, so I'll find that when I bake more of these in the future! They have a wonderful flavor, so there will definitely be a next time. And soon.
For more opinions on the recipe, check out this thread on Chowhound. And here's a link to the recipe itself in case you missed the link on Serious Eats.
Recipe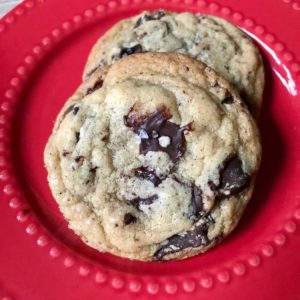 Browned Butter Chocolate Chip Cookies
Adapted from Serious Eats
Ingredients 
230

grams

unsalted butter

(2 sticks)

28

grams

ice cube

280

grams

unbleached all-purpose flour, KA or a higher protein

1

teaspoon

table salt

¾

teaspoon

baking soda

2

large

eggs

140

grams

granulated sugar

2

teaspoons

vanilla extract

140

grams

packed dark brown sugar (I use half light and half dark)

230

grams

chopped dark chocolate or bittersweet chips
Instructions 
Brown the butter in a large saucepan. Remove pan from heat and stir in the ice cube until it melts. Scrape into a smaller bowl and let cool for at least a half hour or until it is sludgy and no longer liquid.

While the butter is cooling, weigh out your flour and mix with the baking soda and salt. set aside.

In the bowl of a stand mixer with the whisk attached, beat the eggs and granulated sugar for about 2 minutes or until light. Add the vanilla and continue beating for 3 more minutes or until mixture falls off the whisk attachment in ribbons.

Switch to the paddle attachment and beat in the cooled brown butter and the brown sugar. Beat just until blended, then add the flour mixture and beat on low speed until mixed in. Stir in the chocolate.

Scrape dough into an air tight container and allow it to chill overnight or for up to three days.

When thick enough to shape, shape into 24 to 28 equal portions

Preheat oven to 325 degrees F. Place on parchment lined baking sheets, 2 inches apart and bake one sheet at a time for 13 to 16 minutes or until golden brown around the edges.