These days I really like the New York Times chocolate chip cookie recipe. It's consistently good, and I usually have both cake and bread flour around and don't mind using both. However, I still like trying new chocolate chip cookie recipes and a friend recently sent me a link to another good one.  It's the Serious Eats Chocolate Chip Cookie Recipe.  And not only does the link include a recipe, but a very informative article called The Science Behind Chocolate Chip Cookies by Kenji Lopez-Alt.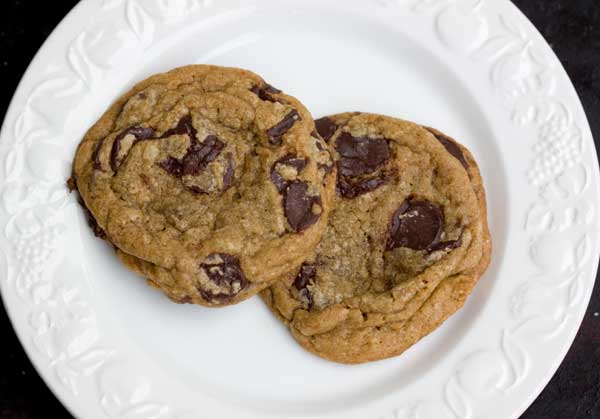 Kenji's post is worth reading for the chemistry alone. He breaks down every step of the chocolate chip cooking baking process and explains why he made certain choices as he developed the recipe. And his choices were interesting. Also, rather than just throw in an unusual ingredient or play with ratios, he came up with a few more innovative techniques for mixing and browning the butter.
I made the Serious Eats Chocolate Chip Cookie dough day before yesterday, let it sit for 24 hours, then baked a batch yesterday and another today. The cookies in the photo are from the first round, which I baked at 325 as indicated. I made a second batch that came out slightly thicker, but the second batch was also darker brown in color, so I had to choose between thinner and lighter or fatter and darker. I'm sure there's a happy medium, so I'll find that when I bake more of these in the future! They have a wonderful flavor, so there will definitely be a next time. And soon.
For more opinions on the recipe, check out this thread on Chowhound. And here's a link to the recipe itself in case you missed the link on Serious Eats.