Our neighbors held their annual Kentucky Derby party last weekend, and as usual they served the famous bourbon chocolate walnut pie named after the race. We weren't able to stick around for dessert, so I made up for it by baking the pie yesterday.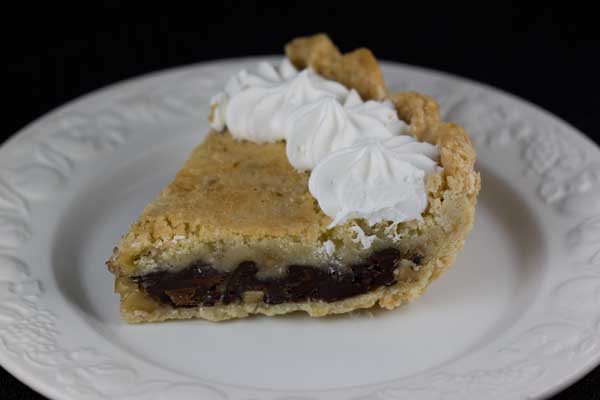 If you do a search you'll see there are many versions of the top secret recipe for the famously trademarked pie. Some versions incorporate one, two or all of the following: brown sugar, brown butter, corn syrup and cornstarch and some even use pecans instead of walnuts. I decided to start with a basic recipe that calls for a fairly common ratio of 1 cup of walnuts, 1 cup of sugar (no brown), 2 eggs, 1/2 cup of melted butter and a little over a cup of chocolate chips. I made it as written, but toasted the nuts and par-baked the pie shell since 40 minutes didn't seem quite long enough. I'm not positive the par-baking was necessary, but it certainly didn't hurt.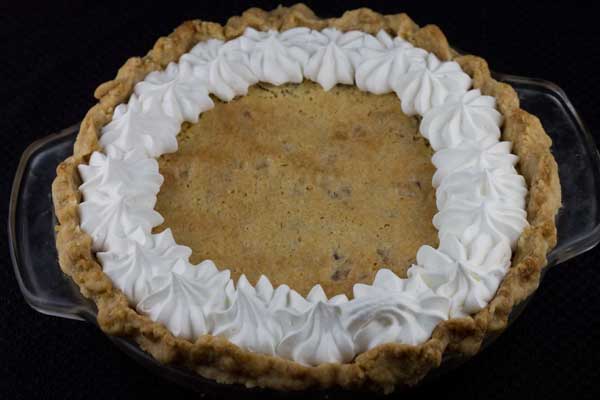 At first I thought the pie might be too much like the popular Toll House Pie, which is not among my favorites, despite the fact I love chocolate chip cookies. That pie, in my opinion, is a little too sweet and gooey.
But this pie was delicious and sliced perfectly after being cooled and chilled. Some people might prefer it warm, but I don't like gooey desserts that ooze all over when sliced, so I let the pie cool, chilled it long enough to solidify the chocolate, cut it, and served it at room temperature. It was similar to the Toll House Pie, but less rich and greasy. And then, of course, there's the bourbon! It's not very strong, so you may want to serve a little on the side. I usually serve Blanton's, but we were out so I tried a brand called Lexington, which was pretty good (and had a cute horse on the front).
As for the chocolate, if you chill the pie and eat it right out of the refrigerator it will be like putting your fork in a blondie. Personally, I kind of like that because it make the pie last longer, but I suppose most people will prefer serving the pie at cool room temperature because it's softer and easier to eat.
Finally, I did get around to asking my neighbor what recipe she used and she said the one from allrecipes.com, which if you made 2/3 of would have almost the same proportions as this pie, but with a mix of brown and light sugar and more butter. I may try that one for fun, but I think I liked this one the best because it was less buttery. I also think I'll skip any versions with brown sugar and brown butter because that almost seems like overkill and I'm tired of browned butter.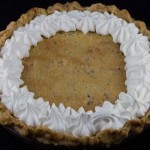 Print Recipe
Kentucky Race Day Bourbon Chocolate Walnut Pie
Kentucky Race Day Pie
Ingredients
1

cup

walnuts

1

stick

4 oz unsalted butter

1/2

cup

all-purpose flour

1

cup

of granulated sugar

1/4

scant teaspoon salt

omit if using salted butter

2

large eggs

lightly beaten

2

tablespoons

bourbon

1

teaspoon

vanilla extract

1 1/4

cup

bittersweet chocolate chips

Ghirardelli

9

inch

unbaked pie crust

homemade or refrigerated** I used a deep dish and had extra room.
Instructions
Preheat oven to 350 degrees F.

Lay the walnuts on a rimmed baking sheet and bake for 8 minutes. Let cool, then chop.

While the walnuts are toasting, melt half of the stick of butter. Chop up remaining stick and stir it into the hot butter until completely melted. Let cool completely.

In a large mixing bowl, stir together the flour, sugar and salt. Add the lightly beaten eggs and stir well, then stir in the melted cooled butter, bourbon and vanilla.

Spread toasted walnuts and chocolate chips across bottom of partially baked pie crust, then pour filling over the top and spread to the edges. Set pie on a rimmed baking sheet and bake for 40 to 45 minutes or until it appears set. Let it cool completely.

Garnish with whipped topping or whipped cream before serving.
Notes
To partially bake refrigerated pie dough, line dish, cover with foil, weigh down with pie weights and bake at 375 for 10 to 12 minutes. If you'd prefer homemade dough, use that.. I used the following recipe: 1 ½ cups flour (210 grams), ½ teaspoon salt, 1 tablespoon sugar, 10 tablespoons (120 grams) shortening, 2 tablespoons lightly beaten egg, ½ tablespoon vinegar, and about 1 tablespoon of ice water. Mix the flour, salt and sugar in a bowl. Cut in the shortening until crumbly. Stir in egg and vinegar, then add enough water to moisten dough. Shape into a ball. Chill for 30 minutes. Between two sheets of parchment or wax paper, roll into a large circle (about 13 inches). Peel off top parchment and carefully invert over pie dish. Press into dish to line it, then carefully peel away paper. alternatively, you can just roll the dough out onto a floured surface, lift it and line the dish.