This version of the famous Kentucky Derby day pie is from my friend Judy, who is famous for her Kentucky Derby parties. We used to go every year back when we lived in Austin. But then we moved to Chicago (and then Raleigh) and Judy moved back to her home town of Louisville. I hope to see her again now that we've both settled in Southern states, but for now I at least have her pie recipe.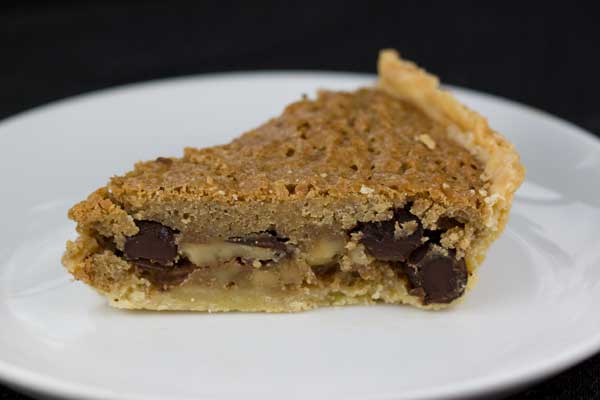 Kentucky Derby Dessert
Judy told me early on that hers is based on one called "My Kentucky Derby Dessert" from Allrecipes.com, and that she likes it even though it overflows from the pan. I couldn't deal with the overflowing issues, so I made my own version by scaling it down and omitting the oil.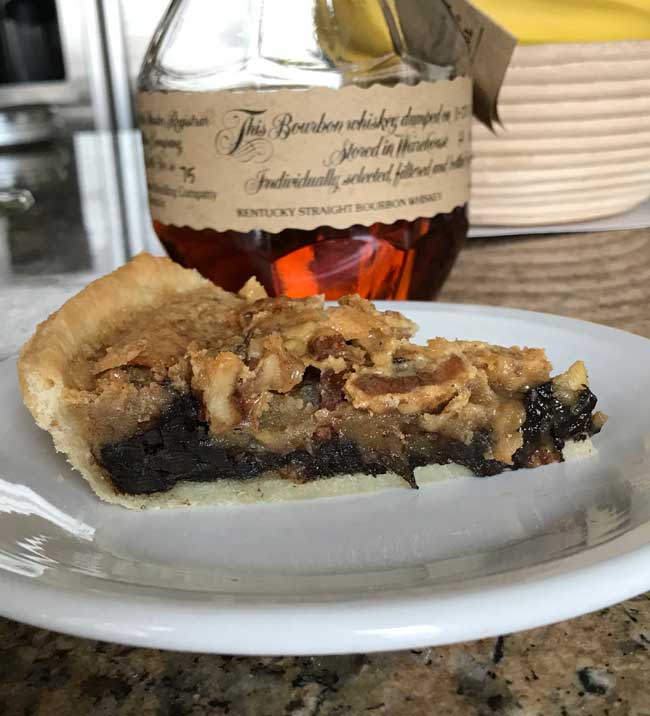 I really need to take a photo with a prettier crust, but looks aside this is a delicious pie. What makes it different from some of the other more basic race day pies, aside from not having any corn syrup, is that it has more brown sugar and more butter, making it a little richer.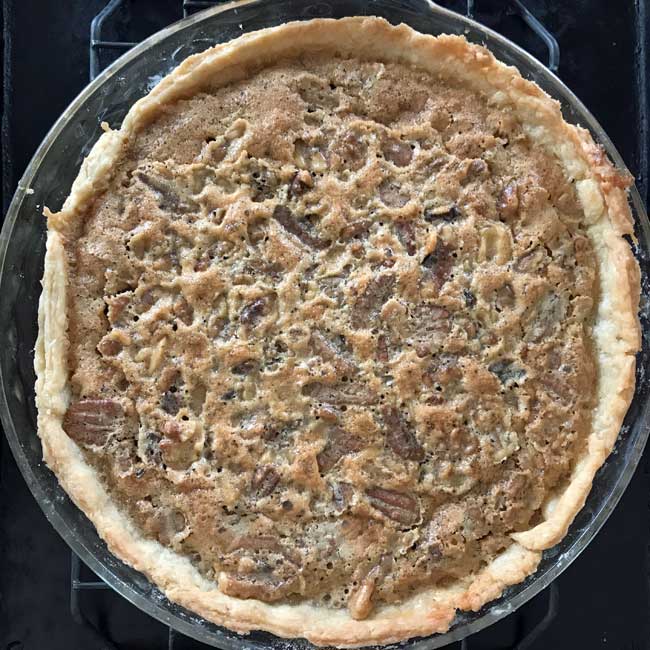 The recipe is pretty flexible.  You can use pecans instead of walnuts and chocolate chunks instead of chips.  The pie in the photo above was made with Trader Joe's brand chocolate chunks, and as you can see they melted more than the chips did. We kind of liked that melti-ness!
Recipe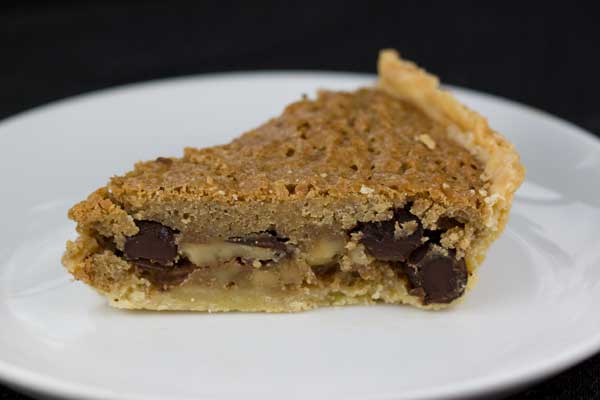 Kentucky Race Day Pie -- Derby Dessert
This version of the famous Kentucky pie calls for pecans instead of walnuts. Unlike some recipes it does not call for corn syrup, so it's a little stiffer and denser.
Ingredients 
2

extra-large

eggs

2

tablespoons

bourbon whiskey

30 ml

1

teaspoon

vanilla extract

½

cup

granulated sugar

(100 grams)

½

cup

light brown sugar

(100 grams)

½

cup

all-purpose flour

(60 grams)

½

teaspoon

salt

omit if using salted butter

12

tablespoon

unsalted butter, softened to almost melted

(170 grams)**

1

cup

chopped toasted pecans or walnuts

1

cup

semisweet chocolate chips

1

9-inch

unbaked deep dish pie crust
Instructions 
Preheat oven to 325 degrees F Have ready a 9 inch dish pie dish lined with unbaked pie dough.

Also, put a rimmed baking sheet in the oven and let it preheat. Baking the pie on a hot cookie sheet will help the bottom cook thoroughly.

In a mixing bowl, beat the eggs with an electric mixer until foamy. Beat in the bourbon and vanilla.

With a heavy duty scraper or large spoon, stir in both sugars and the flour until blended, then stir in the butter (and salt, if using), followed by pecans and chocolate chips.

Pour the filling into the unbaked crust and bake for 45-50 minutes or until golden brown.

Let cool for at least 15 minutes, then serve warm or at room temperature.
Notes
You can use softened butter or if you prefer you can brown the butter for extra flavor.