If you liked the chewy brownie cookies I posted earlier this week, here's another version. These are somewhat fudgier and definitely thicker. Corn syrup helps with the texture, so they're fudgy, but not overly rich.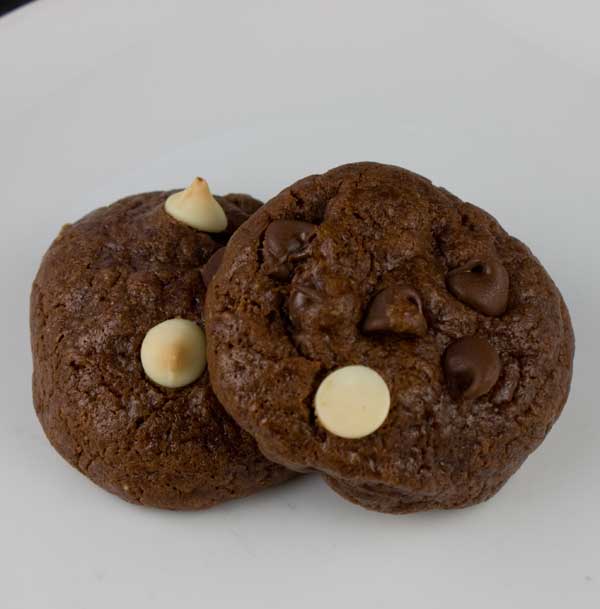 I used 3 ounces of chopped Ghirardelli and loved the results, but I might try making them again with 3 ounces of unsweetened Scharffen Berger, which is expensive, but so worth it!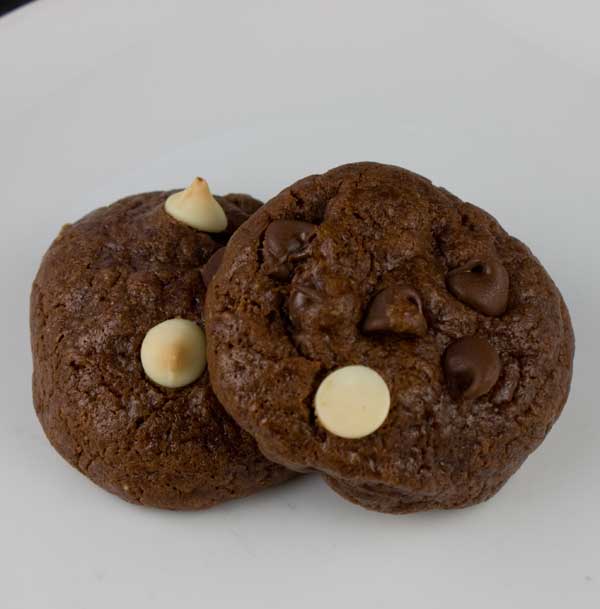 Double Fudge Brownie Cookies
Double chocolate fudge cookies with a fudge-like center
Ingredients 
3

ounces

unsweetened chocolate

chopped

1 3/4

cup

7.9 oz all-purpose flour -- if you don't have a scale, stir the flour to aerate before measuring

1/2

teaspoon

baking powder

1/4

teaspoon

salt

5

tablespoons

plus 2 teaspoons

2.6 oz unsalted butter, room temperature

3/4

cup

granulated sugar

1

teaspoon

vanilla extract

1

large egg

1/3

cup

light corn syrup

1/2

cup

dark chocolate chips plus

white chocolate chips for garnish

optional
Instructions 
Melt the unsweetened chocolate in the microwave using 50% power and stirring every 30 seconds. Let it cool.

Mix the flour, baking powder and salt together in a separate bowl and set aside.

With a handheld electric mixer, beat the butter and sugar until light and creamy. Beat in the vanilla.

Add the egg and beat for about 2 minutes or until mixture is light and fluffy. With a heavy duty scraper, fold in the corn syrup, then fold in the cooled melted chocolate.

Add flour mixture and stir until incorporated – dough should be slightly sticky, but should be spoonable.

Using a measuring tablespoon, spoon up heaps of dough and arrange the heaps side by side on a couple of parchment or foil lined plates and cover with plastic wrap. Chill the dough for about 20 minutes or until the dough is stiff enough to roll between your palms. When dough is cold, roll gently between your palms to make a smooth ball. Keep balls of dough chilled until ready to use. If you chill overnight, the cookies will be thicker.

Preheat oven to 350ºF. Line two baking sheets with parchment paper or a Silpat. Do not use butter or cooking spray, as this may cause the cookies to spread a bit.

Arrange the chilled balls of dough about 2 ½ inches apart. If you want, you can stick a few white or dark chocolate chips in the cookies on the outside of the cookies for garnish.

Bake on center rack, one sheet at a time, at 350 degrees for 12 to 15 minutes or until they appear set and are less shiny. Let cool on the baking sheets for about 10 minutes, then transfer to a wire rack and let cool completely or transfer to the refrigerator and chill if you like a firmer, colder, cookie.
Notes
Tip: You may want to make one or two test cookies just to nail down the proper baking times. It's easy to underbake these, but you don't want to overbake them, either.