I may not be from Ohio, but Peanut Butter Buckeyes are probably my favorite homemade candy. There are tons of different recipes for them, but this is the one I always go back to even though the dough is a little big softer and takes more patience to work with. What makes it different from other recipes is it calls for melted white or peanut butter chips. The melted chips help stabilize the Buckeyes without making them too sweet. I think the melted chips also make the texture a little creamier, but that could be my imagination.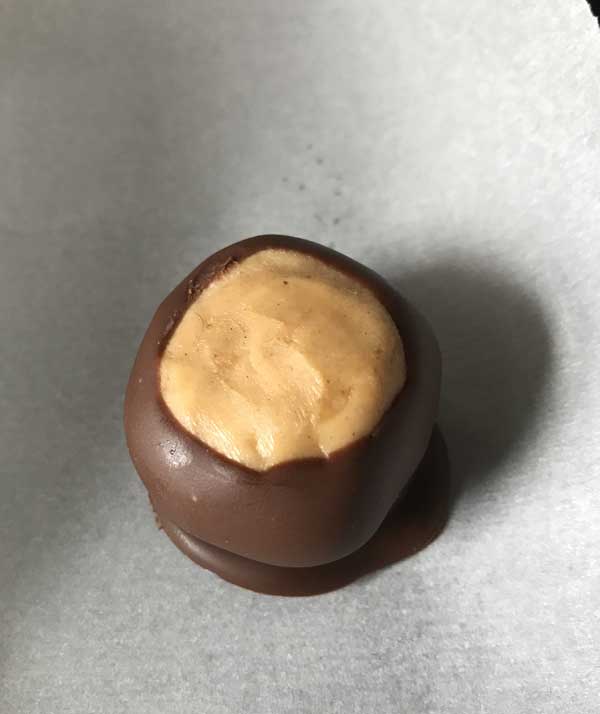 Because of the melted white chips (or peanut butter chips), the Buckeye peanut butter mixture starts out a little softer so you have to take extra care shaping it into balls.  You may even need to chill it a little before shaping, and after shaping you may need to freeze the balls a little so that you can roll them into even neater balls and dip them.  So yes, the dough is a little bit more of a pain to work with, but in the end you get better tasting (and not overly sweet) Buckeyes.
The recipe makes a ton of candies.  You may want to start buy making ⅓ of it just to see if it's for you.
Recipe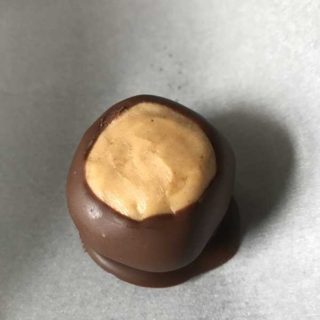 Peanut Butter Buckeyes
This is my favorite version of Buckeyes. The white chips add sweetness and firmness without making the peanut butter portion overly sweet.
Ingredients 
3

tablespoons

white chips or peanut butter chips

30 grams

2

tablespoons

butter

28 grams

1 ⅓

cups

peanut butter

340 grams

¼

teaspoon

vanilla extract

1 ½

cups

powdered sugar

180 grams

½

pound

semisweet or dark chocolate chips or 8 ounces of melting chocolate

1

tablespoon

of shortening

optional, and only if using chips
Instructions 
Melt the white chips and 1 tablespoon of the butter in the microwave using 50% power and stirring every 30 seconds. Set aside.

Beat the remaining tablespoon of softened butter, the peanut butter and vanilla until well mixed, then add the melted chip mixture and ½ cup of the powdered sugar. Continue adding powdered sugar until you've used the full 1 ½ cups. The dough should be thick enough to shape, but if it's not you can throw it in the refrigerator for a few minutes.

Shape into about 32 balls (see note). Put the balls on a parchment or wax paper lined tray or a couple of plates -- something you can fit in the freezer. Freeze the balls for about 30 minutes before dipping.

Melt chocolate chips and shortening (if using) in a microwave-safe bowl at 50% power, stirring every 30 to 60 seconds (60 is usually fine).

Using a toothpick, dip peanut butter balls partially into chocolate, keeping the top uncovered. Chill until chocolate has hardened.
Notes
The peanut butter mixture starts out soft, so you'll end up having to chill it. I like to scoop out the 32 (or so) portions, chill, then shape the already chilled portions. If you can't work with the filling or find it's too soft and don't want to deal with chilling/freezing shenanigans, make these as peanut butter cups instead. Spoon melted chocolate into bottom of a mini or regular size muffin tins lined with cupcake papers. Flatten a portion of peanut butter filling and stick it in the middle, then cover with more melted chocolate. Freeze or chill until set. When cold, peel off the paper.