For those of you who love Buckeyes, the peanut butter candy that resembles the seed of a buckeye tree, meet their salty cousins!  These are made with Ghirardelli Chocolate Melting Wafers.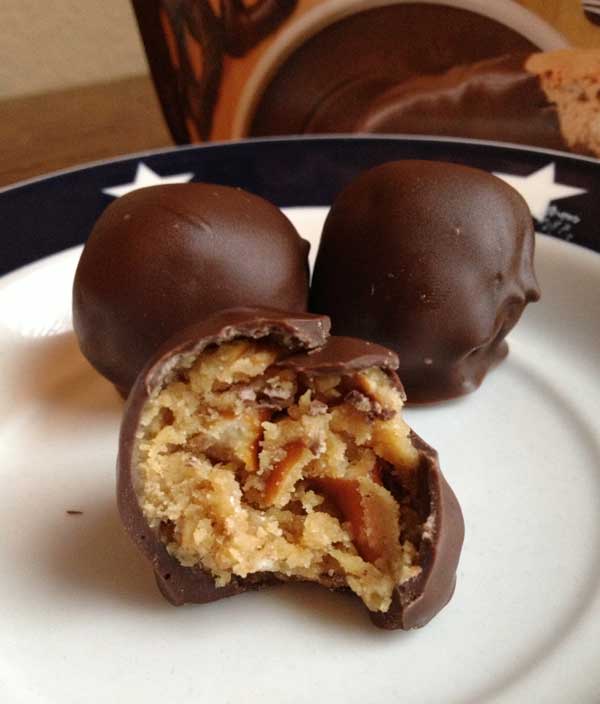 These little gems are called Peanut Butter-Pretzel Bon Bons, and unlike typical Buckeyes which are made with peanut butter, butter and powdered sugar (and sometimes mashed potatoes), these are made with peanut butter, cream cheese and crushed pretzels.
I was a little worried I'd miss the richness that regular butter adds to Buckeyes, but the cream cheese gave the filling a bit of flavor and made it easier to shape than regular butter. As for the pretzels, they added a little kick of salt plus a certain lightness that made these seem less filling than the traditional peanut butter candies.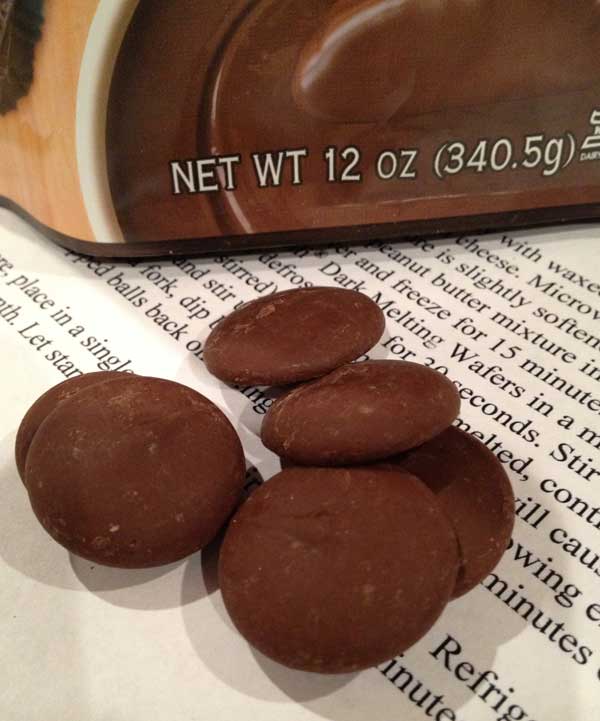 I'm really starting to like the Ghirardelli Melting Wafers, by the way. Tempering chocolate is fun and usually reliable, but these are more convenient and seem to be less expensive ounce for ounce. I also noticed that they're setting up quicker now that my kitchen has cooled off. When I used the wafers to dip the Football Cake Pops, the chocolate took longer to set up and required refrigeration. Now it's setting up immediately, though it does need a quick chill to make the chocolate firm enough to snap.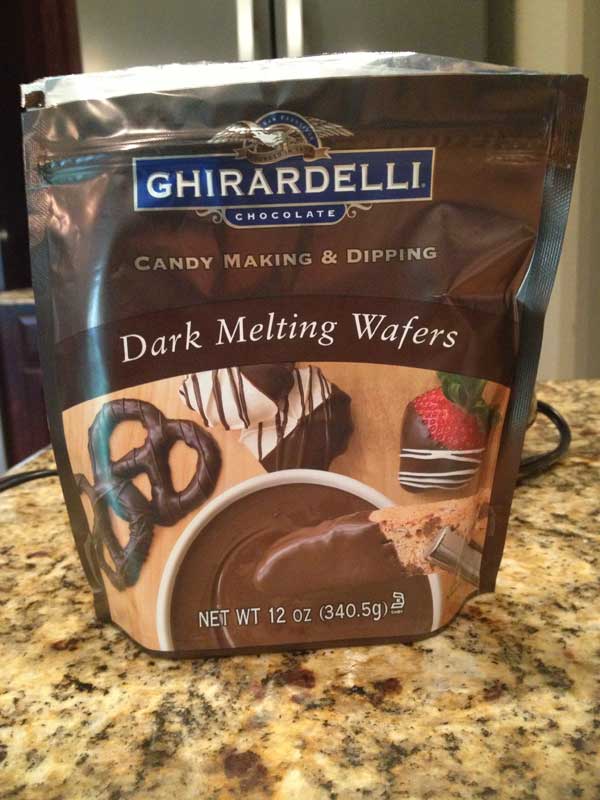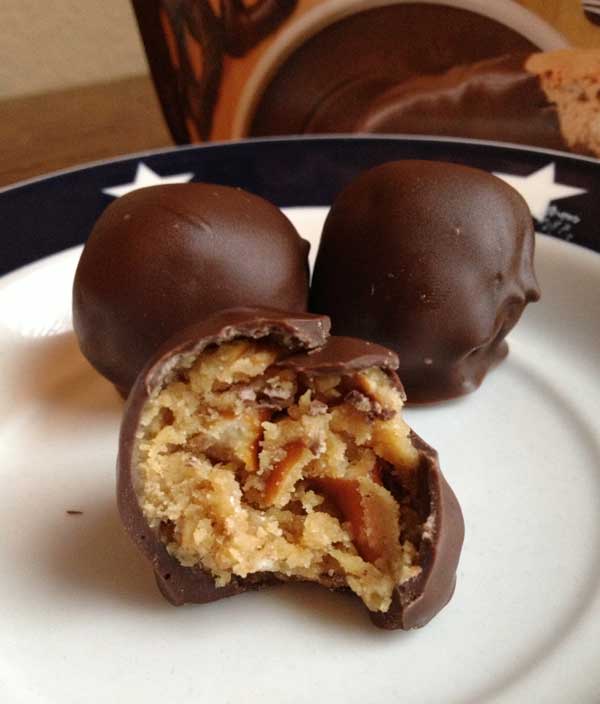 Ghirardelli Chocolate Peanut Butter-Pretzel Bon Bons
Chocolate Peanut Butter-Pretzel Bon Bons from Ghirardelli Chocolate.
Ingredients 
1

cup

creamy peanut butter

4

ounces

cream cheese

softened

1

cup

powdered sugar

1

cup

crushed pretzels -- but not TOO fine

1 12-

ounce

package Ghirardelli® Dark Melting Wafers
Instructions 
Line a baking sheet or tray with waxed paper. Alternatively, you can use a couple of plates if a baking sheet won't fit in your refrigerator.

In a large microwave-safe bowl, combine peanut butter and cream cheese. Microwave, uncovered, on high (100% power) for 30 seconds or until mixture is slightly softened, stirring once. If you have a high powered microwave, start with 10 seconds. Stir in powdered sugar and pretzels. Shape the peanut butter mixture into 1-inch balls. Place balls on the prepared baking sheet. Cover and freeze for 15 minutes or until firm.

Place Ghirardelli® Dark Melting Wafers in a microwave-safe container. Microwave at half power or defrost setting for 30 seconds. Stir thoroughly (product keeps its original shape until stirred). If not completely melted, continue to microwave at 15 second intervals and stir until smooth. Overheating will cause wafers to burn.

Using a fork, dip balls into melted mixture, allowing excess to drip back into bowl. Place dipped balls back on baking sheet. Chill for 30 minutes or until firm.

To store, place in a single layer in an airtight container. Refrigerate for up to 1 week or freeze for up to 1 month. Let stand at room temperature for 30 minutes before serving.
Notes
Recipe courtesy of Ghirardelli.