I call this recipe Quick Butterscotch Pie because it is an easy butterscotch pie recipe made with condensed milk and instant pudding mix. What's funny is it was originally kind of an afterthought pie. I made it because I was testing whether whipped cream was better with granulated sugar or powdered sugar and needed a pie to put it on. More on that later. Now a little about this pie!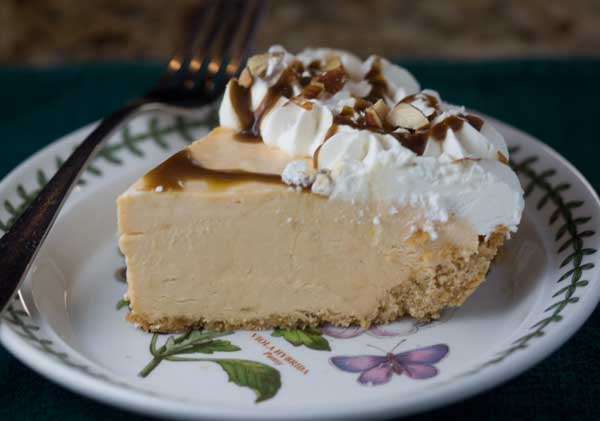 A Quick and Easy Butterscotch Pie
The recipe is from the Eagle Brand Condensed Milk recipe collection, and while I assumed a butterscotch pie made with condensed milk would be good, I didn't realize it would be awesome!  It's light, fluffy, and versatile.  I made a butterscotch version, but it could just as well have been made with coconut, vanilla or maybe even banana pudding.  Or how about pistachio?. I'm bookmarking this for St. Patrick's, because I think swapping out the butterscotch pudding for pistachio and maybe adding a little almond extract would be a fun variation.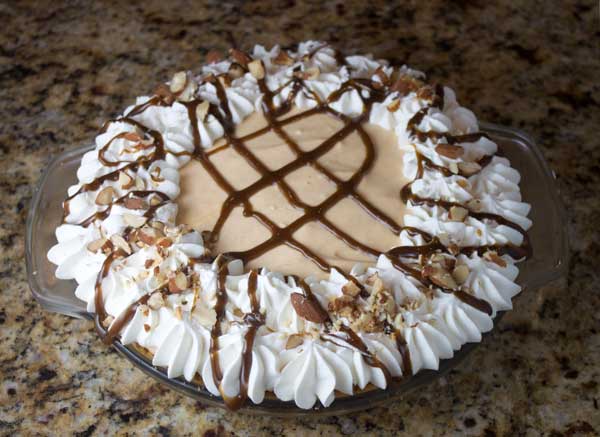 Another good thing about the pie is that the cream cheese isn't too noticeable.  Normally I like cream cheese, but I didn't want a tangy flavor, I wanted a creamy butterscotch flavor.  The cream cheese flavor takes a backseat to everything else and just adds some support.
Sweetening Whipped Cream and Some Notes on Heavy v.s Whipping
Out of habit, I've always sweetened my whipped cream with confectioners' sugar, but  some people feel it imparts a chalky texture and prefer granulated. Another thing I've always done is add the sugar at the end, when in reality you can add the sugar right along with the whipped cream.  In fact, if you're using granulated you really need to so that it has enough time to dissolve from the friction of the beaters. 
I did find that the cream took longer to whip when I added the sugar at the beginning, but it was smooth and delicious. As for how it held up (because another thing I assumed was that the cornstarch in my confectioners' sugar was helping stabilize my whipped cream),  it held up just fine with no weeping whatsoever. A factor that might play into that is that I always use "heavy whipping cream" as opposed to "heavy cream". Cream with the word "whipping" in it usually has a stabilizer in it called carrageenan, and I think the carrageenan is what's been keeping my whipped cream from weeping.
Final Verdict on the Pie
So along with being a learning experience, this pie was really delicious and I'm already looking forward to trying it in other flavors.
Recipe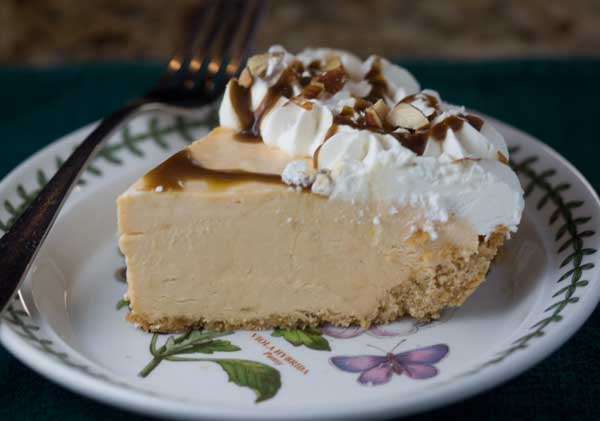 Quick Butterscotch Pie
A light and fluffy butterscotch cream pie that takes minutes to prepare.
Ingredients 
1

sleeve of graham crackers ground into 1 ½ cups crumbs

¼ to ⅓

cup

sugar

6

tablespoons

butter

melted

1

cup

heavy whipping cream

8

ounces

softened cream cheese

14

oz

can of Eagle Brand regular or light condensed milk

1

3.4 oz package butterscotch flavored instant pudding mix

¾

cup

water
Topping
1

cup

heavy whipping cream

2

tablespoons

sugar

1

teaspoon

of vanilla

Garnish: butterscotch sundae topping and chopped nuts
Instructions 
Mix together the graham cracker crumbs, sugar and butter. Press into a 9 inch pie dish and bake at 375 for 7 minutes. Let cool completely.

Beat the 8 oz of heavy cream until stiff peaks form. Set aside.

In a large mixing bowl, using a handheld mixer, beat the cream cheese until fluffy. Gradually add the condensed milk and beat until smooth, then beat in the pudding mix and the water. Beat until smooth.

With a rubber scraper, fold in the whipped cream.

Transfer to the pie crust and chill for about 2 hours or until ready to serve.

Meanwhile, combine the other 8 oz of heavy whipping cream with 2 tablespoons of sugar in a chilled mixing bowl (preferably metal). Beat until stiff peaks begin to form. Beat in vanilla. Pipe whipped cream around edges.

Garnish with sundae topping and sprinkle edges with chopped nuts.
Notes
Prep time doesn't include chill time, although this pie doesn't take long to chill.