I bought a new brand of granola the other day and found it to be too loose, not very crunchy and a little bland.  Not wanting to throw it away, I used 3 cups of it in what I'm going to call "Loose Granola Cookies". They're puffy, not overly sweet, have a soft center and crispy edges.  Plus they don't get rock hard when frozen so they'd probably be great for ice cream sandwiches.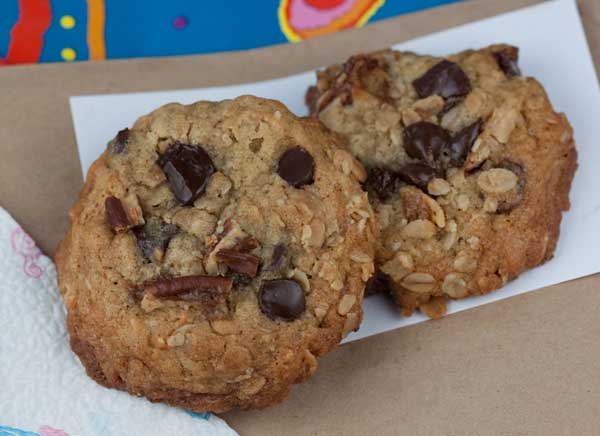 And speaking of freezing, if you don't want to bake the dough all at once, scoop the dough into balls, chill them on a parchment paper lined tray, then freeze the balls and bake as needed.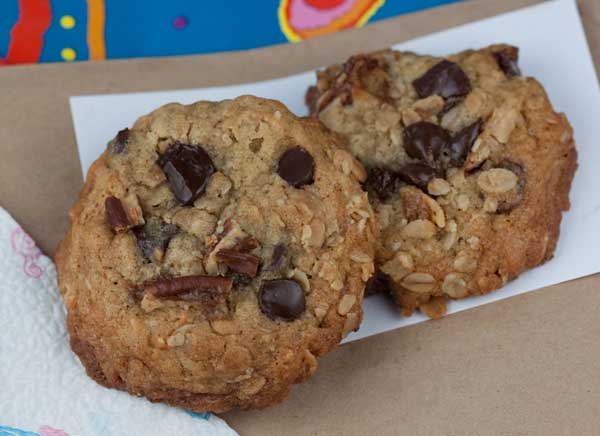 Granola, Cranberry & Chocolate Chippers
A great way to use up leftover granola.
Ingredients 
8

oz

unsalted butter, cool room temperature

3/4

cup

packed brown sugar

1/2

cup

granulated sugar

1

teaspoon

vanilla

2

large eggs

1 2/3

cups

all-purpose flour

1

teaspoon

baking soda

3/4

teaspoon

salt

2

cups

granola

not too clumpy type

1

cup

toasted pecans

chopped

1

cup

dried cranberries

1

cup

dark chocolate chips
Instructions 
Preheat oven to 325 degree F. Line two large baking sheets with parchment paper

In a mixing bowl, using an electric mixer, cream the butter and both sugars. Beat in the vanilla, then add the eggs and beat just until blended.

In a separate bowl, mix together the flour, baking soda and salt. Add to the batter and stir until blended, then stir in the granola, pecans, dried fruit and chips. At this point, you can scoop the dough into large balls (as directed below) and chill the dough balls on a plate for several hours or you can bake them right away. Chilled dough balls will bake up puffier.

Using a rounded tablespoon, drop dough about 2 inches apart on baking sheet; flatten slightly.

Bake for about 15 minutes (check earlier if you've made the cookies smaller) or until edges are browned. Let cool on baking sheet for 1 minute. Transfer to a wire rack to finish cooling. Let the cookies cool completely before serving (the texture improves). I like to put them in the refrigerator to speed up the process.
Notes
I tried baking them at 350 F, but the edges browned a little too quickly, so I reduced the heat to 325 and the slower, lower temperature seemed to help. Another key thing with these cookies is that they need to cool completely. The texture is kind of mealy when warm, but once cooled it's dense and pleasant.