I haven't shared a granola recipe lately, so here's a new one for you. It's called Great Granola and it's from allrecipes.com where it's attributed to cookbook author Pam Anderson. Pam Anderson's recipes are winners and this granola is no exception. It's easy to make and has the perfect level of sweetness, though she notes in the allrecipes.com sidebar that you can reduce the sugar if you want. She also says you can make it clumpy by adding a little extra water and squishing it with your fingers to make clusters. The water forms a mesh with the wheat germ and glues everything together.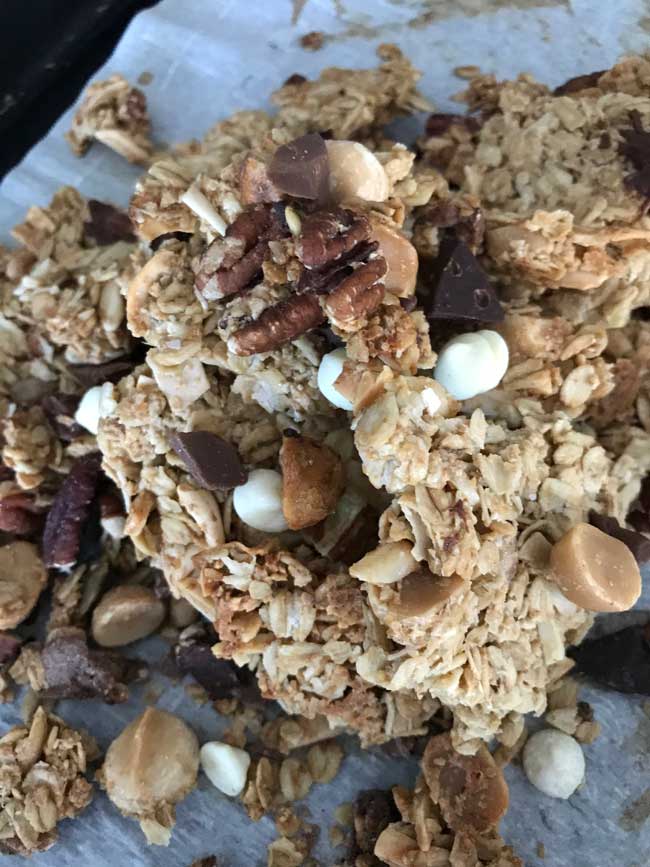 My granola is not as clumpy as some, but that's okay. I kind of like having clumps here and there so when you get one, you feel lucky. Below is how I make it. I use the microwave as a shortcut and for the flavoring, I use vanilla extract.
Recipe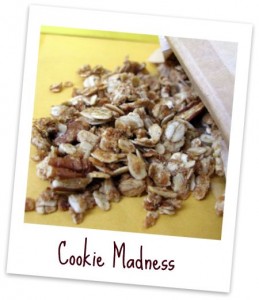 Great Granola
Great Granola lives up to its name if you're a fan of granola made with wheat germ.
Ingredients 
2

cups

old fashioned oats

1/2

cup

wheat germ

2

tablespoons

light or dark brown sugar

1/4

teaspoon

salt

pinch

cinnamon

optional

2/3

cup

pecan pieces

1/4

cup

maple syrup

3

tablespoons

oil

1

tablespoon

water

plus a little extra if needed

1

teaspoon

vanilla
Instructions 
Preheat oven to 275 degrees F. Grease a 13×9 inch baking pan (metal).

Mix oats, wheat germ, brown sugar, cinnamon and salt together in a big bowl. Stir in the pecans.

Combine syrup, oil and water in a microwave-safe glass measuring cup. Microwave for about 1 minute or until mixture boils. Stir in the vanilla, then pour over oat mixture and stir very well. Mixture should seem slightly moist and you should be able to form clumps by pressing it together with your fingers. If it is too dry to do this, add a little more water (I didn't need to).

Transfer the oat mixture to the baking pan and using your fingers, squeeze together as many clumps/clusters as you like.

Bake the granola for about 45-50 minutes, stirring every 15 minutes to avoid burning. It should be golden and should not smell burnt (timing granola is kind of an art) Granola will come out of the oven kind of soft, but will crisp as it cools.