When my adventures in Basque cake making were over, I had some pastry cream left and felt like experimenting.  Just for fun, I spooned a line of pastry cream down the center of some blueberry loaf cake batter, covered it with more batter and baked it.  The results weren't impressive at first. The tunnel of cream and the crumb of the cake kind of blended together and weren't visually striking. Thinking I'd eat the cake slowly over time (it still tasted great), I wrapped it in plastic and froze the loaf. The next day I cut it while frozen and let it thaw. Everything about the cake was better. The crumb was now tighter, denser, softer and was more visually distinct from the cream tunnel, while the cream was smooth and cool from the low temperature.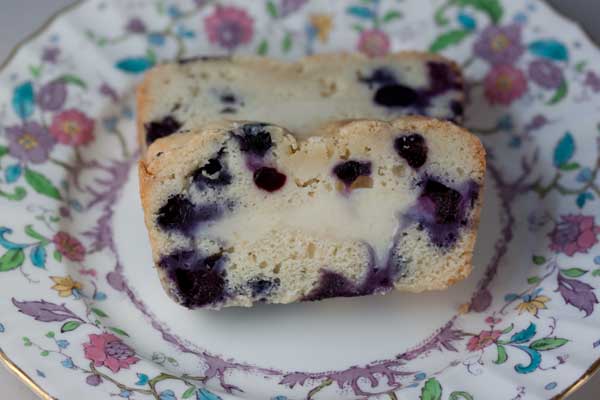 I liked the new blueberry and cream cake so much that I made a peaches and cream version and a raspberry. The recipe worked perfectly every time.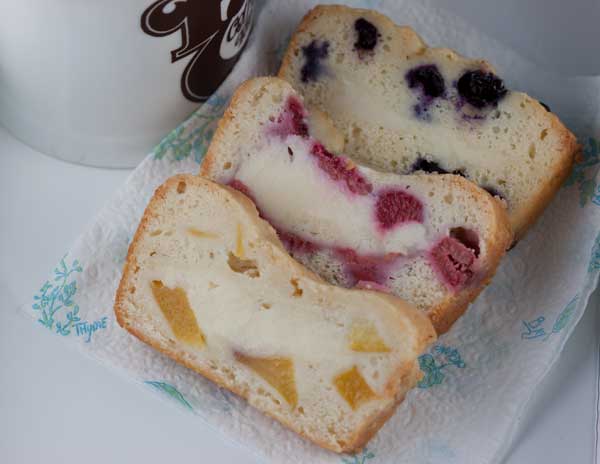 This is probably my new favorite cake. It's great for summer when peaches, blueberries and raspberries are in season, plus it's colorful when sliced and served on a plate. The only drawback is the wait time.  It's not an immediate gratification type recipe, because the freezing and thawing process really does something for the overall texture.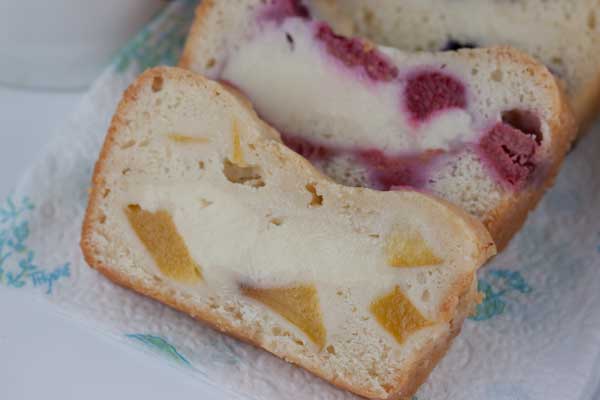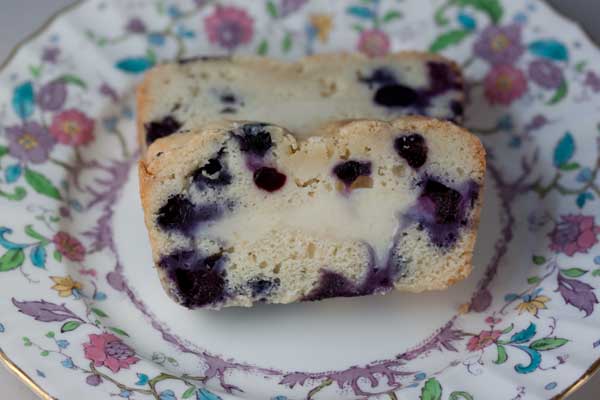 Fruit and Cream Cake Tunnel Cake
Sour cream loaf cake filled with berries and peaches and pastry cream.
Ingredients 
Small Batch Pastry Cream
2

tablespoons

flour

1/2 oz

2

tablespoons

cornstarch

1/2 oz

2

large egg yolks

1/3

cup

granulated sugar

1

cup

of whole milk

1 1/2

tablespoon

unsalted butter

1

teaspoon

of vanilla extract
Blueberry Cake
1

stick

114 grams unsalted butter, softened

1 1/4

cups

granulated sugar

240 grams

2

large eggs

room temperature

1 1/2

teaspoons

vanilla extract

1 1/2

teaspoons

baking powder

1/2

teaspoon

salt

2

cups

all-purpose flour

270 grams

1/2

cup

sour cream

1

heaping cup fresh blueberries

1

heaping cup

maybe a little more of cold pastry cream
Instructions 
Make the pastry cream first. Weigh out your flour and cornstarch and stir them together in a small cup.

Whisk the egg yolks, half of the sugar, and the cornstarch mixture together in a mixing bowl and set it next to the stove.

Place the remaining sugar and the 1 cup of milk in a small (1 1/2 quart) saucepan and bring it to a simmer. Gradually whisk half of the hot milk into the egg yolk mixture, then pour the egg mixture back into the saucepan and continue whisking over medium until mixture thickens and large bubbles break the surface. Remove from the heat and whisk in the butter and vanilla.

Transfer the pastry cream to a clean container and press a piece of plastic wrap over the surface. Let cool at room temperature for about 30 minutes, then refrigerate until ready to use. Cream should be cold when used to fill the bread.

Preheat oven to 325 degrees F. Grease two 8x4 inch (see note) loaf pans and line with strips of parchment paper. Dust the sides with flour.

With an electric mixer, beat the butter and sugar until light and fluffy. Add the eggs one by one, beating for 30 seconds after each egg. Scrape sides of bowl and beat in vanilla, then beat in the baking powder and salt. Scrape sides of bowl again. Add half of the flour and stir with a heavy duty scraper (or large mixing spoon) until blended, then stir in the sour cream. Add remaining flour and stir until blended, then carefully fold in the fruit. If you are using delicate fruit such as raspberries, you may want to add it in the next step.

Spread some of the batter across the bottom of each loaf pan -- use just enough to cover bottom, because you'll need enough batter to seal in the pastry cream. If you haven't added the fruit yet, press pieces of fruit into the batter by hand.

Spoon a thick line of cold pastry cream down the center. It should not touch the sides.

Spoon remaining batter over the pastry cream, sealing it in. Press pieces of fruit into the batter if you didn't fold it in already.

Bake loaves on center rack for about 60 to 65 minutes. Let loaves cool slightly. Loosen sides with a knife while still warm and let cool completely in pan. Carefully remove loaves from the pans and wrap cooled loaves with plastic wrap. Freeze for 8-12 hours.

To serve, allow the loaves to thaw for about 15 minutes, and slice while loaves are partially frozen. Let the slices thaw individually. That, or just let the loaves thaw and then slice.
Notes
I have been halving the recipe and baking one 8x4 inch recipe at a time. However, since the cakes freeze so well it's probably best to just follow the directions as written and make two cakes at a time. If you don't have the small 8x4 inch pans, I think making the recipe as written and using a 9x5 inch pan would work. Just make sure the batter goes about 3/4 of the way up the pan so that it doesn't overflow. Also, the baking time will probably increase by at least 20 minutes if you bake it all in one pan.