This is still one of my favorite coconut cream pie recipes. I like it because it's easy. It's a really basic coconut pie, but still delicious. Plus it's made with pantry staples like milk, cornstarch, sugar butter and a little vanilla.  I like to think it's light thanks to the milk, but and maybe it is a little lighter in that respect, but it's topped with loads of fluffy whipped cream so it's not exactly a Canyon Ranch dessert.
Kind of a Smaller Pie
It's also not a huge pie, so I don't feel bad making it mid-week knowing the whole thing might not get eaten. You can make it in a shallow 9 inch pie dish or a slightly deeper ceramic pie dish. So it's a normal size in diameter, but a bit shallower since there's less custard.
Coconut Cream Pie Crust
For the crust, you can use a baked pastry crust like Baked All-Butter Crust or you can make a homemade graham cracker crust using your favorite recipe or the one I put in the notes. I haven't tested it in a store-bought (Keebler type) graham cracker crust, but I'm pretty sure it would work since there's not a huge amount of filling.
Favorite Coconut Cream Pie Filling
Since the pastry cream in this pie is not super sweet, it's balanced by best by sweetened flaked coconut. For that reason I do not recommend unsweetened coconut, but rather the inexpensive flaked kind that's common in just about every baking aisle.  For the milk, definitely use whole.  It's also not a super firm filling, yet it should not be runny.  Here's a texture shot.  This one was actually a little creamier than usual. The flecks in it are vanilla beans because I used vanilla bean paste instead of vanilla.
Recipe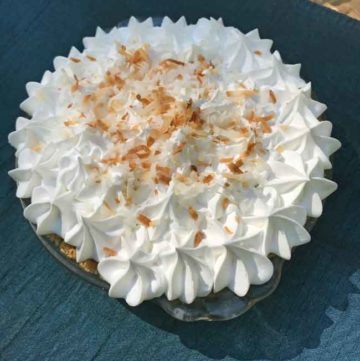 Favorite Coconut Cream Pie -- Basic
Basic Coconut Cream Pie is an easy pie with a milk-based filling.
Ingredients 
Crust:
1

9 inch

pie crust, shallow pan works best

store bought or homemade
Filling:
½

cup

granulated sugar

3

tablespoons

cornstarch

(for a stiffer pie, add 1 more teaspoon)

⅛

teaspoon

salt

2

egg yolks

lightly beaten

2

cups

milk

whole milk

1

tablespoon

butter

1

teaspoon

vanilla extract

or vanilla paste

½

cup

shredded sweetened coconut plus an extra ½ cup for toasting
Topping:
1

cup

heavy cream

2-3

tablespoons

powdered sugar

¾

teaspoon

vanilla extract
Instructions 
Have your baked pie crust ready. Prepare filling.

In a heavy non-stick 3 quart saucepan, stir together the sugar, cornstarch and salt.

In a bowl, whisk the egg yolks with the milk, then whisk the egg yolk mixture into the cornstarch mixture.

Place the saucepan over medium heat and cook until mixture begins to thicken and bubble. Once it reaches a gentle boil, continue whisking over low heat for 3 minutes. Remove from heat and stir in butter, vanilla and coconut. Transfer to a clean bowl, cover with a piece of wax paper and let cool to about lukewarm

Scrape the cooled pie filling into the baked crust.

Place in refrigerator to chill for 3 hours or more. At some point, toast the extra coconut (see note at bottom)

When the pie has chilled, prepare whipped cream topping. In a large bowl, beat cream until soft peaks form. Add the powdered sugar and vanilla beat until peaks are stiff. Spread over top of pie. Sprinkle with toasted, cooled coconut.

To toast coconut, lay it on a cookie sheet and bake at 375 degrees for about 5 minutes or until edges turn brown. Stir every 2 minutes or so.
Notes
For a homemade graham cracker crust, mix together 1 ⅔ cup graham cracker crumbs, ¼ cup sugar, 1 pinch of salt and ⅓ cup melted unsalted butter.  Press into bottom and up sides of a shallow 9 inch pie tin.  Bake at 350 for about 6 minutes.