This is another one of my favorite coconut cream pie recipes. Along with the sweetened flaked coconut, it's made with pantry staples such as milk, cornstarch and sugar.  For the crust you can use a store bought 9 inch pastry crust or make your own using the recipe in the notes section.  I usually use a basic flour/butter pastry crust, but this filling also goes well with a graham cracker crust.

The custard for this pie filling is not too sweet and relies to some extent on the sweetness of the coconut.  For that reason I do not recommend unsweetened coconut, but rather the sweetened flaked coconut that's common in just about every baking aisle.  For the milk, it's best to use whole.  It's also not a super firm filling, yet it should not be runny.  Here's a texture shot.  The flecks in it are vanilla beans because I used vanilla bean paste instead of vanilla.
Update: This is still one of my favorite coconut cream pie recipes, but lately I've been scaling it down and making it as a smaller pie that calls for 2 cups of milk.  Since I always scale it down, I've gone ahead and scaled down the recipe below. If you want a larger coconut pie that uses 3 cups of milk, use the measurements in the notes section. The crust is also a really good one and should probably have its own post. It's a bit less convenient in that it calls for two kinds of flour, but it is a tender and flaky all butter crust.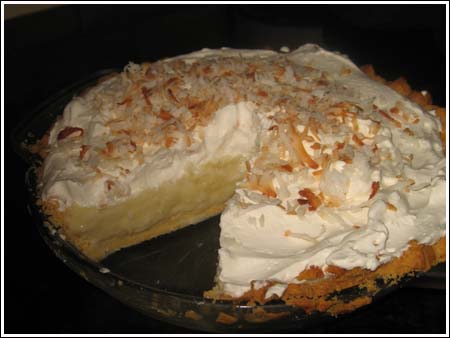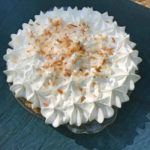 Print Recipe
Favorite Coconut Cream Pie -- Basic
Basic Coconut Cream Pie
Ingredients
Crust:
1 9

inch

pie crust

store-bought or recipe below
Filling:
1/2

cup

granulated sugar

3

tablespoons

cornstarch

(for a stiffer pie, add 1 more teaspoon)

1/8

teaspoon

salt

2

egg yolks

lightly beaten

2

cups

milk

whole milk

1

tablespoon

butter

1

teaspoon

vanilla extract

or vanilla paste

1/2

cup

shredded sweetened coconut plus an extra 1/2 cup for toasting
Topping:
1

cup

heavy cream

2-3

tablespoons

powdered sugar

3/4

teaspoon

vanilla extract
Instructions
Have your baked pie crust ready. Prepare filling.

In a heavy non-stick 3 quart saucepan, stir together the sugar, cornstarch and salt.

In a bowl, whisk the egg yolks with the milk, then whisk the egg yolk mixture into the cornstarch mixture.

Place the saucepan over medium heat and cook until mixture begins to boil, whisking often. When mixture boils, boil and whisk constantly for 3 minutes. Remove from heat and stir in butter, vanilla and coconut. Immediately pour the filling into the baked pie crust, press a piece of waxed paper or plastic wrap onto the surface and let cool for 20 minutes at room temperature.

Place in refrigerator to chill for 3 hours or more. At some point, toast the extra coconut (see note at bottom)

When the pie has chilled, prepare whipped cream topping. In a large bowl, beat cream until soft peaks form. Add the powdered sugar and vanilla beat until peaks are stiff. Spread over top of pie. Sprinkle with toasted, cooled coconut.

To toast coconut, lay it on a cookie sheet and bake at 375 degrees for about 5 minutes or until edges turn brown. Stir every 2 minutes or so.
Notes
For a larger coconut cream pie, use the amounts below.  You'll have enough for a deep dish 9 inch or 10 inch.
Larger Pie Measurements
3/4 cup sugar
4 tablespoons cornstarch plus 2 teaspoons
Pinch of salt (optional)
3 large egg yolks
3 cups whole milk
1 1/2 teaspoons vanilla
1 1/2 tablespoon butter
3/4 cup flaked coconut
Crust Recipe
1 cup all purpose flour (130 grams)
1/3 cup cake flour (40 grams)
1/4 teaspoon salt
8 tablespoons cold unsalted butter, cut-up
1/4 cup ice water
1 egg yolk
1/2 teaspoon cider vinegar
In bowl of food processor, combine flour, cake flour and salt. Pulse to mix.
In a separate bowl, stir together ice water, egg yolk and vinegar.
Pulse flour mixture four or five times or until mixture appears chunky. Pour the egg yolk mixture in a thin stream through the feed tube, pulsing constantly, until mixture forms several large chunks and almost gathers into a ball.
Spread a large sheet of plastic wrap on the counter. Empty mixture onto the plastic wrap and press into a 1 inch thick disc. Wrap the dough in plastic wrap and chill for one hour.
Unwrap the dough and place it on a lightly floured surface. Roll dough into a 12 inch circle. Fold the circle in half, then fold in half again, and place the point in the center of a 9 inch Pyrex pie plate. Carefully unfold the dough and fit it into the pan by nudging it gently into the pan without stretching it. Trim the excess pastry to a ½ inch overhang. Fold the edge back under itself toward the side of the pan, and pinch the double thickness to make a high-standing rim. Flute it by pinching it at ½ inch intervals to make a zigzag pattern. Chill the lined pie plate for another hour.
Adjust oven rack to center position. Preheat to 400 degrees F.
Place a large square of foil or parchment over unbaked pie crust and press gently over the bottom and sides. Fill the shell with dried beans or pie weights. Bake for 20 minutes, until the edges of the pastry just begin to brown. Remove from the oven and carefully lift out the foil and weights. Prick the bottom of the pastry evenly with a fork, return to the oven and continue baking until golden brown and cooked through - 10 to 15 minutes more. Let cool completely before filling.