Handheld mini pies are trendy right now, but I'm still stuck on mini pies made in individual size tins.  Thanks to Amazon, you can buy large packs of 3 inch and 5 inch size disposable pans for a relatively good price. The 3 inch size pans are perfect for miniature ice cream cakes, cheesecakes, pecan pies and mini tarts, while the 5 inch size are well suited for fruit pies. I learned this the hard way after trying to make mini cherry pies in 3 inch pie shells having them boil over or turn out dough-y. Exhibit A.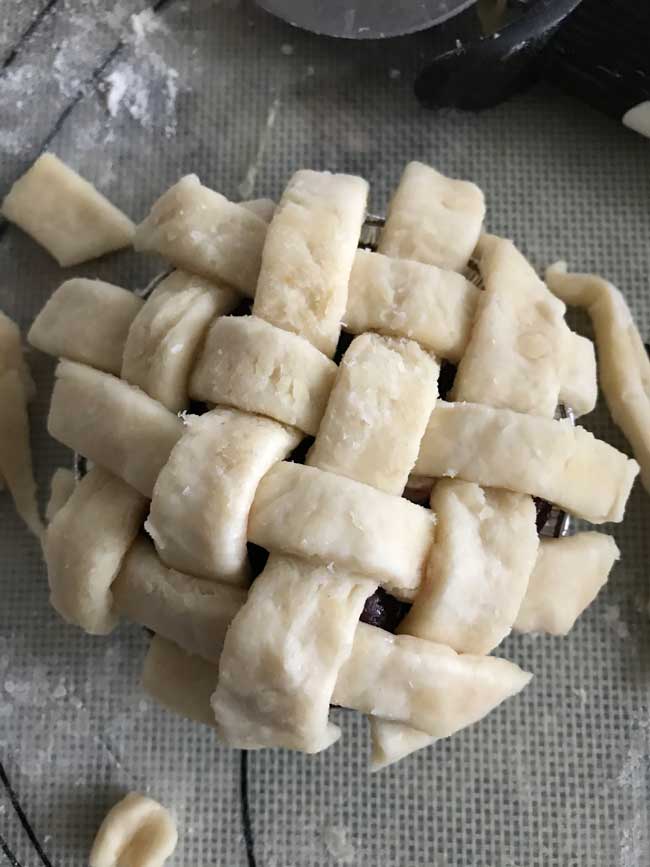 So before you get started with Mini Cherry Pies or any sort of mini fruit pie, you might want to buy these 5 inch pans on Amazon.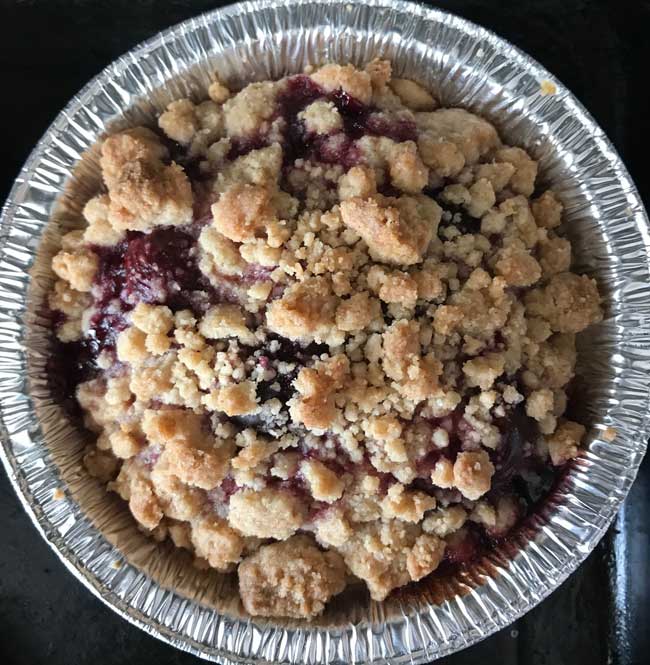 Once you get your small pie pans, you'll need to choose  crust.  For this recipe I used an all-butter crust which can be made in a bowl or food processor. The food processor is much quicker, but I hate having to clean out my food processor so I usually just make it in a bowl. The trick of grating/shredding the butter into the flour mixture leaves a lot less work to be done with the pastry cutter.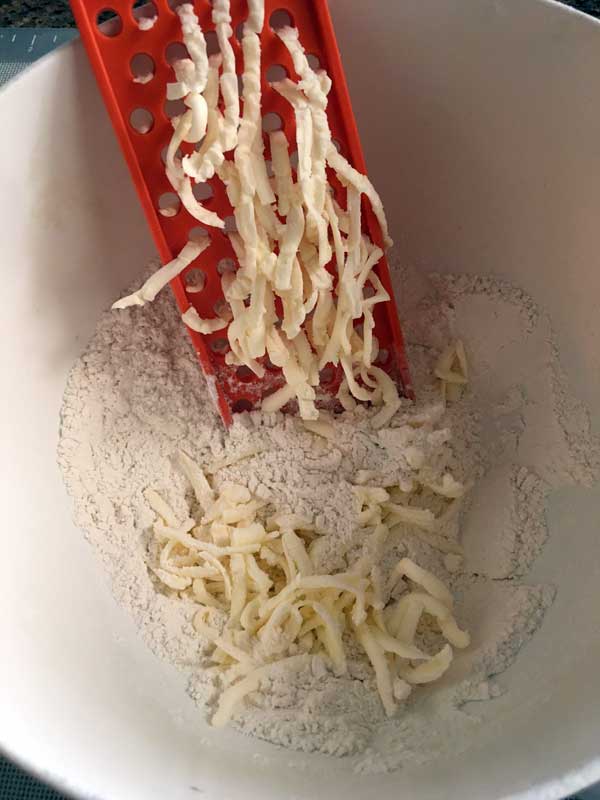 Since it's June and cherries are $2 a pound, this recipe is made with fresh cherries. If you are making these pies outside of cherry season and want to use canned cherries, you could use this recipe that calls for Trader Joe's cherries.  But for the fresh cherries I used a recipe that calls for instant tapioca. The tapioca makes the filling slightly thicker than cornstarch or flour so there's less boil-over. I use Minute Tapioca, which is usually hidden somewhere in the baking aisle.
I also couldn't make up mind between streusel or lattices so I went with both!  Feel free to skip the lattices if you're not in the mood for arts & crafts.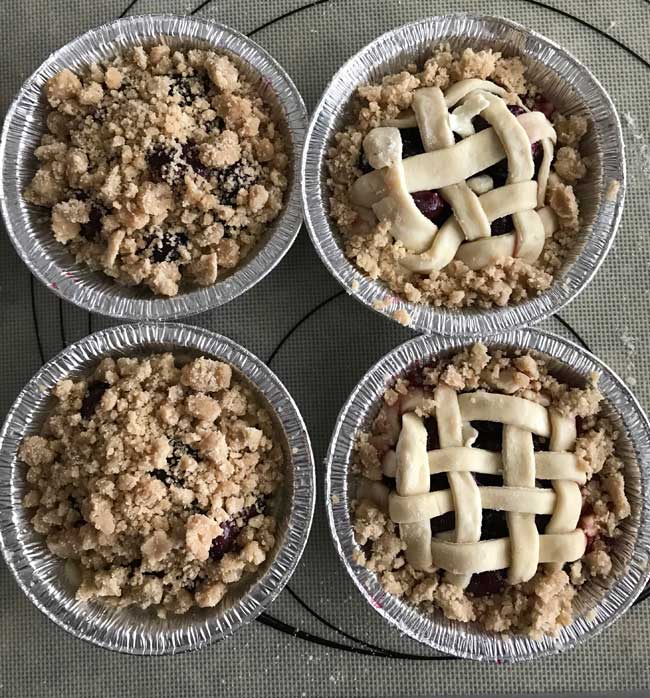 Recipe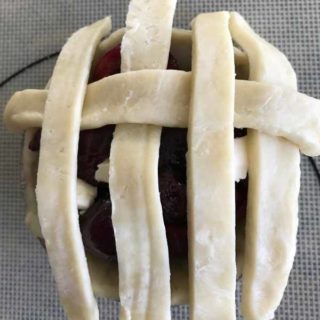 Mini Cherry Pies
Mini Cherry Pies
Ingredients 
Crust:
1 ¼

cups

5.8 oz of all-purpose flour or pastry flour (not cake)

1 ½

teaspoons

granulated sugar

½

teaspoon

salt -- use ⅛ if using salted butter.

8

tablespoons

very cold unsalted butter

4-6

tablespoons

of ice cold water or as needed
Streusel
½

cup

plus 2 tablespoons all purpose flour

85 grams

2

tablespoons

packed golden brown sugar

2

tablespoons

sugar

¼

teaspoon

ground cinnamon

⅛

teaspoon

salt

4

tablespoons

unsalted butter

melted

⅛

teaspoon

vanilla extract
Filling
12

oz

2 heaping cups dark sweet cherries

¾

granulated sugar

1 ½

tablespoons

Minute tapioca

1

tablespoons

fresh lemon juice

or lime juice

⅛

teaspoon

almond extract

¼

teaspoon

vanilla extract

Cream for brushing

if making lattices

Sugar for sprinkling on top
Instructions 
Mix the flour, sugar and salt very well in a bowl. Shred about ⅓ of the cold butter into the flour mixture and toss to coat. Continue shredding butter and tossing. Using a pastry cutter or your fingers, work the mixture into a coarse meal. Add about 3 tablespoons of water and mix with a heavy scraper. Keep adding water until dough comes together. Dump the mixture onto a pie mat, then press into a block, wrap in plastic, and chill for at least 30 minutes (preferably longer).

While dough is resting, make the streusel. Combine all dry ingredients, then stir together melted butter and vanilla and pour over. Stir until crumbly and put in the refrigerator until ready to use.

Now make the filling. Pit and stem the cherries, breaking the cherries in half by hand as you pit. Put the now pit-free cherries in a mixing bowl, then toss with tapioca. Add the sugar and stir to coat (it may seem like a lot), then stir in the lemon juice and both extracts.

Allow the filling to stand for a full 20 minutes. This step is important because it softens the tapioca and keeps it from being lumpy in the baked pies.

Preheat oven to 425 degrees F. and have ready a rimmed baking sheet.

To make the pies, cut your dough block into 4 sections (3 oz each) and take out two sections. Keep the remaining sections refrigerated.

Cut each section in half so that you have four 1 ½ oz pieces. Roll or press each piece into a circle a little over 3 inches and press into and slightly up sides of the pie shell. You don't need it to go all the way up, just about ½ or so. Also, it doesn't need to look perfect because it will be completely covered up.

Divide the filling among the 4 pie tins, then sprinkle tops with streusel. You can sprinkle all four with streusel or you can sprinkle just two with streusel and use another section of dough to make two lattices. .

See note if making lattices.

Set on a rimmed baking sheet and bake at 425 for 10 minutes.

Reduce oven temperature to 375°F and bake for about 20 minutes or until tops are golden brown.

Transfer pies to rack and cool completely.
Notes
If you want to make lattice pies, take out 1 section of dough (3 oz) and on a well floured surface, roll it into a rectangle that is about 4 inches high and 6 inches or as wide as you can get it. Using a pizza cutter, cut int o 16 strips. You''ll use 8 strips for each pie. Lay 4 strips lengthwise on a pie, then weave 4 strips crosswise. Tuck the ends in and squish them down as neatly as you can. The squished dough will help absorb juice and keep the pies from running over quite so much. If you are making lattices for all four pies, repeat with the last 3 oz section of dough to make two more tattices.