Thanks to more readily available specialty flours, gluten-free baking is easier than ever. And while I don't exactly need to cut wheat, I've enjoyed experimenting with wheat alternatives just in case one day I do. Plus friends always seem interested when I point out that something like a brownie can easily be made gluten free with a mixture of rice flour and tapioca.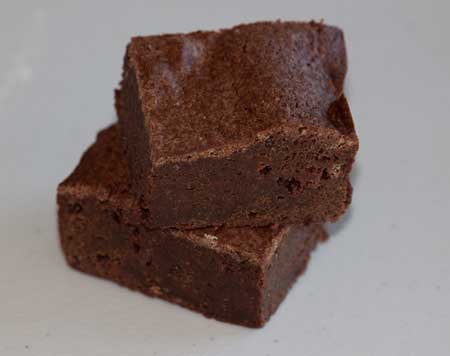 The rice and tapioca flour mixture makes a good brownie even though there is a tiny, tiny bit of grit from the rice flour.   Since the recipe requires two specialty flours and makes such a small batch, I wasn't sure whether or not to post it.  However, if you are following a gluten free diet and like small-yield recipes, I'd love to hear what you think.
Small Batch Gluten Free Brownies
1/3 cup white rice flour (brown could be used instead)
2 tablespoons tapioca flour — available at most health food stores
1/4 teaspoon salt plus another little pinch
4 ounces unsalted butter
3 ounces unsweetened chocolate, chopped
1 cup granulated sugar, divided use
1 teaspoon vanilla extract
2 large eggs
Preheat oven to 350 degrees F. Line the inside of a 9×5 inch loaf pan with non-stick foil.
Stir together the rice flour, tapioca flour and salt; set aside.
In a saucepan, melt butter over medium heat. When butter starts to melt and coats pan bottom, add unsweetened chocolate and reduce heat to low. Stir until chocolate is melted. Add 1/2 cup of the sugar to melted chocolate and stir over low heat for about 40 seconds to dissolve the sugar. Remove chocolate mixture from heat and let cool for about 5 minutes. Stir in vanilla.
Meanwhile, using an electric mixer (hand-held or stand okay), beat eggs for a full 2 minute or until foamy and light. Gradually add remaining 1/2 cup of sugar to eggs and continue beating for another minute or two.
Using a rubber spatula, fold a small amount (about 1/3 cup) of the egg mixture into the warm chocolate mixture, then fold the lightened chocolate into the bowl with the egg mixture. Stir in the rice/tapioca flour/salt mixture, being careful not to over-mix. Pour into pan and bake for 25 minutes or until top is set. At this point the brownies won't look like anything special, so let them cool completely and chill until very cold.  I chilled mine overnight.   Lift from pan and cut.  Makes about 8.