A few years ago I discovered the Canadian equivalent of what you may recognize as Mallomars, Chocolate Royals or Danish Dream Puffs -- Whippets! They are chocolate covered marshmallow cookies with a cookie base, a billowy marshmallow topping and a coating of chocolate. The cookie part is usually a soft and crumbly vanilla cookie, but I recently learned a new trick of using Oreos as the base.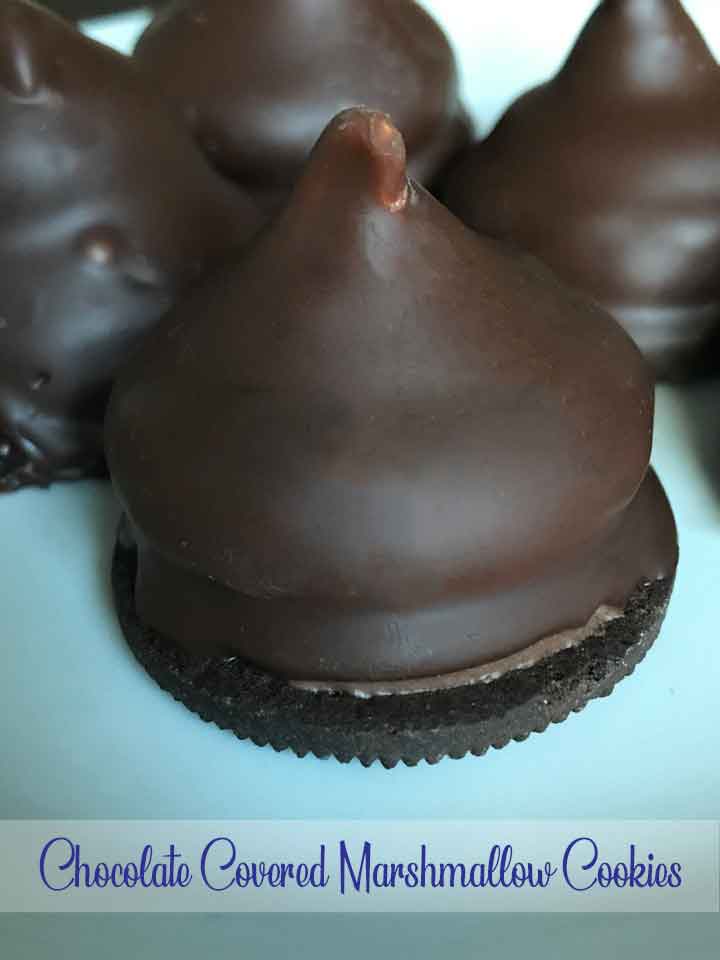 A Second Layer of Flavor!
Thanks to Nordic Food and Living for the idea. Using Oreos as the base for chocolate covered marshmallow cookies not only saves time, but gives you the option of using Oreos with different fillings, so you have a layer of whatever flavored "creme" underneath the marshmallow. Here's a cross-section of the ones I made using Dark Chocolate Oreos.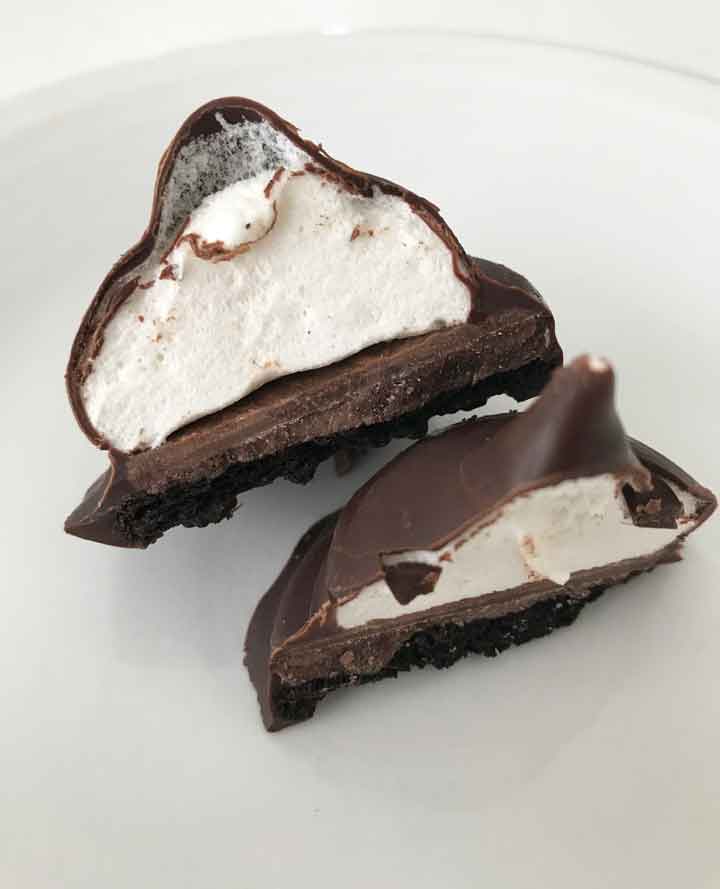 Marshmallow Filling
But what makes these cookies special is the homemade marshmallow. In all honesty, I do not enjoy making it, but it's worth it. Plus the stand mixer does most of the work. All you do is boil up a small batch of sugar syrup, pour it into some egg whites along with some softened gelatin, then let the mixer beat for a long time. It's even easier than making 7 Minute Icing. For piping, you can use a pastry bag or just put the marshmallow in a freezer bag and snip off the bottom corner. I recommend the pastry bag, and if you don't have any already, some large cupcake decorating tips for piping.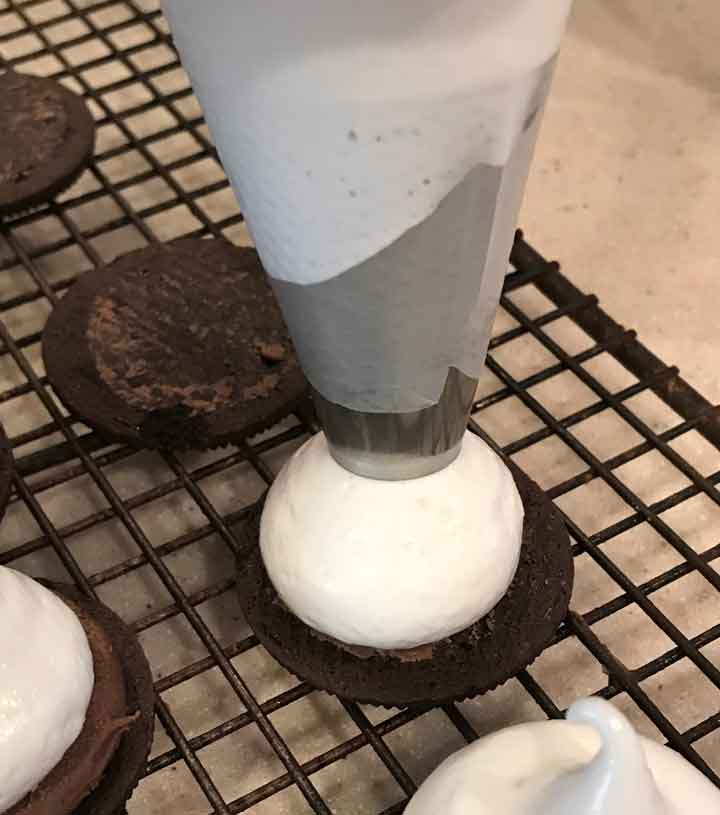 Chocolate Coating
Covering the cookies with chocolate is probably the best part of this recipe. You can use melted Hershey's chocolate mixed with a little coconut oil, melted chocolate chips mixed with a little coconut oil, melting chocolate (bark or disks), or chopped up Lindt or Dove chocolates. Rather than dip the marshmallows in the chocolate, you just hold a cookie on a fork with one hand, and use the other hand to spoon chocolate over the top.
Recipe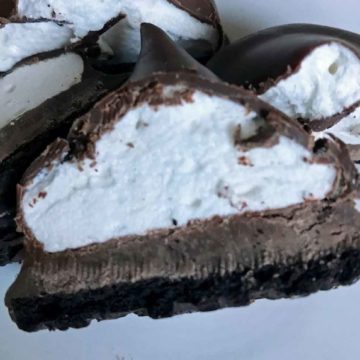 Chocolate Covered Marshmallow Cookies
Oreo halves topped with a thick layer of marshmallow and coated with chocolate.
Ingredients 
20

Oreos or any type sandwich cookies

2

large

egg whites at room temperature

2 ½

teaspoons

gelatin

7 grams (1 packet)

¼

cup

+ 8 teaspoons cold water

½

cup

granulated sugar

100 grams

2

tablespoons

and 2 teaspoons light corn syrup

55 grams

Pinch

of salt

1

teaspoon

vanilla extract

1

pound

of chocolate for dipping

may not need it all
Instructions 
Fit a large pastry bag with a ½ inch round tip.

Put the egg whites in the bowl of a stand mixer fitted with the whisk attachment.

Put ¼ cup of water in a small bowl and sprinkle the packet of gelatin over it. Stir well.

In a small saucepan, combine the remaining 8 teaspoons of water, sugar, corn syrup and salt. Using medium heat, heat without stirring until a candy thermometer registers 240 degrees (soft ball stage).

While the syrup heats, beat the eggs with the whisk attachment until stiff peaks form. If eggs form peaks before syrup reaches 240, stop the mixer. When the syrup hits 240 degrees, turn the mixer back on and pour it into the egg whites in a thin stream. Use a rubber scraper to make sure you get it all.

Scrape the gelatin into the still-hot saucepan and stir it so that it thins and dissolves from the residual heat. Add it to the mixer while it is still going. Add the vanilla and keep on beating for 5 minutes or until bowl feels cool and mixture is thick enough to pipe.

Transfer marshmallow cream to the pastry bag.

Untwist the Oreos so that you have 40 halves, 20 with crème and 20 without. Pipe mounds of marshmallow on top of the cookies and let the marshmallow topped cookies sit on a rack for at least two hours.

After the two hours have passed, you can move on to dipping OR you can freeze the cookies and dip them when convenient.

To coat with chocolate use your favorite method or use mine.

Coating: I like to melt small amounts of chocolate in a custard cup in the microwave, use it for as many cookies as I can, then melt and repeat. For instance, I'll fill a custard cup with chopped chocolate, throw in a dab of coconut oil if I am using chips, then melt the chocolate (high for semisweet, 50% power for milk) and stir every 30 seconds or so. To coat the cookies, set one cookie on a fork and hold it over the custard cup full of chocolate. Spoon chocolate over the top and let it drip back down in the cup. You can do it this way or use a double boiler and melt all of the chocolate at once if you prefer.

After dipping each cookie, lay it on a wax paper lined plate. Once you've filled a plate with cookies, put it in the freezer for a few minutes to set the chocolate.