This recipe is a twist on an old favorite called Lake Travis Mud. The mud, which is one of my favorite easy candies, uses mini marshmallows, but these chocolate marshmallow squares use large marshmallows so you get a higher ratio of marshmallow to chocolate, making each piece a little lighter. So yes, these are pretty much diet food. Just kidding — unless you're on a high sugar, candy diet.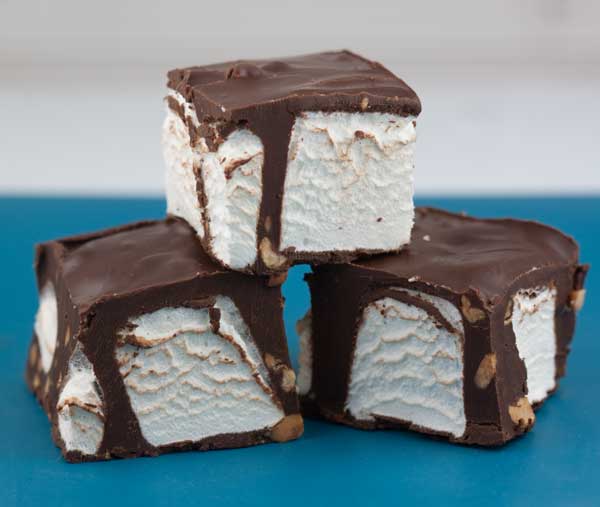 Diet or not, these are a lot of fun to assemble. You melt a mixture of chocolate, peanut butter and butter together in the microwave, spread a very thin layer across the bottom of a loaf pan, then set 18 large marshmallows in it.
The next step is to pour the chocolate mixture over the top and let it drip down the sides. Lovely, eh? Not quite, but we're getting there. It needs to chill.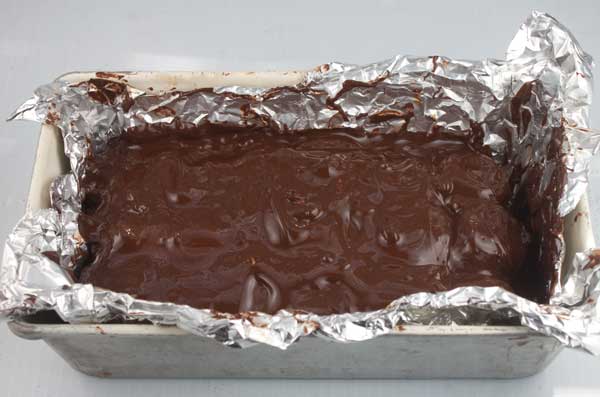 Once chilled, you have a block of marshmallow stuffed chocolate ready for trimming.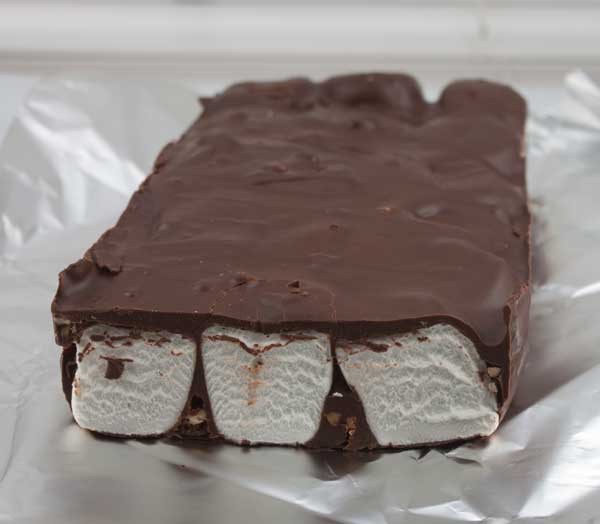 My trimmings looked like this, which of course made me wish I had some large, colored marshmallows.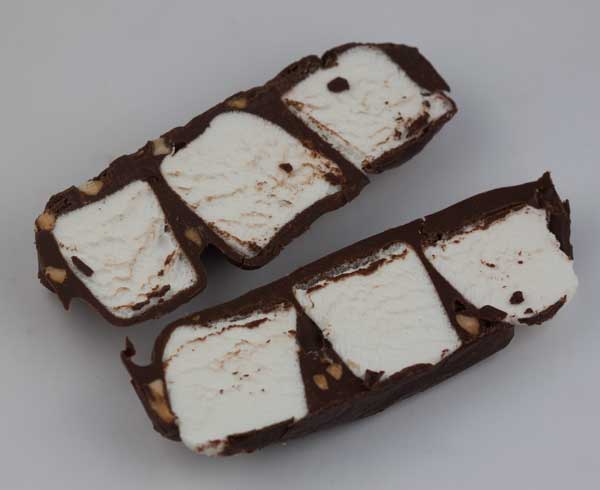 But I ended up eating the trimmings and cutting the remainder into fat blocks like the first photo.  Now I just need to find an cute way to wrap these guys!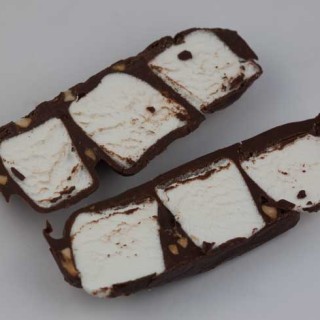 Marshmallow Peanut Butter Chocolate Squares
Large marshmallows suspended in a mixture of melted chocolate, butter and peanut butter. This recipe has it all!
Ingredients 
9

ounces

of dark chocolate

chopped or 1 ½ cups good quality dark or semisweet chocolate chips

2

tablespoons

butter

½

cup

extra crunchy peanut butter

18

large marshmallows

Line a loaf pan with nonstick foil.
Instructions 
Put the chopped chocolate (or chips) in a microwave-safe bowl. Add the butter and heat on 50% power for 1 minute. Stir well. Repeat, microwaving at 50% and stirring every 60 seconds, until mixture is almost fully melted. Now add the peanut butter and continue the melting process, stirring after 30 seconds, until smooth.

Spread a thin layer of this mixture across the bottom of your lined loaf pan, then stand the marshmallows across the bottom of the pan.

Pour the chocolate mixture over the marshmallows, pushing it gently between the cracks and into the sides.

Chill the loaf for about 2 hours or until chocolate mixture is firmly set. Lift from the pan, peel away foil and trim edges. Cut into large blocks or cut cross-wise into strips
Notes
This recipe was inspired by a combination of a recipe my friend gave me and a recipe from Taste of Home.