Last week my friend Linda dropped off a "Welcome to Chicago" dinner of homemade fried chicken, salad, roasted carrots, granola, giant chocolate chip cookies (made our newest Levain copy cat recipe) and some brownies she'd labeled as "Brownie Flats". Everything was spectacular, but what I couldn't stop thinking about were the Brownie Flats.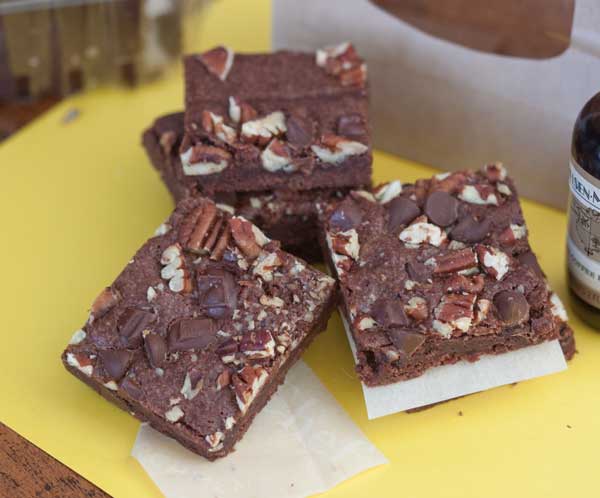 I normally make brownies fairly thick, but I liked how Linda purposely made them thin and then set expectations by labeling them as flats.  I wondered if there was a specific "brownie flats" recipe she used, but when I asked her about it she said it was just an old Gourmet recipe and that she made a few adjustments.  I'm still waiting to hear what those adjustments were, but I think Brownie Flats might be based on the Chocolate Mocha Brownies from Gourmet, a recipe that calls for a 10×15 inch pan.  Naturally, I tested the theory!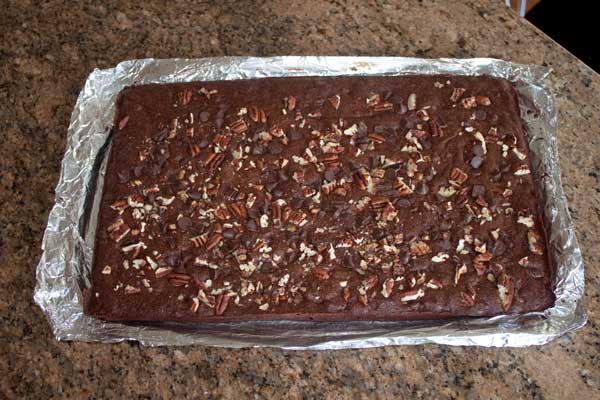 No brownies will ever be as good as Linda's because of the thought she put into them and the sweet gesture, but if you want to make your own thin brownies (or "brownie flats") this recipe is a good one and very reliable because I made it twice and had great results both times even though I used different chocolate melted techniques. And don't get too hung up on the mocha. You can leave it out or you can reduce it or if for some reason you have coffee extract, you can use that.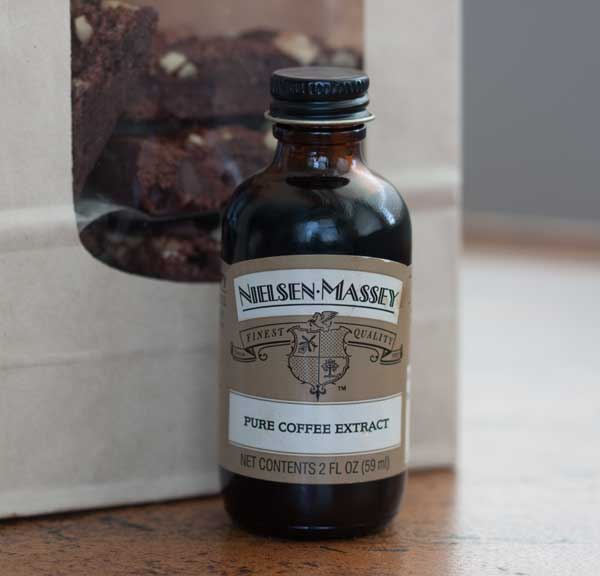 I had to use coffee extract because my new fancy grocery store didn't have instant espresso, but they did have about a thousand flavors from Nielsen Massey. Of course now I'm glad I bought the extract because I can play with it a bit and see how it works in other things.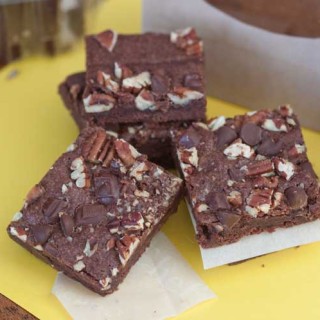 Brownie Flats
Brownie Flats are thin, fudgy brownies topped with pecans or walnuts. The texture is firm and they are not over-the-top rich, so make sure to add the extra chocolate chips or chunks.
Ingredients 
12

tablespoons

unsalted butter

5

oz

good quality unsweetened chocolate

chopped (I used Scharffen Berger unsweetened)

2

teaspoons

espresso powder or 1 teaspoon of coffee extract

2

cups

granulated sugar

380 grams

1

teaspoon

vanilla extract

1/2

teaspoon

salt

4

large cold eggs

200 grams

1

cup

all-purpose flour

4.8 oz**

3/4

cup

chopped semisweet chocolate chips or chunks

don't omit

1

cup

chopped walnuts or pecans for top
Instructions 
Preheat the oven to 375°F and have a rack in the center position.

Line a 15×10 inch metal pan with heavy duty foil and grease bottom only with about 1 tablespoon of the butter.

Melt the remaining 11 tablespoons butter and chopped chocolate together in a heat-proof bowl mixing bowl set over a pan of barely simmering water. Remove bowl from heat and stir until smooth, then stir in espresso powder (or extract) and sugar, vanilla and salt.

Crack the eggs into a separate bowl and whisk them until yellow. Very gradually stir the egg mixture into the chocolate. When eggs are incorporated, add the flour and stir until smooth. Make sure batter is cool, then stir in half the chocolate chips.

Pour the batter into the pan and use a rubber scraper to smooth it evenly all the way to the ends.

Sprinkle the nuts and remaining chocolate chips over the top and bake the brownies for 18-20 minutes or until the top appears set. Let cool at room temperature.

When pan is cool, cut the sheet of brownies into two or three large segments, wrap in plastic and put them in the freezer for an hour. This will help give you a cleaner cut. If you want to store them for a while, wrap very tightly and then put in a freezer bag.
Notes
I used a 4.8 ounce (weight!) cup of flour. Also, be careful not to overbake. In my oven these were most definitely done at 20 minutes. I actually baked them for 19 1/2 minutes the second time.