I haven't posted much lately because I've been making the same things over and over. These past few days it's been small batch big and flat chocolate chunk cookies like the ones they sell at a restaurant here called Summerhouse Santa Monica. I haven't quite got their recipe down, but in the midst of experimenting I fell in love with this giant peanut butter chocolate chunk recipe.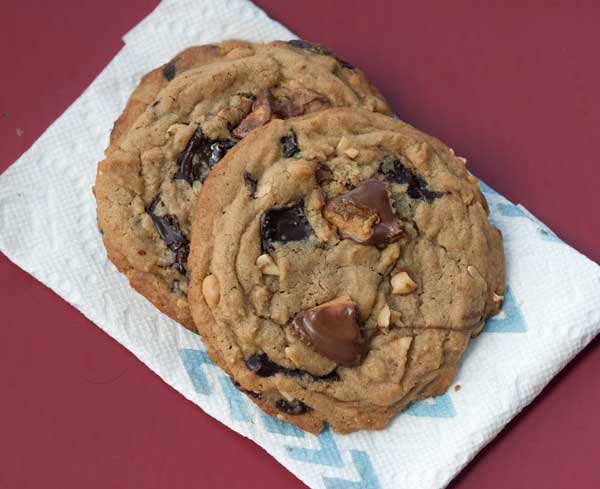 Big Flat Giant Peanut Butter Cookies
These big cookies are slightly flat and loaded with melted chocolate chunks and salted peanuts. Working out of the same playbook as this earlier cookie, I played around with the add-ins, size and bake time and temps. Since these are quite large, I started them in a hot oven and reduced the heat to 325 so they'd cook and a slow and steady pace.
For best results, measure the flour, peanut butter and sugar with a scale. Here's the digital scale I've been using lately.
Recipe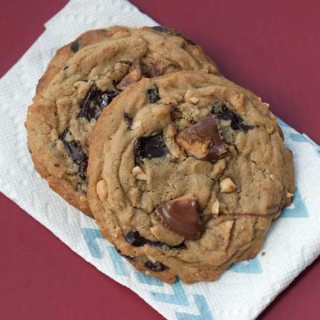 Giant Peanut Butter Chocolate Chunk Cookies
To make the cookies, please use the gram measurements. Due to how much flour is packed, moisture levels, etc. etc. volume isn't always accurate.
Ingredients 
2

sticks

unsalted butter

(228 grams)

1

cup

light brown sugar

(200 grams)

1

cup

minus 1 tablespoon granulated sugar

185 grams

¾

cup

plus ½ tablespoon peanut butter

Jif or Skippy (200 grams)

2

large

eggs

100 grams

1 ½

tablespoons

vanilla

1

teaspoon

salt

1

teaspoon

baking soda

2 ½

cups

minus 1 teaspoon pastry flour

Bob's Red Mill (320 grams)

10

ounces

good quality dark

50 to 63% chocolate, cut into chunks**

⅓

cup

coarsely chopped peanuts

2

packs of Reese's Peanut Butter Cups

4 cups
Instructions 
In a large mixing bowl, beat the butter, peanut butter both sugars until light and creamy.

Add the eggs one at a time, beating for 30 seconds after each egg is added.

Beat in the vanilla, salt and baking soda. Add flour and stir until mixed, then stir in the chocolate chunks and peanuts.

Divide dough into 12 large chunks and arrange on foil lined plates. Chill for at least half an hour or until ready to bake.

When ready to bake, preheat oven to 350F.

Arrange the chunks on a parchment lined baking sheet, leaving plenty of room for spreading – about 6 to a sheet.

To bake, put one sheet of cookies on the center rack in the350 degree oven. Close the door, set the timer for 18 minutes and reduce the heat to 325 degrees F. Bake for about 18 minutes (but check at 15) at 325 until the cookies appear set.

While the cookies bake, cut each Reese's cup into 6 wedges.

When cookies are done, remove from oven and set some of the Reese's wedges on top of hot cookies.

Let them cool on the baking sheet for about 10 minutes, then let cool completely or transfer to the freezer to quick cool.
Notes
For the pastry flour, I used Bob's Red Mill which comes in a big pink bag. You could swap out the pastry flour for an even mix (160 grams each) of bread flour and cake flour or possibly use King Arthur AP. I really am enjoying the Bob's flour. For the chocolate, I like Lindt Sweet Dark which melts quite nicely. It doesn't set up very quickly, so I like to set the chunks by throwing the cookies in the freezer. Then again, I'm a weirdo who doesn't like these gooey or melt-y.