Last week was Fuzz's birthday, and while Todd and I were celebrating with Cake Mix Chocolate Bundt Cake, Fuzz was at school creating her own birthday pie which she shared with her housemates. It was this Chocolate Hazelnut Meringue Pie, and I asked if she'd share the recipe when she came home for a quick break between terms. Not only did she share the recipe, she made the pie.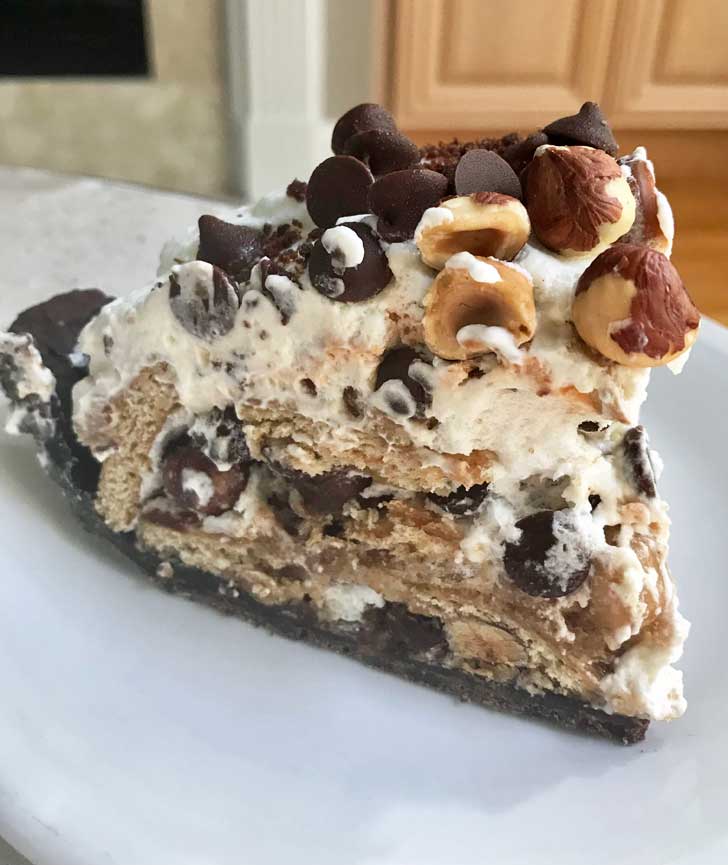 The recipe is Fuzz's, whose real name is Emma, twist on the old Luby's Butternut Brownie Pie, but she made so many changes it's pretty much a new pie. It has a chocolate pastry crust and a filling of meringue, chocolate, hazelnuts and graham crackers. On top of all that is a thick layer of sweetened whipped cream. Below is a picture of the pie right out of the oven before we put the whipped cream on it.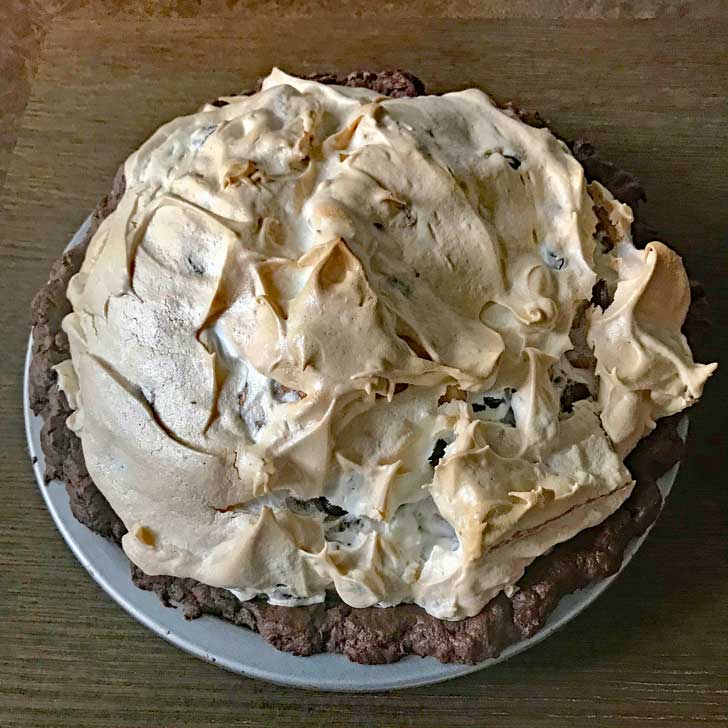 Chocolate Pastry Crust
I'm pretty traditional when it comes to pastry crust, but Fuzz likes making chocolate ones with cocoa powder. Or maybe I shouldn't say "likes" because this one involved some choice language as she tried to roll and crimp the dough. It's not the easiest dough to work with, but it's worth it in the end because it makes a deeply chocolate, not-too-sweet, sturdy crust. Sturdy is the key word. I tried to get away with subbing a chocolate graham crust in another recipe that called for a chocolate pastry crust one time and the graham crust got soggy. So the chocolate pastry crust serves a purpose. Fuzz mentioned this crust is originally from King Arthur, so if you need more notes or help with it, you can check the original.
Chocolate Hazelnut Meringue Pie Filling
Like the Luby's Butternut Pie, the filling is made of whipped egg whites mixed with graham crackers and nuts. Emma's other changes to this pie were using hazelnuts as the nuts and adding chocolate chips. At school Fuzz used Ghirardelli milk chocolate chips. At home we used semisweet chips. Next time we're going to make it with chopped chocolate.
Whipped Cream Topping
The picture above (second from top) is what the pie looks like right out of the oven without any whipped cream. Even without the whipped cream, it's a good looking pie. Still, I don't recommend leaving off the whipped cream because it adds a new layer of texture and flavor. The picture below is the pie with whipped cream and garnish covering the meringue. This is actually the one Fuzz made at school. She didn't have a stand mixer to beat the egg whites and the meringue wasn't as fluffy so the pie was flatter.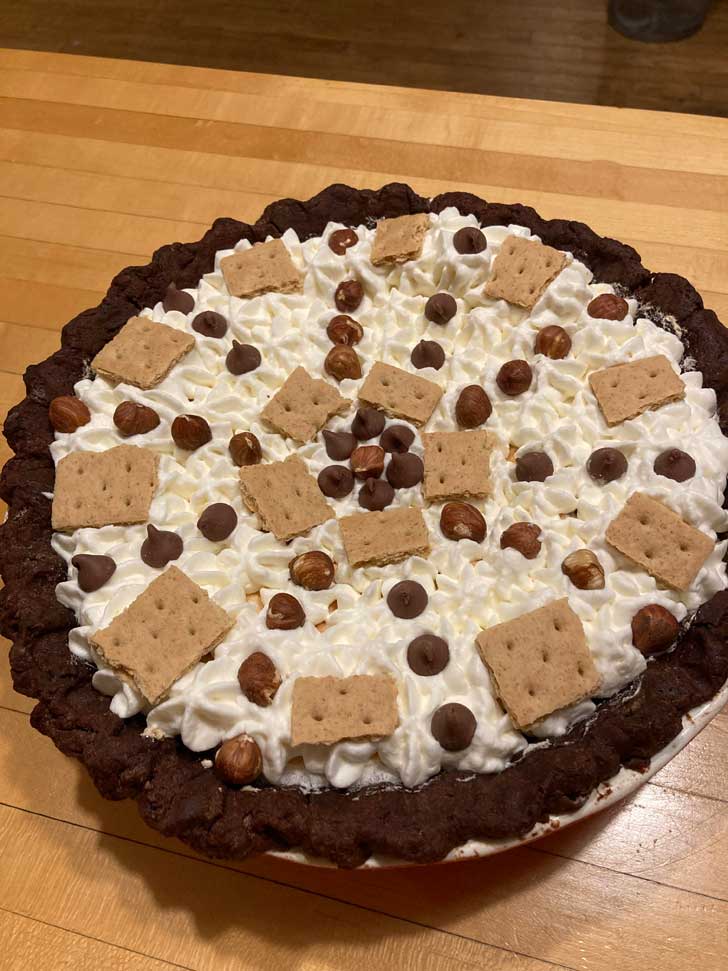 Some More Notes
I'll post another picture next time I make it. Our garnishes so far have been chocolate chips and nuts. Nuts are definitely a good idea, but I think next time a drizzle of chocolate syrup or a chocolate-heavy ganache that sets after drizzling would be a better garnish than chocolate chips.
Recipe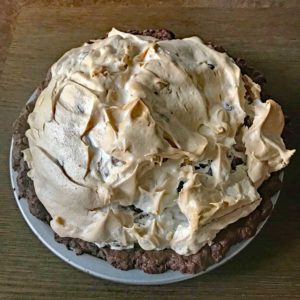 Emma's Chocolate Hazelnut Meringue Pie
Chocolate pastry crust with a graham cracker, chocolate & nut stuffed filling.
Ingredients 
Chocolate Pastry Crust
1 ¼

cups

unbleached all-purpose flour

(160 grams)

½

cup

unsweetened cocoa powder

(43 grams)

½

teaspoon

salt

½

cup

confectioners' sugar

(60 grams)

⅛

teaspoon

baking powder

10

tablespoons

cold butter

(140 grams)

5

tablespoons

ice water
Filling
5

large

large or 4 "extra large" egg whites

⅛

teaspoon

baking powder

⅛

teaspoon

cream of tartar

1

cup

granulated sugar, scant cup

(190 grams)

1

teaspoon

vanilla extract

14

squares

graham cracker, broken into half inch pieces

1

cup

hazelnuts, coarsely chopped (Trader Joe's Roasted)

⅓

cup

chocolate chips, milk or semisweet
Topping
1

cup

whipping cream

3-4

tablespoons

granulated sugar or ¼ cup powdered

½

teaspoon

vanilla
Garnish
extra nuts and drizzled chocolate ganache or syrup
Instructions 
Combine the flour, cocoa powder, salt, confectioners' sugar, and baking powder and stir well.

Work the butter into the flour mixture, using a pastry blender or fork, your fingers, or a stand mixer. Don't mix the butter in completely; leave some of it in walnut sized lumps.

Add the 5 tablespoons of water and stir, then add a little more water as needed until the dough holds together when pinched. It should be cohesive, but not sticky. Chunks of butter should still be visible in the mixed dough.

Shape the dough into a disk, and chill until you're ready to use it. If you aren't baking right away, freeze the crust and then move it to the fridge to thaw overnight

Preheat oven to 375. Grease a deep dish pie plate.

Bring crust to room temperature. On a floured pastry mat, roll it out and lay it over the pie dish. Trim and crimp edges. You may need to stop occasionally and refrigerate the dough, as it will soften while crimping. It needs to stay cold.

Freeze the crimped and docked crust for 20 minutes to an hour

Place a piece of parchment paper inside the crust, and fill to the brim with pie weights. Place pie dish on a baking sheet.

Bake crust for 14-16 minutes at 375. Remove pie weights, then bake crust for 7-10 minutes more, without the pie weights. Let par-baked crust cool.
Pie Filling
Reduce oven heat to 350.

In a mixing bowl, beat egg whites and baking powder until soft peaks form. Add cream of tartar, beating constantly. Add 1 cup of sugar, 1-2 tablespoons at a time, beating constantly until stiff peaks form. Beat in vanilla. Using a rubber scraper, fold in graham crackers, chocolate chips, and nuts. Pour mixture into par-baked crust and bake for 30 minutes.

Let cool completely on a wire rack. The pie will sink a bit as it cools.

Prepare topping. In a chilled bowl, using chilled beaters, beat cream until it begins to thicken. Add sugar and vanilla and continue beating until stiff peaks form. Do not overbeat. Top pie with whipped cream. Garnish with extra hazelnuts and chocolate if desired.
Notes
FILLING NOTES:
The graham crackers should be broken into large pieces or coarsely crushed with a rolling pan.