Pecan Beer Bread was actually fallout from an attempt to make beer mustard. I'm still not sure whether I like the mustard (the family does), but I love the bread.  It's made with Founder's Porter, a dark rich beer with notes of coffee and chocolate that go nicely with the wheat and pecans.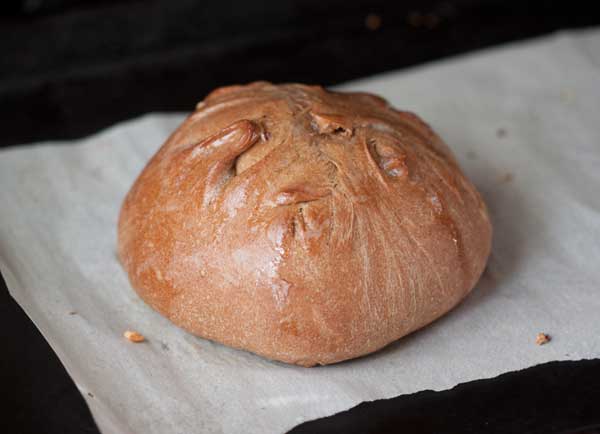 Pecan Beer Bread Flavor
You can definitely taste the beer in the bread, but the non-beer drinker in our family said she liked it even with the prominent porter flavor. As for the texture, it's a little denser than most yeast breads, but much lighter than the non-yeast quick type beer bread made in a loaf pan. In my opinion, this Pecan Beer Bread is very much like the beer bread served at Salt Grass Steak House. I'm definitely planning on making it again.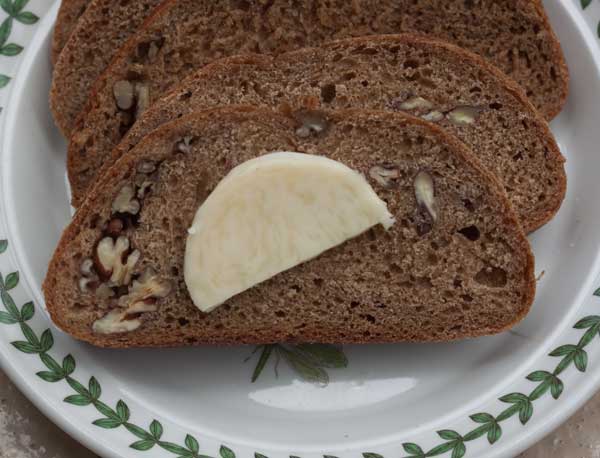 Recipe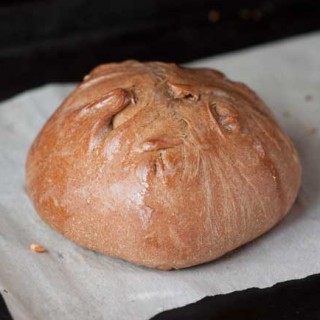 Pecan Beer Bread
Pecan Beer Bread is a dark beer bread recipe made with yeast.
Ingredients 
1

teaspoon 

active dry yeast

2

tablespoons

warm water

2

tablespoons 

oil

2

tablespoons

honey

1

cup

bread flour plus more as needed

up to 3 T.

1

cup

whole wheat flour

½

teaspoon

salt

¾

cup 

Porter

⅔

cup

toasted and chopped pecans
Instructions 
Put the yeast and water in the bowl of a stand mixer and stir to dissolve yeast.  Let stand for about 5 minutes to proof, then and add oil, honey, 1 cup of the bread flour, 1 cup whole wheat flour and salt.  Mix well with a heavy duty scraper or spoon. Add the beer. At this point, dough should be very soft and sticky, but it might be dry, in which case you will not need extra flour..

Attach dough hook to stand mixer and begin to knead. If dough is very sticky and clings to the side of bowl, add remaining flour 1 tablespoon at a time until dough does not stick to the sides as it is kneaded. Continue letting the mixer knead the bread for about 5 minutes or until dough is smooth and elastic. You can also do this step by hand. When dough is smooth and elastic, place in a lightly oiled bowl, cover with plastic wrap and let rise in a warm place for an hour or until dough is about 1 ½ times its size -- it will not rise to double its size.

Punch dough down and knead in pecans. Divide into two rounds and place rounds on a parchment lined baking sheet. Put in a warm place and let rise for another hour.

After an hour, preheat oven to 350 degrees F. If your dough rounds have risen outward and look a little flat but light, gently nudge the edges upwards toward the center to give them a more rounded shape (be careful not to punch down the risen dough) and quickly put them in the oven. The loaves will rise more as they bake.

Bake loaves at 350 degrees F. for 30-35 minutes.  Let cool before serving.