We had a quiet Memorial Day, but in hindsight, I wish I'd had a party and served this!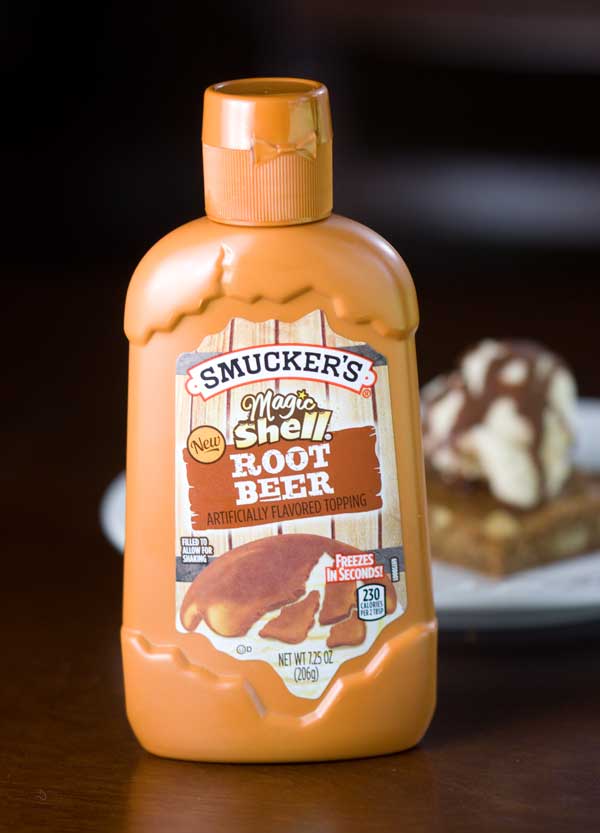 I found out about the new Root Beer Magic Shell last week when a free sample from Smucker's appeared on our doorstep.  Maybe they knew Todd was a root beer float fanatic?  I don't know, but it was a nice surprise and brainstorming different ways to use it was an amusing diversion.  In the end, I settled for putting it on top of vanilla ice cream topped blondies.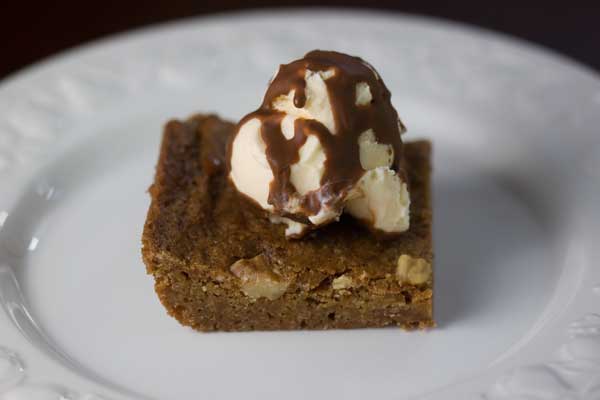 As you can see by the color, it looks a lot like Chocolate Magic Shell, but slightly lighter.  It has a pretty clear root beer flavor with a hint of licorice, and while I thought it would be best with a brown sugary treat (hence the blondies), I think it might be even better served with vanilla ice cream and a chocolate brownie or a slice of chocolate fudge brownie pie.  At any rate, it's super fun and would be a cool treat for a pool party or ice cream social.
Also, I checked the Magic Shell ingredient list and was surprised to see that after sugar, the two main ingredients were sunflower oil and coconut oil.  Happy to see there were no hydrogenated oils, I went to the Smucker's website to check the ingredients on the other flavors.  It appears all of the flavors are now made with sunflower and coconut oil.
Recipe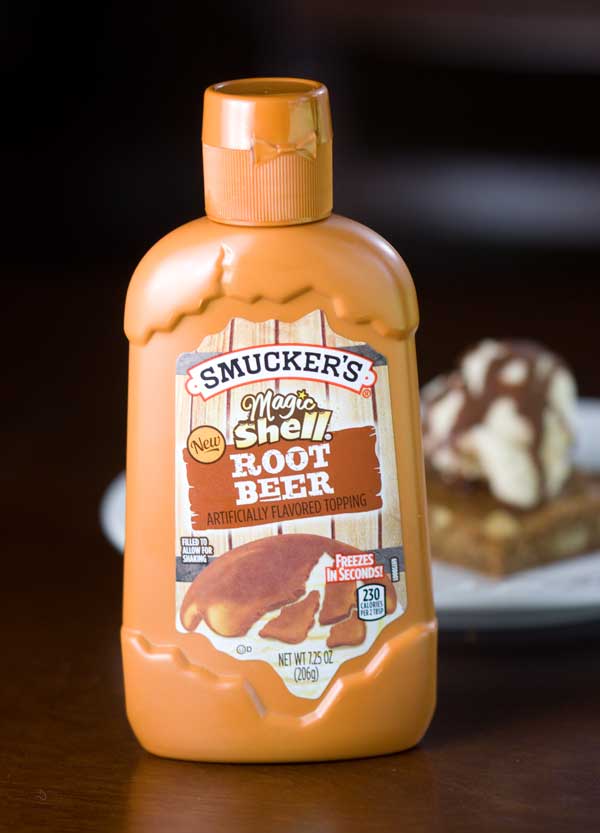 Root Beer Magic Shell on Vanilla Ice Cream and Blondies
Blondies with Ice Cream and Root Beer Magic Shell
Ingredients 
8

tablespoons

unsalted butter

⅔

cup

packed light brown sugar

¼

cup

granulated sugar

1

cup

all-purpose flour or use 1 cup plus 2 T. White Lily all-purpose

¼

teaspoon

baking powder

¼

teaspoon

baking soda

½

teaspoon

salt

omit if using salted butter

1

egg

1

egg yolk

1

tablespoon

light corn syrup

2

teaspoons

vanilla

1

cup

chopped

toasted walnuts

Ice Cream

Root Beer Magic Shell
Instructions 
Preheat oven to 325 degrees F. Line an 8 inch glass pan with strips of parchment paper.

Melt the butter in a small saucepan over medium heat. Heat over medium, swirling pan often, just until the butter starts to turn brown. Remove from heat and stir in the brown and white sugar. Let cool for about five minutes.

Meanwhile, mix together the flour, baking powder, baking soda and salt.

Add the cold egg and the yolk to the sugar mixture and stir well. Stir in the corn syrup and vanilla until well blended. Stir in the flour, then stir in the walnuts. Scrape batter into the pan, spreading to the edges.

Bake 25 to 35 minutes (see note) in the glass dish or until top is golden brown and toothpick inserted in center comes out clean. Cool completely and chill slightly before cutting into squares.

Top with a scoop of vanilla ice cream and some Root Beer Magic Shell.
Notes
I usually bake these at 350 for 25 minutes in a metal pan, but I wanted to try baking in a glass dish at 325 this time. After 25 minutes, the blondies were very brown but a toothpick test showed they were still raw in the center. After 10 minute more, they were still very brown, but the pick came out clean. After cooling, they were perfectly chewy and extremely flavorful. But as always, it's important to watch the cook time because it may vary depending on your oven. Also, I used White Lily flour so the blondies were a bit softer and not too hard even when frozen.