I think I've found my favorite bran muffin. The recipe was sent over by a friend who said it was bakeshop quality – just like you'd get at Little Miss Muffin. And she was right. The muffins were moist, the perfect sweetness, had just the right amount of oil to keep them from being too rich or too dry, and had an interesting blend of flavors from bran, wheat germ and trio of extracts.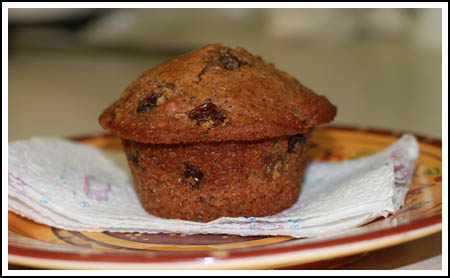 The recipe is adapted from Marcy Goldman, an accomplished recipe developer and author who also happens to be known for her famous "Lawsuit Muffins".  The original recipe appeared in Cook's Illustrated in September 1993. The recipe makes about 20 very large muffins. My muffins were done in exactly 20 minutes at 400, but if you know your oven runs hot, you might want to bake 15 minutes at 400 and 10 minutes at 350. But make sure to start your muffins at 400 because putting the batter in a hot oven is one way to help get a nice crown.
Another thing I'll point out is that the batter needs at least a few hours in the refrigerator – preferably 8. This is actually a good thing because you can make the batter the night before and make the muffins fresh in the morning.
Here are a few more photos. Same recipe, but I cut it into 1/3 and made 6 jumbo size (Texas size) muffins. I also stirred some All-Bran cereal into the batter just for extra texture.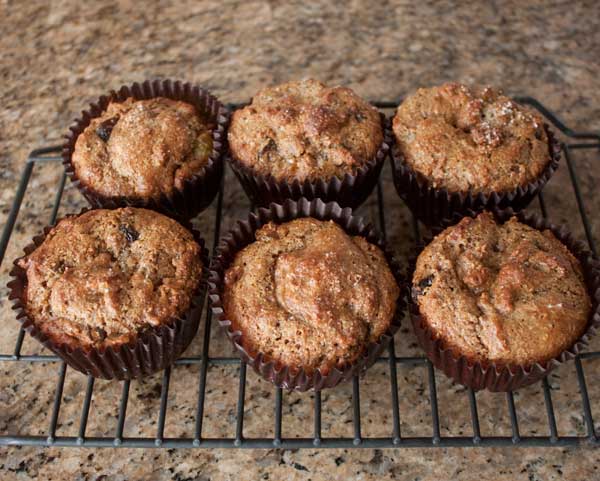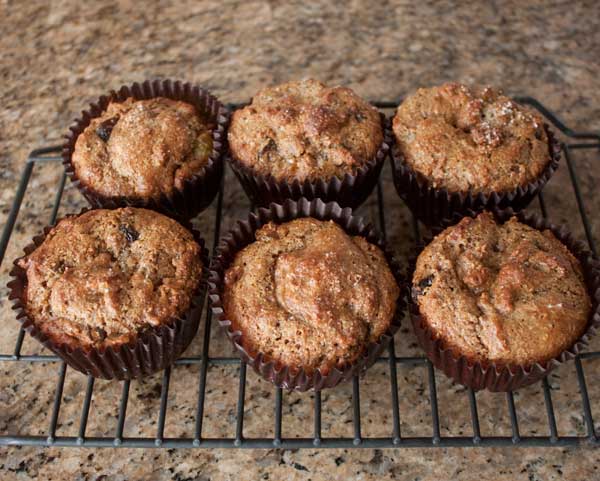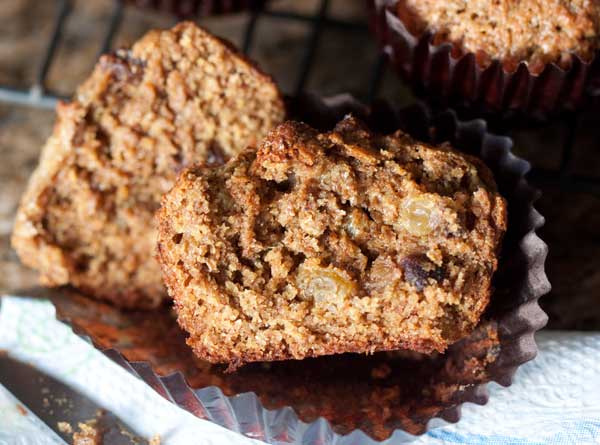 Print Recipe
Favorite Bran Muffin
Adapted from Cook's Illustrated September 1993, this recipe gives you dark, moist, flavorful bakery style muffins.
Ingredients
2 1/2

cups

unbleached all-purpose flour plus 2 tablespoons

11.8 oz

4 1/2

teaspoons

baking soda

1

tablespoon

baking powder

2

teaspoons

ground cinnamon

1/8

teaspoon

salt

3/4

cup

vegetable oil

2

tablespoons

honey

1/4

cup

molasses

1

cup

light brown sugar plus 2 tablespoons

packed firm

1

teaspoon

vanilla extract

3/4

teaspoon

maple extract

1 1/2

teaspoons

butter extract

optional

3

large eggs

lightly beaten

2

cups

buttermilk

1

cup

wheat germ

1

cup

wheat bran

not the cereal

1/2

cup

whole dates

plumped with scalding water, drained, and coarsely chopped

1

cup

dark raisins

plumped with scaling water (optional)
Instructions
Whisk first five ingredients together in a bowl; set aside.

In a large bowl, whisk next 7 ingredients together. Whisk in eggs, followed by the buttermilk, wheat germ, and bran. Let batter rest 10 minutes.

Whisk flour mixture into egg mixture with a heavy duty scraper or rubber spatula, making sure that ingredients at the bottom are incorporated into the batter. Fold in raisins and dates.

Cover bowl with plastic wrap and chill overnight (or for a minimum of 1 hour).

Preheat oven 400 degrees. Line 2 12-cup muffin tins with paper liners – you'll probably only need 20 out of the full 24.

Spoon batter into muffin tins filling to the top. Put a little water in the 4 empty cups

Bake muffins for about 15 to 20 minutes at 400 degrees F. Stick a skewer in one muffin to see if it's cooked through, and if not, reduce oven heat to 350 and bake for another 10 minutes or until a skewer inserted comes out clean. In addition, make sure the tops aren't browning too quickly. If tops are browning, lay a piece of foil loosely over the top and reduce heat to 350 as directed.

Let muffins cool for about 5 minutes before removing from pans
Notes
This recipe makes 18 jumbo muffins. For jumbo muffins, bake at 400 for 5 minutes, then reduce heat to 375 and bake for about 15 minutes more.