If you are in the mood for something sweet and looking to use up some cottage cheese, how about a batch of Cottage Cheese Rugelach? Rugelach is a crescent-shaped pastry. It's made from a cheese-based dough and sprinkled with sweet fillings such as cinnamon sugar, fruit preserves and nuts. This is a cinnamon sugar filled version, as you can see.
Rolling Out Cottage Cheese Rugelach
To shape the cookies, you roll out circles of dough, sprinkle with your filling, then cut into wedges. The wedges are then rolled up into crescents and baked. I need more practice rolling Rugelach dough, but the problem is I only make it around Jewish holidays such as Hanukkah. I'm not sure why I don't make it more often, but since I'm always trying to use up cottage cheese, this recipe might change that.
The downside is the dough is not quite as easy to work with as cream cheese dough. It's not terribly difficult if you keep the dough cold, but it's not the easiest. The original recipe is adapted from one of my favorite books, The Enchanted Broccoli Forest.
Recipe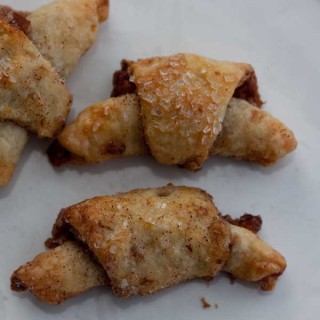 Cottage Cheese Rugelach
The dough in this rugelach is made with cottage cheese instead of cream cheese.
Ingredients 
2

sticks

8 oz butter, room temperature

1

cup

8 oz 4% cottage cheese, small curd

¼

slightly rounded teaspoon salt

½

teaspoon

vanilla extract

2

cups

9 oz all-purpose flour
Filling
½

cup

sugar

2

teaspoons

cinnamon

½

cup

finely chopped toasted pecans
Egg wash: Mix together 1 egg and 1 tablespoon milk
Instructions 
With an electric mixer, beat the butter, cottage cheese, salt and vanilla until well mixed. The curds will be mashed at this point and not completely smooth. They'll disappear when the dough bakes.

Add the flour and stir until well mixed. Shape the dough into 4 4-inch rounds, wrap tightly in plastic wrap and chill for an hour.

Preheat oven to 375 F. Line two baking sheets with parchment paper.

Flour a clean, dry work surface.

Take one of the cold dough sections. Unwrap it, plop it down on the floured surface, lay a sheet of plastic over top and roll it into a 9 inch circle.

Mix together all the filling ingredients (sugar, cinnamon and nuts) and sprinkle circle with ¼ of the filling ingredients, pressing down slightly to get them to stick.

Using a pizza cutter, slice into 12 equal wedges. Starting with the long end, roll wedges up toward the center. Place rolled pastries on a parchment lined baking sheet.

Brush the pastries lightly with egg wash and sprinkle with sparkly sugar if desired. Bake for about 20 minutes. Let cool for at least 20 minutes before serving.