Today's recipe is one you'll really appreciate if you have some cottage cheese you need to use.  Then again, it's also a recipe that might make you want to run out and buy some cottage cheese!  Greg Patent's Butter Crunch Lemon Cheese Bars from Cooking Light are excellent.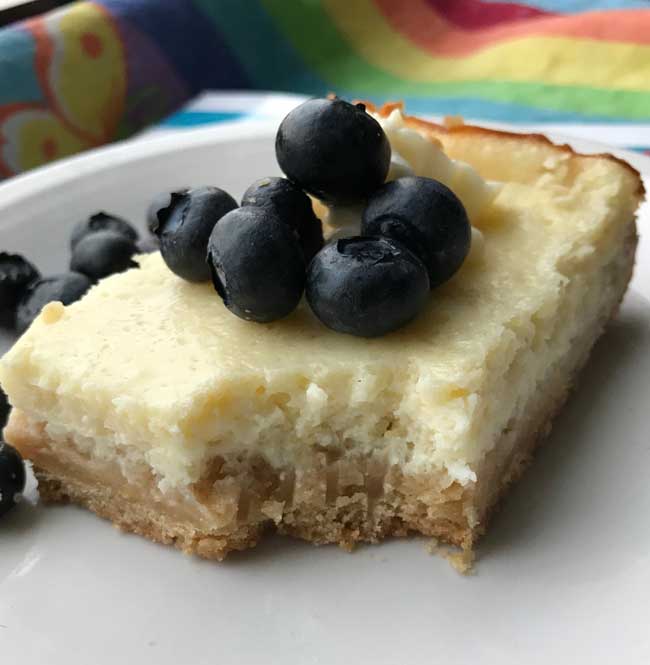 Butter Crunch Lemon Cheese Bars
Here's a link to the Cooking Light recipe collection where you can see the original recipe and read the reviews.
The original directions as well as what I've printed below call for the crust to be made in a mixing bowl and the filling in a food processor. However, if you'd rather not mess up a bowl you can do the crust in the food processor as well.
The bars need some time to chill, and if you have time overnight is best. They also freeze very well.  You can serve them plain or dress them up with a little whipped cream and fruit.
Recipe
Cooking Light's Butter Crunch Lemon Cheese Bars
Butter Crunch Lemon Cheese Bars are low fat bar cookies made with cottage cheese and fresh lemon.
Ingredients 
Crust:
⅓

cup

unsalted butter

softened, do not use tub style

¼

cup

dark brown sugar

¼

teaspoon

salt

¼

teaspoon

ground mace or nutmeg

1

cup

all-purpose flour

4.5 oz/127 gram
Filling:
1

cup

low fat cottage cheese

I use 2%

1

cup

granulated sugar

2

tablespoons

all purpose flour

1

tablespoon

grated lemon zest

3 ½

tablespoons

fresh lemon juice

¼

teaspoon

baking powder

1

large egg

1

large egg white
Instructions 
Preheat oven to 350°. Line an 8 inch metal pan with foil and spray foil with cooking spray or line it with nonstick foil (or parchment if that's what you prefer).

To prepare crust, place first 4 ingredients in a large bowl, and beat with a mixer at medium speed until smooth. Lightly spoon 1 cup flour into a dry measuring cup, and level with a knife. Add the 1 cup flour to the butter mixture, and beat at low speed until well-blended. Press crust into prepared pan and bake at 350° for 20 minutes. Let cool while you make the filling.

To prepare filling, place cottage cheese in a food processor; process 2 minutes or until smooth, scraping sides of bowl once. Add 1 cup granulated sugar and remaining ingredients, and process until well-blended. Pour filling over crust. Bake at 350° for 25 minutes or until set (the edges will get lightly browned), and cool. Cover and chill for 8 hours.
Notes
To make the crust in the food processor. process the softened butter, brown sugar, nutmeg and salt until creamy. Add the flour and pulse until evenly blended -- do not overprocess, just pulse enough so that the butter is evenly dispersed. Dump into the pan and press evenly. Bake for 20 minutes.