Last week I made chocolate yeast bread for the very first time. That loaf was good, but my family thinks this quick rising yeast chocolate bread is better.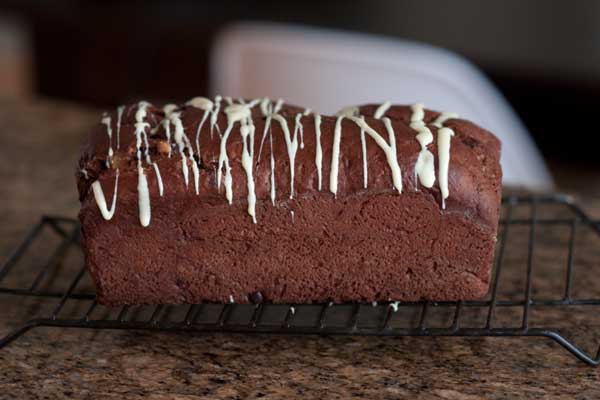 It's sweeter, richer, and a bit more crumbly -- kind of a cross between bread, brownie and pound cake with a hint of scone. There's a lot going on! My first chocolate yeast bread was great for toasting and topping with peanut butter or hazelnut spread, but this one can stand alone.
Platinum Yeast
The original recipe is from David Lebovitz, but I made it with Platinum quick rising yeast, which meant modifying the technique. David mentioned that the original version isn't usually a very high rising bread, but whatever dough enhancers they put in Platinum must have helped because my loaves rose quite a bit. They rose slightly at room temperature, but rose a lot in the oven.
Dough Texture
Before you make the recipe, you should know that the dough is very soft and a stand mixer is extremely helpful. You'd have to add a lot more flour to get the dough stiff enough to knead by hand, whereas the paddle and dough hook pummel the dough to the point where it gets stretchy and elastic and snaps off the side of the bowl. I probably wouldn't even attempt this recipe without a stand mixer or a food processor.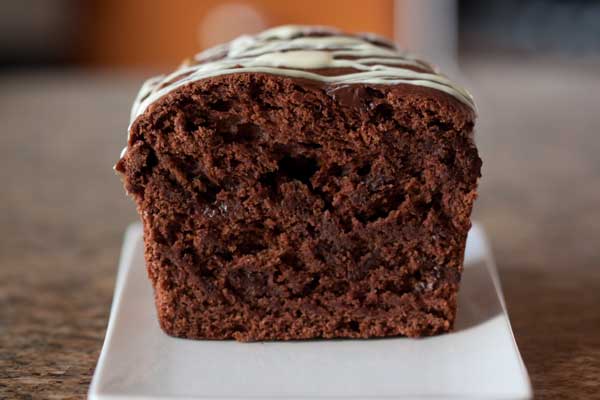 And don't leave out the chocolate chips or chunks because they are the best part! I made one loaf with chunks of chocolate and another with bittersweet chips. For my next loaf, I might try chopping up a hazelnut flavored bar.
Recipe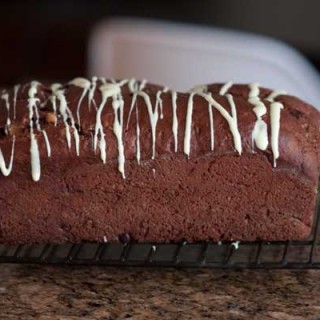 Quick Rising Yeast Chocolate Bread
Platinum Yeast Chocolate Bread is a chocolate bread made with rapid rise or quick rise or "platinum" yeast.
Ingredients 
¾

cup

warm milk

120 degrees

1

envelope

2.25 oz of Platinum or Rapid Rise yeast

6

tablespoons

sugar

75 grams -- I used 3 T. brown and 3 T. granulated

2

cups

bread flour

280 grams -- definitely weigh it.

¼

cup

unsweetened cocoa powder

I used natural

4

tablespoons

55 g butter, unsalted

3

ounces

85 grams dark chocolate, coarsely chopped

1

teaspoon

espresso powder or coffee extract

optional

1

teaspoon

vanilla extract

1

large egg

¾

teaspoon

salt

reduce to ½ if using salted butter

½ to ⅔

cup

bittersweet chocolate chips
Instructions 
Measure the temperature of the milk to make sure it's between 120 and 130 degrees.

In the bowl of a stand mixer, combine the platinum yeast, sugar, flour, and cocoa powder. Pour the warm milk into the dry ingredients and stir well. Batter will still be very dry at this point. Set aside for about 15 minutes while you melt the butter and chocolate.

In a microwave-safe bowl, melt the butter and chocolate together using 50% power and stirring every 30 seconds until smooth. Let cool just slightly.

Stir the melted chocolate mixture into the flour mixture, then add the coffee flavor (if using), vanilla, egg and salt. Mix very well using the paddle attachment of a stand mixer and stopping often to scrape the side of the bowl. Dough will be very soft and similar to brownie batter.

Switch to the dough hook and let the machine knead the mixture for five minutes, stopping to scrape sides occasionally. Cover the bowl and let rise in a warm place for 1 hour.

After dough has risen, beat it down again and stir in chocolate chips.

Grease an 8 ½ by 4 ½ inch loaf pan and dust with flour or cocoa powder. Scrape the chocolate dough into the loaf pan and allow it to rise for another hour and fifteen minutes or so.

Preheat the oven to 350 degrees F. Bake the bread on the center rack for about 45 minutes or until it sounds hollow when you tap it. If you have an instant read meat thermometer, bread is usually done when it's a little over 200. I try to bake mine to 205 F. (see note)

Let it cool in the pan for about 30 minutes, then remove from the pan and let cool completely. Slice and serve, or wrap it in plastic and freeze. I like to slice it while frozen, then thaw it out for a few minutes and toast it.
Notes
Even with quick rising yeast, this bread still needs at least an hour rising time in the bowl and in the loaf pan. It will rise quite a bit more in the oven. Also, the bread will really start to smell great after the first 25 minutes or so. At 35 minutes you may want to lay a sheet of foil over the top to prevent too much browning. I didn't need to, but depending on your oven it might be necessary. I would err on the side of overcooking bread rather than undercooking because overcooked bread might be a little crispy tasting, while undercooked would have a doughy inside. But again, I didn't have any issues with baking time and the meat thermometer was helpful.