I've been telling people that kolaches are the next big thing. I have no idea if this is true, but as I tasted the apple, raspberry and cream cheese filled kolaches from this morning, I decided there's no reason why 2014 shouldn't be the year of the kolache at our house!
Platinum (or better yet SAF Gold Label)
This batch was adapted from a recipe I tried back in 2007 which made 48 rolls. That was about 45 more than I needed, so I scaled it down and made 16, which seemed more reasonable. I also incorporated a product I discovered over the holidays called Red Star Platinum Yeast, which is a high rising yeast that contains dough conditioners. So far I've used it in cinnamon swirl bread, cream cheese braids, and dinner rolls, and in every instance, the breads were softer and rose higher. UPDATE: I still use Platinum sometimes, but SAF yeast is also great.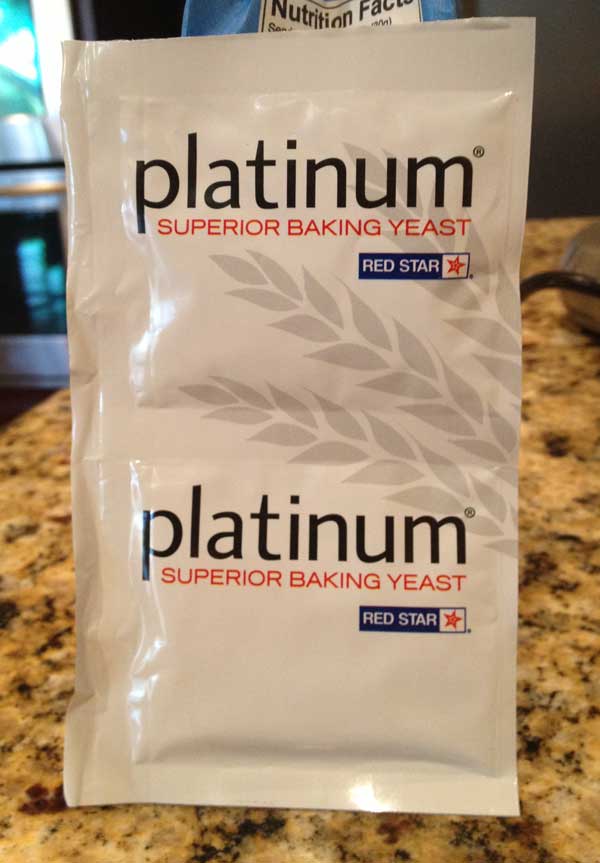 Bread flour is also a must for me these days, and because I'm a yeast killer I used a thermometer to ensure the milk was exactly 130F.
The Cream Cheese Filled Kolaches were excellent, though I'd be lying if I said I wasn't going to try more recipes . If you do a search for kolache recipes, you'll see that some call for more egg, more butter, sour cream, milk, and I'm still hoping to find one with mashed potatoes. If you try the recipe, let me know what you think! Also, my favorite filling is cream cheese, so I included the recipe.  For other fruit flavors, you can make fillings or use good quality canned fruit pie fillings.  Many people like filling these with savory things such as sausage, but I like to keep them sweet.
Updates
-- Bread flour is not "a must" but it makes a nice kolache. I think all-purpose would be fine.
-- Platinum Yeast seems to have been discontinued.  I can't find it anywhere. Update: It's back! But now I mostly use SAF because it comes in a larger package. SAF also has a yeast designed especially for higher sugar doughs -- the gold label SAF. I buy it at my local Lebanese shop or (here). Both the gold label and red lable SAF yeasts are great, but I usually just buy the gold label and use it for everything. It seems to work really well in gluten-free yeast breads, too.
-- I never kill yeast anymore.
-- Cream Cheese Filled Kolaches are still my favorite and I've stuck with this filling. Sometimes I'll use the cream cheese filling, but put a dab of preserves in the middle for the best of all worlds.
Recipe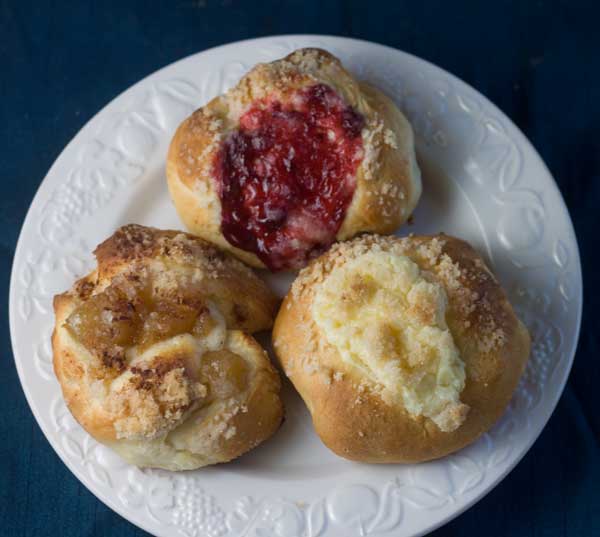 Cream Cheese Filled Kolaches
Czech style kolaches with cream cheese filling.
Ingredients 
Dough
1

cup

of milk

whole is probably best but I used reduced fat (240 ml)

5 ½

tablespoons

unsalted butter

softened plus more for brushing (74 grams)

¼

cup

granulated sugar

50 grams

1

large

egg yolk

2 ½ to 3

cups

of flour

315 to 380 grams**

1

teaspoon

salt, scant

1

packet

Red Star Platinum yeast or 2 ¼ teaspoons SAF instant

or 2 ¼ teaspoons Rapid Rise
Crumb Topping
⅓

cup

granulated sugar

65 grams

2 ½

tablespoons

flour

20 grams

⅛

teaspoon

cinnamon

4

teaspoons

melted butter

18 grams
Cream Cheese Filling
8

oz

cream cheese

softened (230 grams)

1

large

egg yolk

¼

cup

sugar

50 grams

Pinch

of lemon zest

½

teaspoon

vanilla
Instructions 
Put the milk in a microwave-safe measuring cup and heat just until it starts to boil. Let it cool down to 130 degrees F.

While milk is cooling, put the 5 ½ tablespoons of butter and sugar in a mixing bowl and beat with a spoon. Stir in the egg yolk, 2 cups (250 grams) of the flour, salt and yeast. Mixture will be crumbly and dry. Gradually add the milk and stir until thoroughly mixed. From this point, add remaining cup of flour by quarter cups until you have a soft dough that is neither too sticky nor too dry – though it should be more sticky than dry because kneading will remove some stickiness.

Put the bowl on the mixer stand and knead with the dough hook until it is smooth and elastic.

Rub an empty mixing bowl with butter, put the dough in it, cover and let rise until doubled in bulk, about 1 hour.

Punch dough down and turn out onto lightly floured surface. Pinch off 16 equal size portions and shape into little balls or blobs. Place 8 balls on each of two parchment lined baking sheets.

Cover loosely with a greased sheet of plastic wrap and let rise for an hour.

While rising, mix together ingredients for the topping and filling.

Make an indentation in each risen ball and fill with a tablespoon of cream cheese filling. Brush gently with butter and sprinkle the topping over the bun and filling.

Preheat the oven to 400 degrees F and let the buns sit while the oven preheats.

Bake for about 15 to 20 minutes at 400F.

These are good warm or at room temperature. I like the fruit filled ones warm, but prefer to let the cheese version cool down.
Notes
** In the end I used about 360 grams of flour, but it's best to go by texture and feel of the dough, so start with 2 cups and mix in the remaining flour in gradually. Dough will be slightly sticky before kneading, but should become smooth and elastic after kneading. I mixed my dough with a spoon, but I did use the dough hook of a stand mixer for kneading. If you like the process of kneading by hand, you can make this whole recipe with just a bowl and a spoon.