After falling in love with Chocolate Babka, I've moved on to Chocolate Yeast Bread.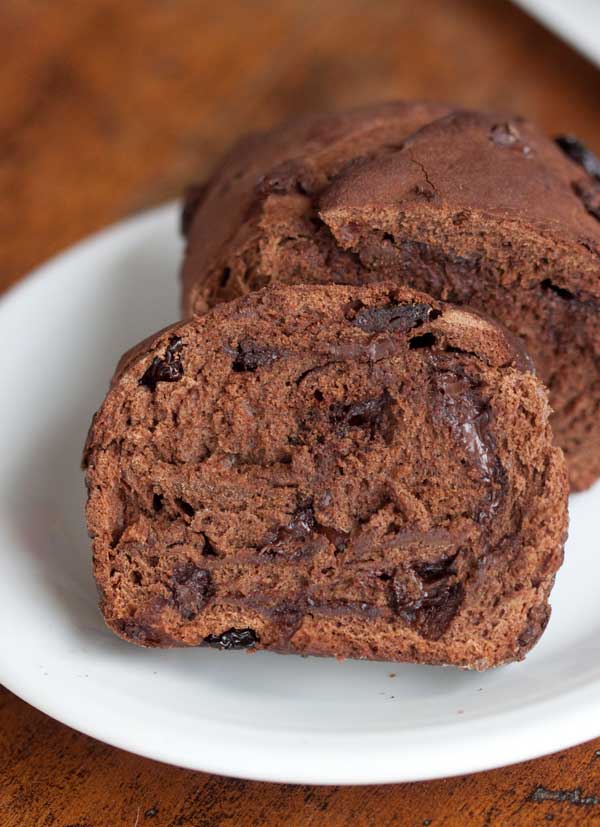 In the past my feeling was why bother making chocolate yeast bread when you could just make chocolate brownies or cake? But tastes change (and bread making skills improve) and now I'm really into the more chocolate/less sugary flavor of chocolate yeast bread.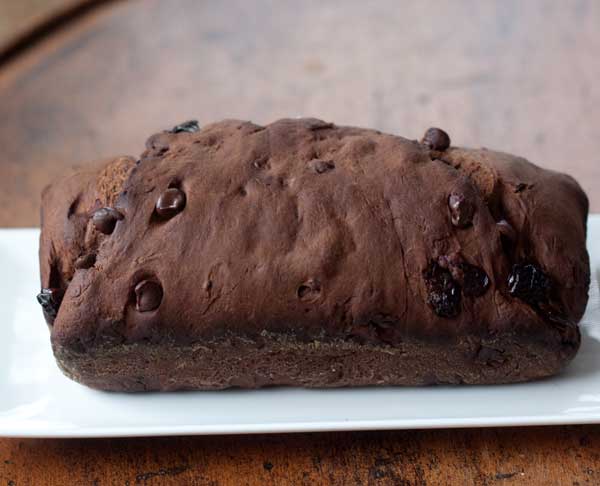 That, plus the chewy texture, crispy crust and the whole toasting issue! What better vehicle for peanut butter than chocolate toast?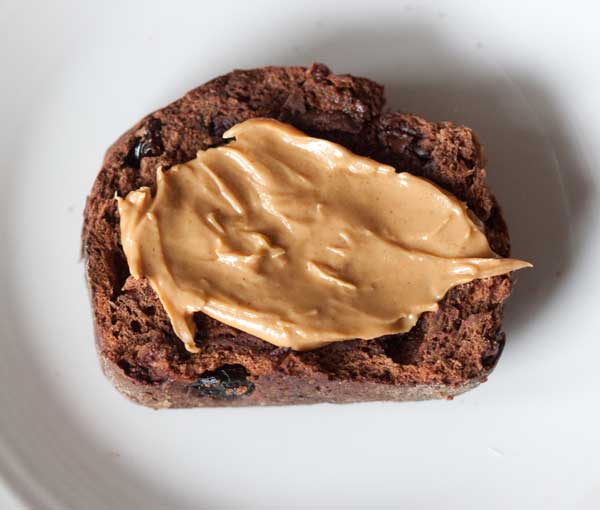 Sweetened With Honey & Molasses
What I like about this particular recipe is that it calls for a combo of honey and molasses for sweetness and flavor. In addition, it has a triple dose of chocolate from melted chocolate, cocoa powder and chocolate chips. And finally, it's got some dried cherries just to break up the cocoa theme. The first bite is kind of surprising for anyone used to eating chocolate brownies, cakes and cookies, but one bite becomes two, then three, and then you are hooked on the texture and maybe imagining how good other things would be on top of it and wondering why chocolate yeast bread isn't more common. This recipe will be the first of what I hope are a series of chocolate yeast breads (especially if this weather keeps up).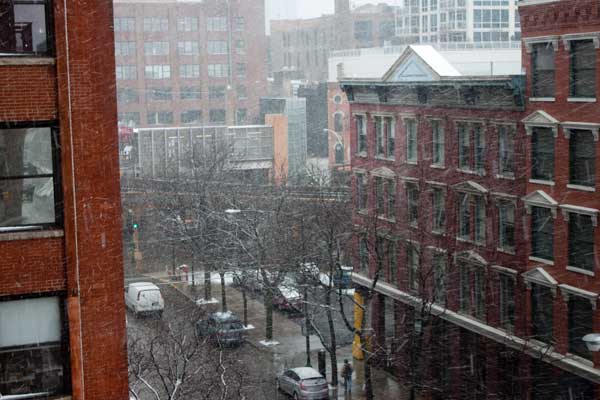 Rapid Rise Yeast
Update! We liked this bread so much I made a few more batches using different yeast. You can definitely make this with Rapid Rise yeast. If you go with Rapid Rise (or "quick rise") just mix the yeast in with the flour, molasses, honey etc. and pour 120 degree water into the bowl. Platinum yeast works too.  The loaf in this last photo was made with Platinum yeast (and yes, I did throw in some peanut butter chips).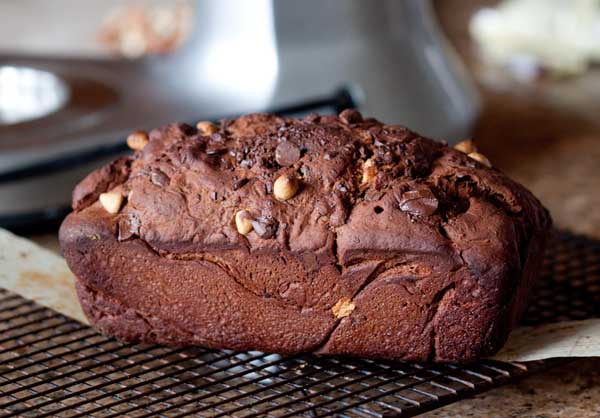 Loaf Pan Size
It's harder to find 8 inch loaf pans these days. Most are 8 ½ by 4 ½ inches or larger. The one I use for this loaf is 8x4 across the top, but tapers downward and measures barely 3x7 inches across the bottom and the capacity is 1 pound. If you can't find an 8x4 inch loaf pan, Dollar Tree sells some disposable ones that come in packs of 3. They measure 8x4 inches across the top and 3x7 inches across the bottom, so they're just the right size. You can also just go ahead and use a slightly larger loaf pan, but the loaf might be stubbier.
Recipe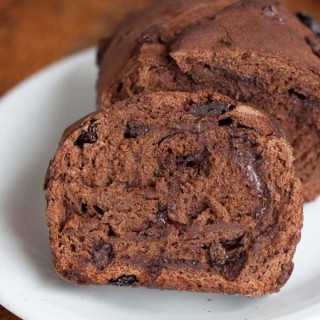 Dark Chocolate Yeast Bread
Dark Chocolate Cherry Bread
Ingredients 
2

ounces

dark chocolate

chopped

2

teaspoons

unsalted butter

1

packet

2 ¼ teaspoons active dry yeast

½

cup

warm water

1

tablespoon

plus 1 teaspoon honey

2

tablespoons

plus 2 teaspoons molasses

¼

teaspoon

coffee extract

or espresso powder

½

teaspoon

vanilla extract

2

tablespoons

cocoa powder

I used natural

1 ⅔

cups

all-purpose flour

7.5 oz -- weigh it out

½

teaspoon

plus a tiny pinch of salt

⅓

cup

dried cherries

⅓

cup

chocolate chips
Instructions 
In a small microwave-safe bowl, melt the chocolate and butter together using 50% power. Set aside to cool.

Put the warm water in the bowl of your stand mixer and sprinkle yeast on top. Add the honey, molasses, espresso powder (or coffee extract), vanilla and cocoa powder. Add ⅔ cup (3 oz) of the flour and stir well. This is your sponge. Set that aside for 20 minutes.

After 20 minutes, stir in the melted chocolate/butter mixture, salt and the remaining 1 cup of flour. Mix well, attach the dough hook and let the machine mix the dough until it is smooth and elastic. Add in the cherries and chocolate chips.

Transfer the dough to a well-oiled bowl and let rise for 80 minutes. It will not double in size. You may hardly notice that it's risen.

Punch down the dough and either shape it into a round or shape it into a log and fit it into an 8x4 inch loaf pan.

Let rise for another 80 minutes. Again, it won't rise much until it actually goes in the oven.

Preheat the oven to 375 degrees F. and bake for 35 to 40 minutes or until a meat thermometer inserted reads 205 degrees. Let cool completely.
Notes
This recipe is adapted from Letty Halloran Flatt's version in her book Chocolate Snowball. I scaled the recipe down from 3 loaves to 1 and used a loaf pan instead of making rounds. I also added dried cherries and swapped espresso powder for coffee extract. Because this loaf was so good I made a second loaf using fast rising yeast and swapping the water out for warm coffee. The loaf made with the coffee was dense and heavy. UPDATE: Made a third and a fourth loaf with fast rising yeast and it worked perfectly! Instead of proofing the yeast, just put 1 packet of Rapid Rise or Platinum (both work) in with the flour. Make sure the water is around 120 degrees F.