Today's lovely three layer cake is a chocolate hazelnut flavored creation from Magic Cakes: Three cakes in one: one mixture, one bake, three delicious layers
. This is a very fun book from children's author and baker, Christelle Huet-Gomez. If you are in the market for a new cookbook I highly recommend this one. It's a lot of fun!
Cakes That "Magically" Separate
In Magic Cakes, Huet-Gomez puts her creative talent to work by coming up with 32 completely different variations on a vintage cake recipe which "magically" separates into three layers. The concept is not new, but the book's recipes certainly are and these magic creations come in a wide variety of shapes and flavors. A small sampling of titles includes Coffee Cake, Pistachio and Morello Cherry Cake, Lemon Meringue Cake, Orange and Cinnamon and Pineapple Coconut Cake. There's even savory Magic Mustard Quiche.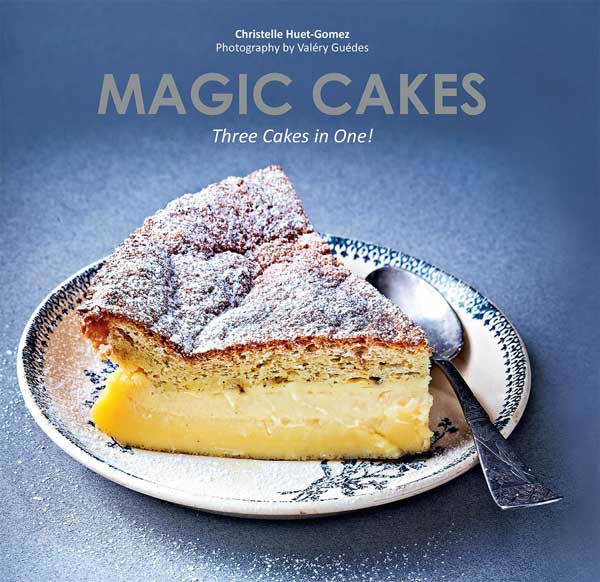 Fancy But Easy
Better still is that even though the titles sound fancy and the desserts appear very sophisticated, they all start with a basic combination of eggs, sugar, flour, butter and milk. The "magic" happens in the oven where the yolks, sugar, butter and flour form a base and filling and the beaten whites form a sponge on the top.
Great for Making With Kids
So far I've made the Chocolate and Hazelnut Cake and the very delicious Vanilla Bean Magic Cake pictured on the cover. Fuzz helped, and as we worked together I realized how perfect these recipes were for baking with kids. There's no creaming process, but rather melting, whisking, pouring and beating. We did not need a stand mixer, just a whisk and a small hand-held mixer for beating the egg whites, which presents yet more magic as the whites go from liquid to fluff. But what really makes this book kid-friendly is that the process for each dessert is pretty much the same. You beat yolks and sugar, add melted butter, flour, flavorings and milk, then fold in your whites. Part of learning is doing the same thing over and over. Repeating these basic steps through making a series of different desserts will engage and educate bakers of all skill levels.
Magic Cakes: Three cakes in one: one mixture, one bake, three delicious layers
will be released on March 8, but you can pre-order.
For now, here's a very slightly adapted version of the Chocolate and Hazelnut Cake. We actually liked the Vanilla Bean Cake a little better, but this one was more unusual. I think my next one will be the Magic Gingerbread Cake baked in a loaf pan.
Recipe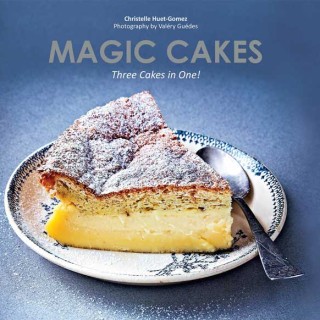 Magic Cakes Chocolate and Hazelnut
Chocolate and Hazelnut Cake
Ingredients 
4

eggs

separated (I used large)

100

grams

3 ½ oz caster (superfine) sugar

1

tablespoon

water

100

grams

3 ½ oz chocolate hazelnut nut spread

80

grams

3 oz butter

90

grams

3 ¼ oz all-purpose flour

Pinch

of salt

450

ml

15 fluid oz whole milk, room temperature
Instructions 
Have ready an 8 inch square cake tin which you've rubbed with butter and lined with parchment paper.

Preheat the oven to 300 degrees F.

Whisk the egg yolks with the sugar and water until the mixture whitens. Stir in the spread. Melt the butter and pour it into the mixture, then fold in the flour and salt. Beat for a few minutes more. Pour in the milk little by little, beating constantly.

Beat the egg whites until stiff and, using a whisk, gently incorporate them into the batter. Pour the batter into the greased cake tin, smooth the surface with the blade of a knife and bake in the oven for 50 minutes. When the cake comes out of the oven it will wobble slightly. Before turning it out, leave it to set in the fridge for at least 2 hours.

Chef's Tip: Decorate with a few crushed hazelnuts. You can also make a chocolate icing by mixing 6 oz chocolate hazelnut spread with 8 ½ fluid oz whipping cream. Chill in the fridge for 2 hours then whip until it thickens.