As much as I love buttery cinnamon swirl type loaves, sometimes I need just a basic raisin bread -- one that is not too sweet, has some wheat flavor and is perfect for toasting. This one falls into that category. It's not so sweet that you'd feel weird putting peanut or almond butter on top, but it's also sweet enough that you don't have to. And then there's the cinnamon toast option. This bread has cinnamon in the dough, so if you make cinnamon toast with it you'll be getting a double dose!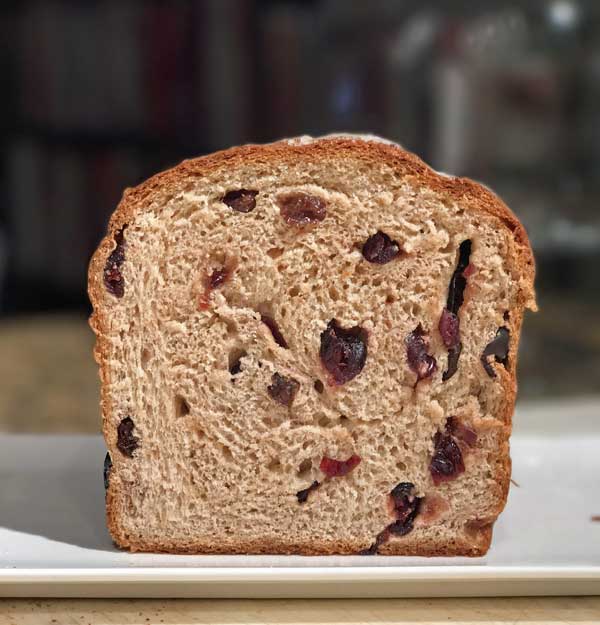 Basic Raisin Bread with Instant Yeast
It's made with quick-rise yeast, so you can skip proofing and just throw the yeast it in with the dry ingredients. Also, it has a fairly small amount of butter so it's lean and sturdy. The texture is completely different than the cinnamon swirl bread, which we also love.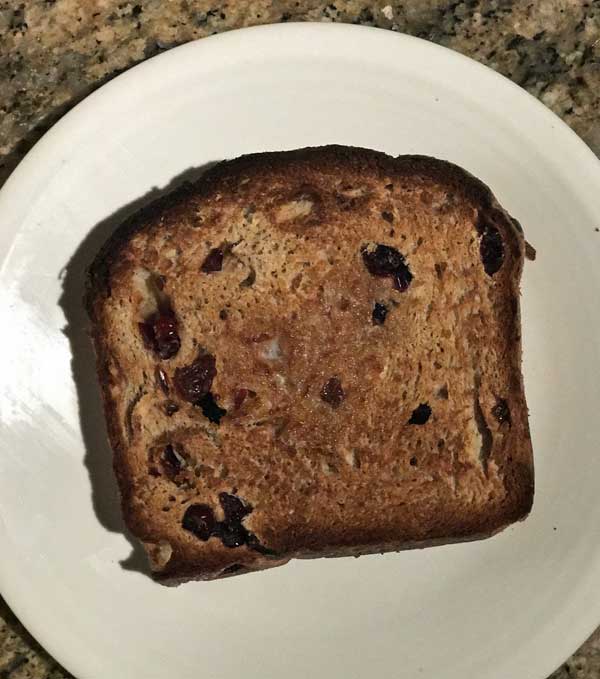 Bread Flour and Whole Wheat
My favorite way to make this basic raisin bread is with part whole wheat and part bread flour, but you can use whatever flour you have in the kitchen so long as it's equal to about 11.5 oz/322 grams weight.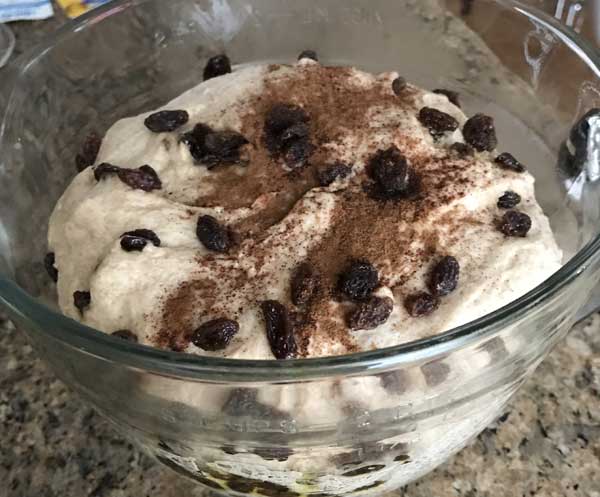 I like to add the cinnamon after the first rise since I read somewhere that cinnamon inhibits the yeast. I'm honestly not sure how much "inhibiting" a bit of cinnamon really does, but to play it safe I add it in later.
Does Cinnamon Inhibit Yeast? Update!
I finally did a little research on how cinnamon affects yeast because back when I first posted this recipe I was skeptical.  In Cookwise, Shirley Corriher asks Elmer Cooper, who at the time was a chemist at Red Star, if certain herbs and spices increase yeast activity.  Cooper referred her to an article in Cereal Chemistry called The Effect of Spices on Yeast Fermentation.  It turns out that small amounts of ginger, cardamom, cinnamon, mace, nutmeg and thyme can actually  increase the activity of yeast.  But the key part is "small amounts". When used in large amounts, depending on the spice, it can either continue to enhance activity or inhibit yeast activity. Cookwise has a chart showing which spices and how much do what.
But let's focus on cinnamon. In theory, cinnamon improves the activity of the yeast when the weight of the cinnamon is 5 to 10% the weight of the yeast.  In amounts a little more than that, there's still some increase. However, when the weight of the cinnamon is 100% (equal to) the weight of the yeast, it starts to inhibit the activity.  One packet of yeast weighs 7 grams. ½ teaspoon of cinnamon weighs around 1.4 grams, which is around 17% of the weight of the yeast.  So in this recipe the ½ teaspoon of cinnamon mixed in with the dough should be perfectly fine and may even enhance the rise a little. Inhibition of yeast would start at 1 tablespoon of cinnamon, and that would be too much cinnamon flavor anyway.
So I stopped adding cinnamon on the second rise and just stirred it in with the dry ingredients. So far I haven't noticed any effect on rise when using ½ teaspoon.
Plumping Raisins and adding to the Dough
If using raisins rather than cranberries, you can plump them. Put them in a bowl and pour boiling water over them and let them sit while you prepare the dough. Before using, drain and pat dry. You can skip plumping, but it does make the raisins a little softer. In some cases it keeps the dry raisins from drawing moisture from the dough, but I don't think it makes much of a difference here.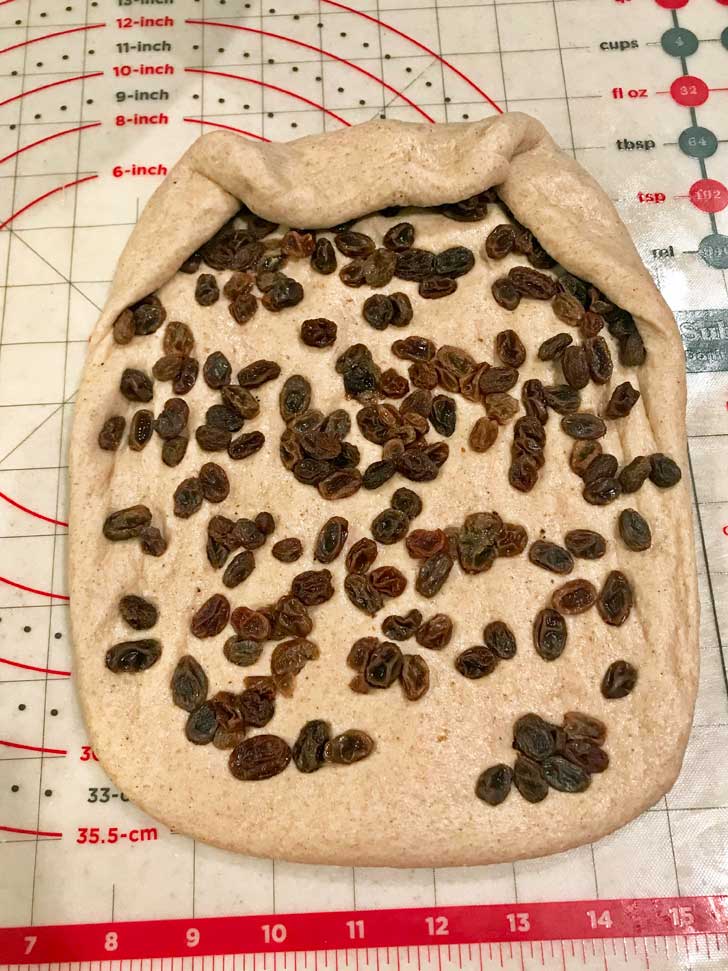 I add the raisins after the first rise. I used to just stir them in, but now I press the dough into a rectangle and scatter the raisins over the rectangle, pressing them down a bit, before shaping. To shape, I roll it up, pressing out air along the way. Once it's a cylinder, I bounce it around a little and try to make it smooth before putting it in the loaf pan.
Basic Raisin Bread Loaf Pans
Over the years I've baked this recipe in different loaf pans. For the latest batch, I used a Pullman loaf pan not for the lid, but for its high, straight sides. It worked nicely, but probably not any better than a standard loaf pan.
Recipe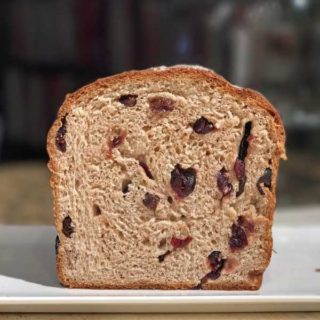 Basic Raisin Bread or Cranberry Bread
An easy recipe for a basic raisin bread or cranberry bread.
Ingredients 
½

cup

water

½

cup

milk

2 ½

cups

all-purpose or bread flour (or use 325 grams of a mixture of whole wheat and white flour)**

(325 grams)

1

packet

quick rising yeast

1 ½ to 2

tablespoons

sugar

I use 2

¾

teaspoon

salt (Morton brand)

If you use Diamond Crystals, use a little over a teaspoon

½

teaspoon

cinnamon

1 ½

tablespoons

melted butter

½

cup

raisins or dried cranberries (feel free to use more!)
Instructions 
Combine the milk and water in a saucepan and heat until simmering. Insert a thermomter and let cool to about 130 degrees F. or slightly lower. Do not use until it is between 120 and 130.

In the bowl of a stand mixer, combine both flours, yeast, sugar, salt and cinnamon.

Add the warm milk/water mixture, butter and vanilla. Stir well, then attach dough hook and let the machine knead mixture until smooth and elastic.

Put the dough in a very lightly greased bowl and allow it to rise, covered, for about an hour.

Punch the dough down and shape it into a rectangle. Drain and dry raisins (if you plumped them), then scatter raisins over the rectangle evenly. Fold the top corners of the rectangle down just slightly, then begin rolling downward into a cylinder, pressing out air as you go. Squish and knead the cylinder gently to get out any air bubbles working it so that you have a loaf that fits the pan.

Put the loaf in a greased loaf pan (8 ½ by 4 ½ or 9x5 or a Pullman). Cover with greased plastic wrap and allow the dough to rise again (about 45 minutes).

Bake in a preheated 375 degree oven for about 45 minutes. Let cool in pan for about 10 to 15 minutes, then remove and let cool completely.
Notes
My latest mixture of flour is 1 cup of whole wheat (120 grams) and 1 ½ cups (about 205 or so grams) bread flour.