As much as I love buttery cinnamon swirl type loaves, sometimes I need just a basic raisin bread — one that is not too sweet, has some wheat flavor and is perfect for toasting. This one falls into that category.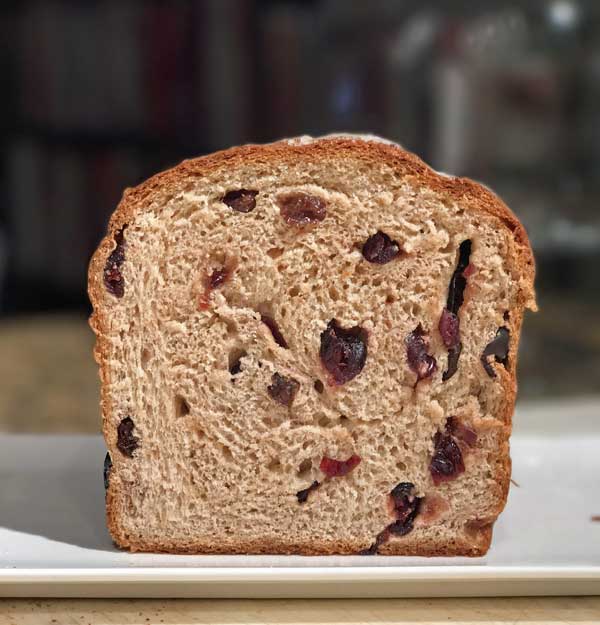 It's made with quick-rise yeast, so you can skip proofing and just throw the yeast it in with the dry ingredients. It has a fairly small amount of butter so it's lean and sturdy and perfect for toasting. And as you can see by the photo, cranberries work perfectly fine.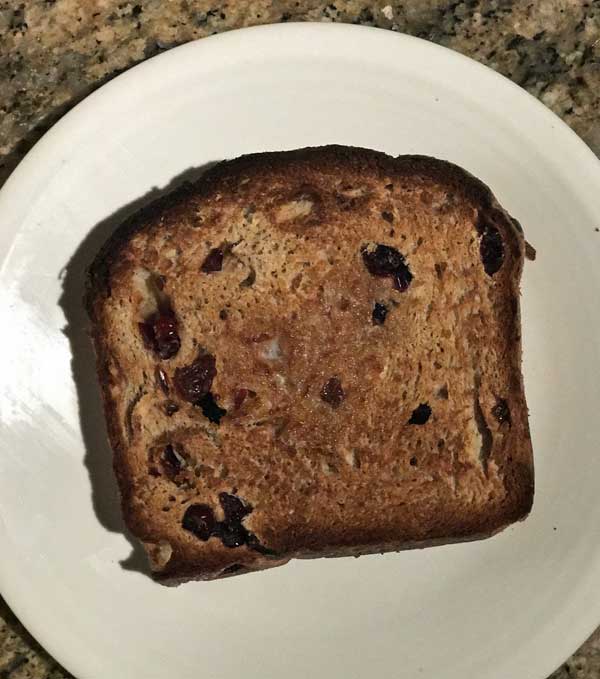 My favorite way to make it is with half whole wheat and half bread flour, but you can use whatever flour you have in the kitchen so long as it's equal to about 11.5 oz weight.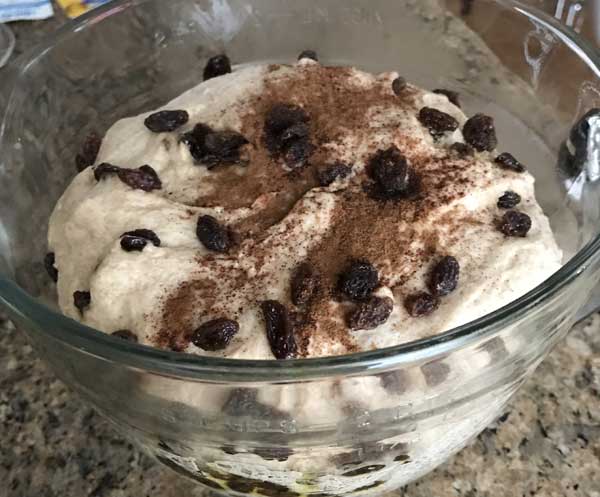 I like to add the cinnamon after the first rise since I read somewhere that cinnamon inhibits the yeast. I'm honestly not sure how much "inhibiting" a bit of cinnamon really does, but to play it safe I add it in later.
Raisins or cranberries are both good add-ins. Here's an even more recent picture. This is the same recipe, but for this one I used bread flour (no whole wheat).  You can tell by the way the bread rose so high that the pan is a little too small for the loaf.  I kind of like the look of it that way, but if you want you can use a 9×5 inch pan rather than an 8 1/2 by 4 1/2.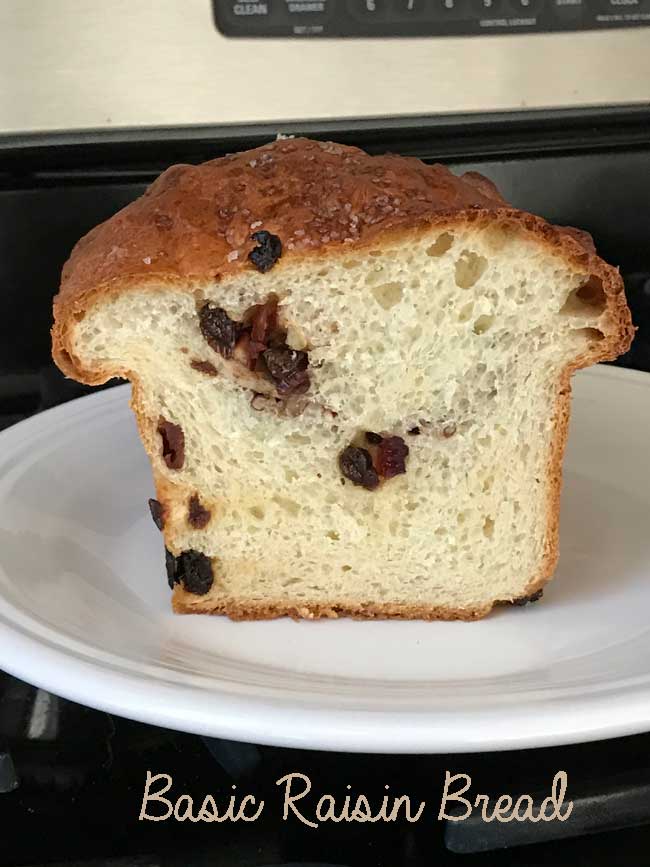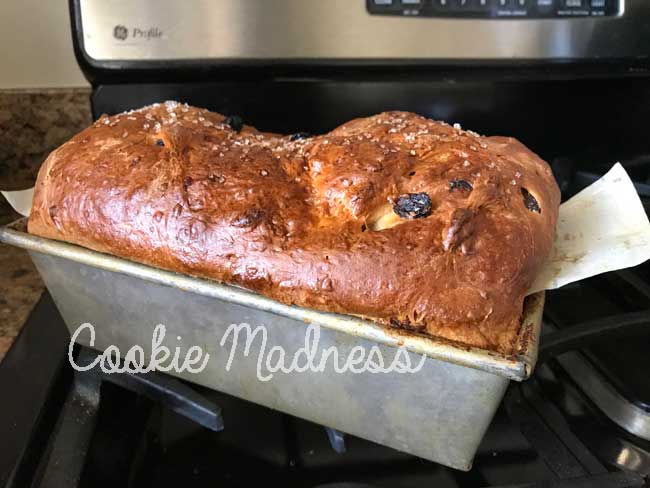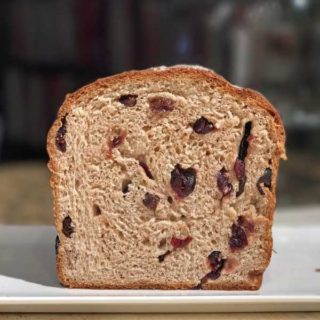 Basic Raisin Bread or Cranberry Bread
An easy recipe for a basic raisin bread or cranberry bread.
Ingredients 
1/2

cup

water

1/2

cup

milk

1

packet quick rising yeast

2 1/2

cups

flour

(1/2 bread and 1/2 wheat), 11.5 oz

1 1/2 to 2

tablespoons

sugar

I use 2

3/4

teaspoon

salt

1 1/2

tablespoons

melted butter

3/4

teaspoon

vanilla

1/2

cup

raisins

1/2

teaspoon

cinnamon
Instructions 
Combine the milk and water in a large saucepan or 2 cup measure and heat, either over stove or in microwave, until simmering. Let cool to about 130 degrees F.

In the bowl of a stand mixer, thoroughly stir together the yeast, flour, sugar and salt.

Add the milk/water mixture, butter and vanilla. Stir well, then attach dough hook and let the machine knead mixture until smooth and elastic.

Stir in the raisins. You will add the cinnamon after the first rise, so keep it handy.

Put the dough in an oily bowl and allow it to rise, covered, for about an hour.

Sprinkle cinnamon over the top of the risen dough, then punch down dough and knead in the cinnamon.

Shape into a brick and put the loaf in a loaf pan (8 ½ by 4 ½ or 9x5). Allow the dough to rise again (about 45 minutes).

Bake in a preheated 375 degree oven for about 40 to 45 minutes. Let cool in pan for about 20 minutes, then remove and let cool completely.
Let me know what you think of Basic Raisin Bread!