I have a few recipes for Kitchen Sink Cookies, but this one may be the best yet. Not only does it call for "everything but the kitchen sink", it makes eye popping, dramatically large cookies. The recipe is from Martha Stewart's Baking Show on PBS, Martha Bakes.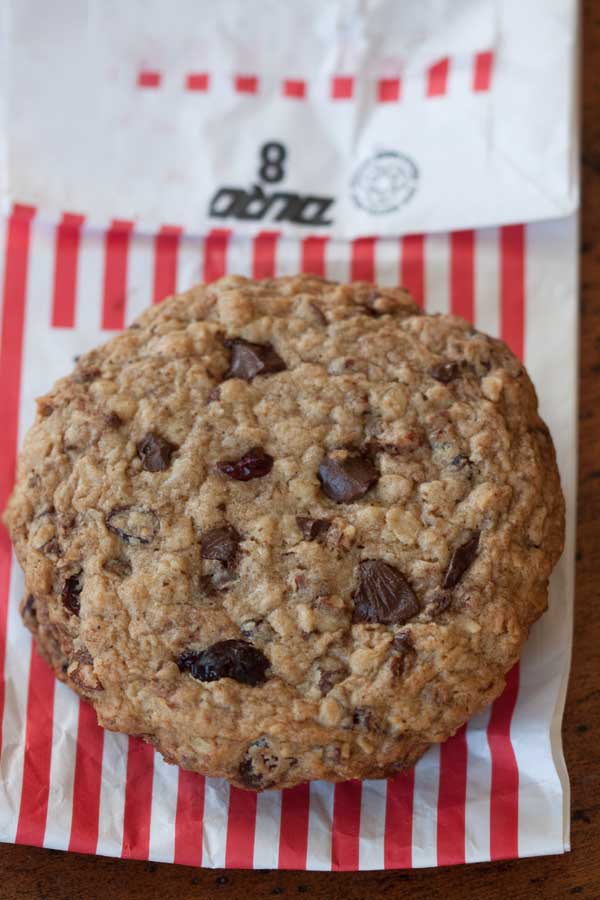 Martha Bakes is my favorite Martha Stewart show, and I usually learn something from each episode. This season might be even more educational because Martha's guests will be culinary students -- 39 in total, 3 per episode, from various culinary schools. Martha knows everything, but I'll bet the students have a few tricks of their own. Here's a link to the TV schedule so you can tune in and find out who teaches who!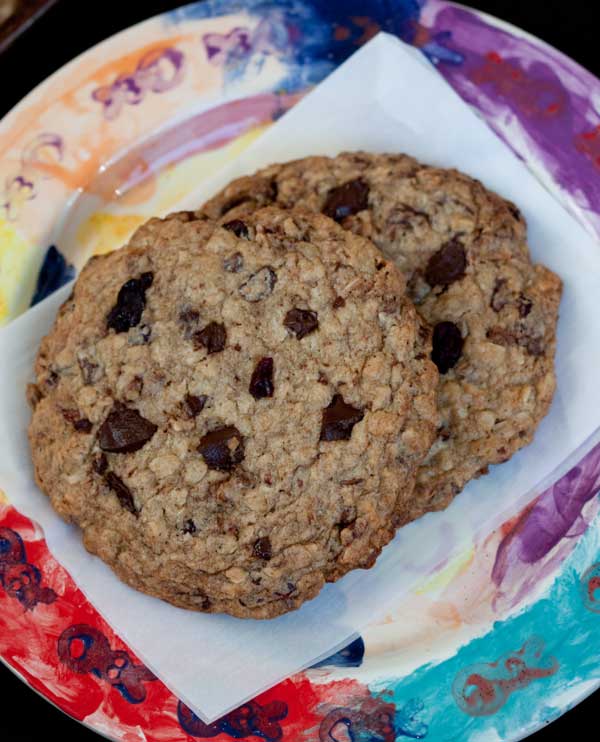 Okay, now for some cookie talk! These are giant cookies. For the first round, I baked the cookies as directed using dough straight from the bowl. The bake-sale worthy cookies weighed 6 ounces each, were sturdy, and spread to about 5 inches. I loved the appearance of the giant cookies, but I wanted to fit them into 4 inch cookie sleeves, so for the second round I used 5 oz portions of dough and made 10 cookies instead of 8. I also chilled the dough so that it would spread less and the cookies would be a little thicker. Those cookies fit just right.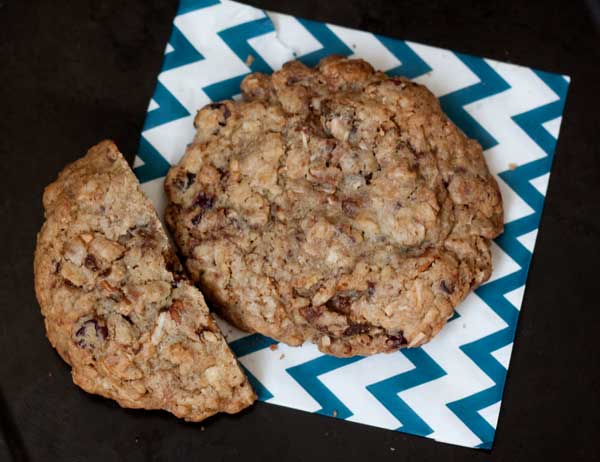 Thanks to Martha Stewart for sharing this great cookie recipe. Update: The giveaway that was mentioned her is OVER because this post is six years old.  Here's a texture shot of the cookies instead.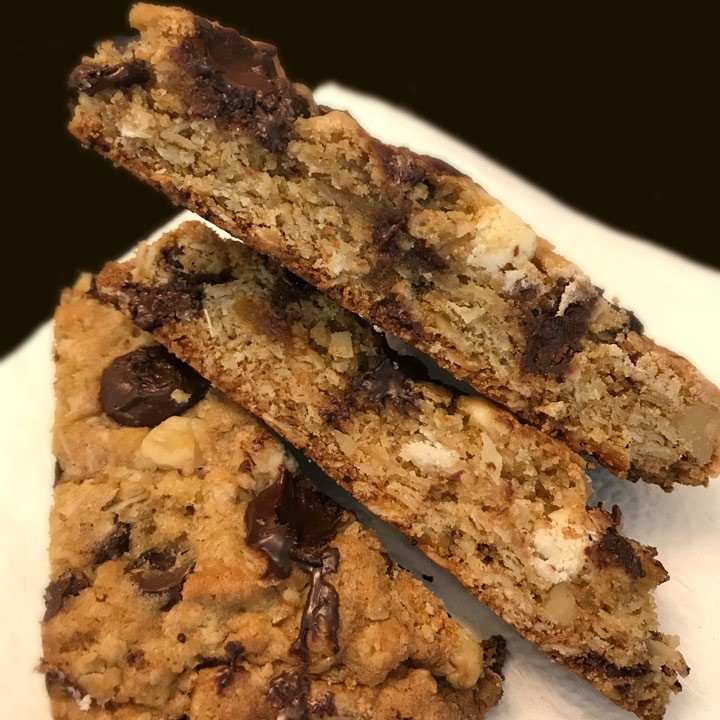 Recipe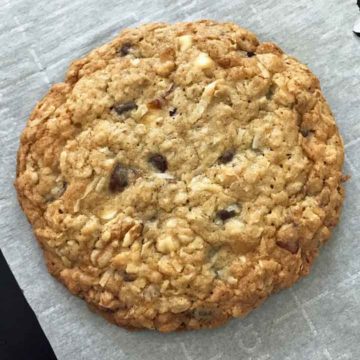 Kitchen Sink Cookies from Martha Bakes
Giant Kitchen Sink Cookies from Martha Stewart's new show, Martha Bakes
Ingredients 
1

cup

unsalted butter, softened

2 sticks

¾

cup

granulated sugar

150 grams

¾

cup

packed light-brown sugar

150 grams

2

large eggs

2

teaspoons

pure vanilla extract

2

cups

all-purpose flour

9 oz/250 grams

1

teaspoon

coarse salt

1

teaspoon

baking soda

½

teaspoon

baking powder

1 ½

cups

old-fashioned rolled oats

1

cup

coconut chips

1

cup

dried apricots

coarsely chopped

1

cup

coarsely chopped dark chocolate

1

cup

dried cherries

1

cup

pecans

toasted
Instructions 
Preheat oven to 350 degrees. Line cookie sheets (I used 2) with parchment paper.

Place butter and sugars in the bowl of an electric mixer fitted with the paddle attachment. Beat on medium speed until pale and fluffy, about 2 minutes. Reduce speed to low. Beat in eggs, one at a time, until combined. Mix in vanilla.

In a medium bowl, whisk together flour, salt, baking soda, and baking powder.

With mixer on low, gradually add to butter mixture, beating until well combined. Add oats, coconut, apricots, dark chocolate, cherries, and pecans; mix on low until just combined.

Arrange large balls of dough on prepared cookie sheets, about 3 inches apart.

Use the palm of your hand to flatten into 4-inch rounds. Bake until golden brown, rotating cookie sheets halfway through, about 16 minutes. If your cookies are still pale after 16 minutes, keep baking! If the dough is very cold it will take longer. Let cookies cool on pan 2 minutes before transferring to a wire rack to cool completely.