I posted this recipe for peach muffins years ago but forgot about it. It's very simple and calls for basic ingredients such as white flour, vegetable and granulated sugar. So if you have peaches in the house, chances are you have everything else. And speaking of peaches, these muffins are packed with them! I recommend using fresh peaches, but I don't see why you couldn't make canned peach muffins.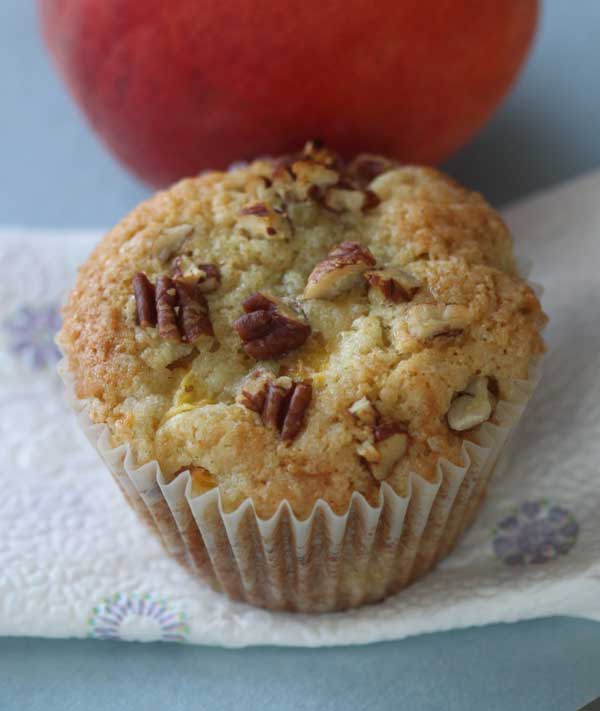 Homemade Peach Muffins Texture
Because there's no milk in the batter, the texture of the batter is slick, thick and pale and can be piled into the cup. The muffins don't rise much, but they have a pleasant texture similar to pound cake. The muffins are sweet and the overall flavor reminds me of peach pie in muffin form. That little bit of almond extract is key. In addition, the batter halves very easily so if you only need six muffins that won't be a problem.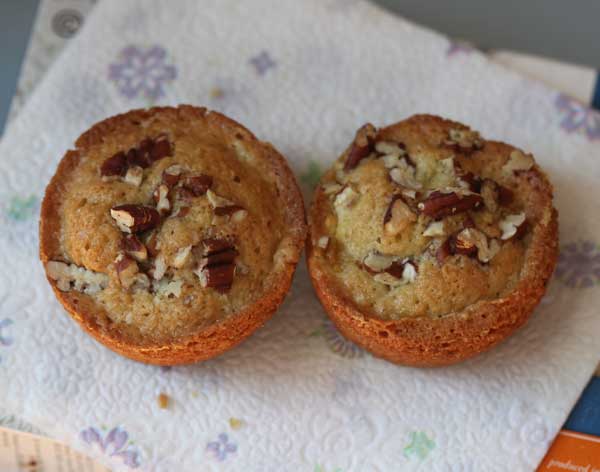 Gluten-Free Version
These muffins are very good, but I couldn't stop at one batch and did one more experiment.  Instead of using all-purpose flour, I used 1 ½ cup of King Arthur Multi-Purpose Baking Mix and 1 teaspoon xanthan gum.  The muffins were just as good -- maybe even a little better.  The KA gluten free flour has a very nice flavor.  As you can see from the photo, I baked the gluten-free version without paper liners and got nice little round crusts.  So you can bake with or without liners.
Here's the recipe for peach muffins.  Enjoy!
Recipe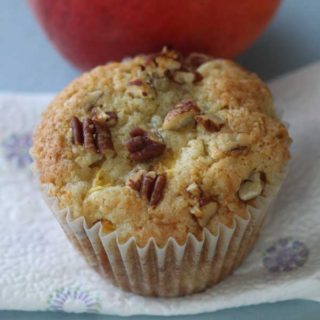 Peach Muffins
Peach Muffins topped with chopped pecans. This recipe halves easily if you'd prefer 6 muffins instead of 12.
Ingredients 
1 ½

cups

all-purpose flour

(210 grams)

¾

teaspoon

salt

½

teaspoon

baking soda

1

cup

granulated sugar

2

large eggs

½

cup

vegetable oil

¾

teaspoon

vanilla

¼

teaspoon

almond extract

1 ¼

cups

coarsely chopped fresh or drained canned peaches

¼

cup

chopped pecans
Instructions 
Preheat oven to 350 degrees. Grease 12 muffin cups or line with paper liners.

In a mixing bowl, thoroughly combine dry ingredients and make a well in the center.

In a second bowl, stir together eggs, oil, vanilla and almond extract. Add egg mixture to flour mixture and stir just until moistened. Stir in peaches.

Divide batter among muffin cups and sprinkle nuts on top.

Bake for 25-28 minutes or until the tops start to brown.
Notes
For gluten free peach muffins, use 1 ½ cups King Arthur Multi-Purpose Baking Mix and add 1 teaspoon xanthan gum.