I haven't shared enough peach recipes, so here's one to welcome in peach season. Peach Pound Cake (aka Peach Jell-O Pound Cake) is a scratch Bundt or tube cake made with peach flavored gelatin. Along with the Jell-O, the recipe calls peaches, nutmeg, cinnamon, vanilla and a bit of almond extract. The peach flavor is noticeable but subtle, and the spices go great with it. Actually, the spices make the cake! I really loved the flavor of the nutmeg, especially.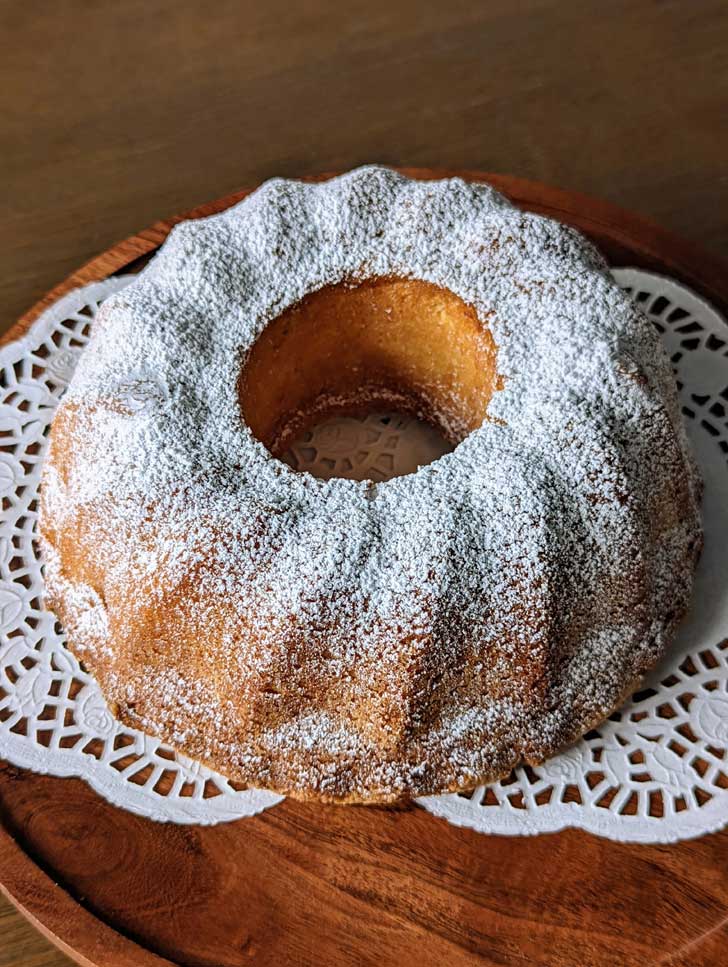 Peach Pound Cake Variations
This recipe has been around for a while with different renditions on various website. For instance, one version calls for rum extract in place of almond, so there's a minor flavor change. And the recipe can also be made in different pans. Some versions call for a tube pan and others a Bundt. Whichever pan you use, the exposed part of the cake gets a little crunchy (the gelatin probably helps here), so you get either a crusty, crunchy top or bottom depending on if or how you invert. I used a Bundt pan and inverted the cake so mine has a crunchy bottom crust.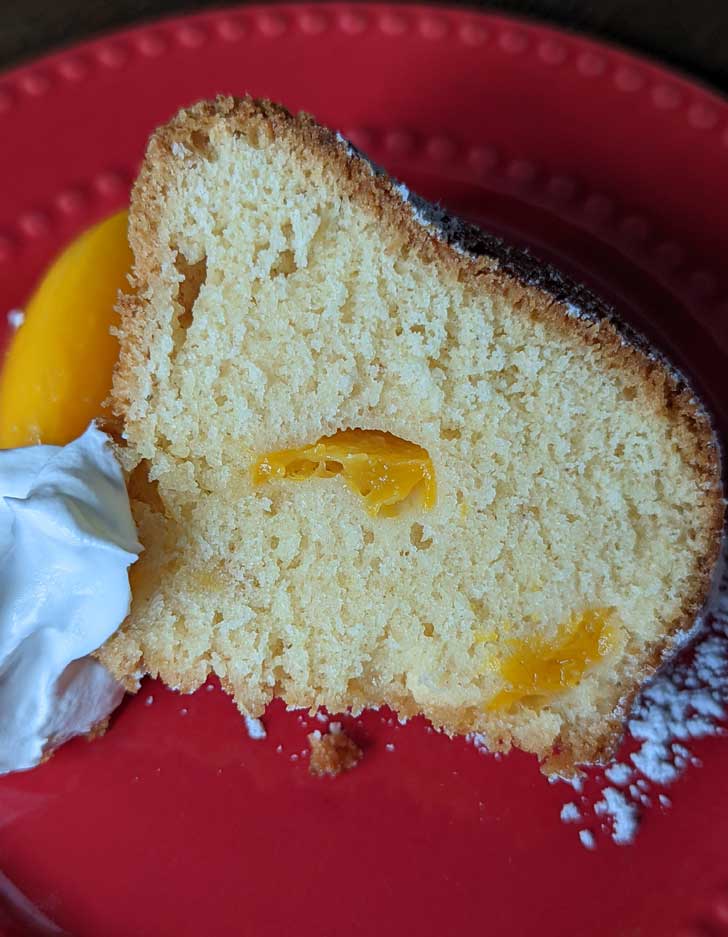 Loaf Pan or 6 Bundt Half Version
If you want a smaller cake, you could probably halve it and bake it in a loaf pan, though the top will be flat and crunchy. You can definitely halve it and bake it in a 6 cup Bundt, because that's what I did and it worked fine. I'm still using a small fluted pan I picked up at Home Goods, but one day I'll buy this fancy one. It's been on my wish list for a while, but $40 for a small pan??? It's probably worth it.
Peach Jell-O
You may have to go to more than one store to find peach flavored Jell-O. Publix didn't have it, but I found it at Food Lion. And I think back when we lived in Dallas the only store I could find it was Fiesta. If a day spent hunting down peach gelatin isn't your idea of fun, you can always order it.
More Recipes
Recipe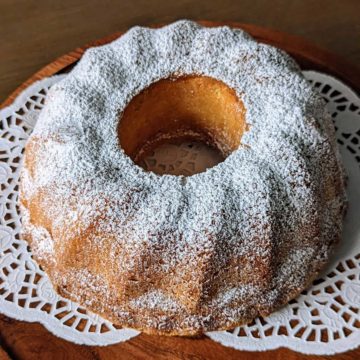 Peach Pound Cake
A combination of peach flavored Jell-O and fresh peaches give this cake a ton of peach flavor.
Ingredients 
1

3 oz

box peach flavored Jell-O

(84 grams)

1/2

cup

sour cream

(120 grams)

3

cups

all-purpose flour

(390 grams)

1/4

teaspoon

baking soda

1/2

teaspoon

salt

1/4

teaspoon

ground cinnamon

1/8

teaspoon

ground nutmeg

1

cup

unsalted butter, softened

(230 grams)

3

cups

sugar

(600 grams)

1

teaspoon

vanilla extract

1/4

teaspoon

almond extract

6

large

eggs, bring to room temperature

2

cups

chopped fresh peaches (or canned), drained and chopped — Try to chop the pieces as small as you can.
Instructions 
Bring the eggs to room temperature. To do it quickly, just submerge them in some very warm water for about 5 minutes.

Preheat oven to 325 degrees. Spray a 10" tube pan or a 12 cup capacity Bundt pan with flour-added baking spray.

In a small bowl, mix together the peach Jell-O and the sour cream. Set aside.

Weigh the flour. Sift it together with the baking soda, then stir in the salt and spices until well blended. Set aside. Note: If you want, you can reserve 2 tablespoons of the flour and toss with the peaches. I didn't bother doing this and the peaches did not sink.

In the bowl of a stand mixer fitted with the paddle, beat the butter and sugar until light and fluffy — about 5 minutes, scraping the side of the bowl often. While the mixer is going, add the extracts.

Add one egg and beat for 30 seconds. Repeat, adding eggs one at a time and beating for 30 seconds after each egg. Fold in sour cream/Jell-O mixture.

Gradually add flour mixture to butter mixture, beating one low or stirring by hand until combined. Stir in the peaches. Scrape into prepared pan.

Total bake time should be about 80 to 90 minutes at 325 degrees F, but ovens may vary. I've seen some versions saying 110 minutes. Check the cake after 1 hour. If it appears very brown, cover loosely with foil. I didn't need to, but my oven hasn't been very great with browning lately. Continue baking for another 20 to 40 minutes or until cake appears set and a wooden pick comes out clean. Let cool in pan for 10 minutes.

Turn from the pan. Let cool and dust with powdered sugar. Serve with whipped cream, fruit and maybe some caramel sundae sauce!
Notes
For a smaller cake, just halve all of the ingredients and bake in a smaller pan.  I used a 5 cup Bundt. Bake time for the smaller cake was an hour and 20 minutes.