A few days after I mentioned the book Babycakes, a reader sent an email recommending another recipe  -- Aunt Irene's Lemon Apricot Cake.  Her review was so positive that I picked up a can of apricot nectar the very same day.  Unfortunately, I didn't get around to making the cake it until months later. It was worth the wait!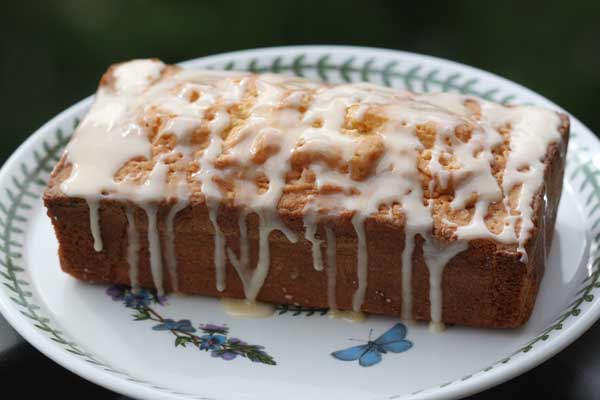 Small Changes to Aunt Irene's Lemon Apricot Cake
As usual, I made some modifications, thus my cake is different than the one in the book. The original version is made in a Bundt pan, but I don't have enough people here to eat a full size cake, so I halved the recipe and baked it in a loaf pan.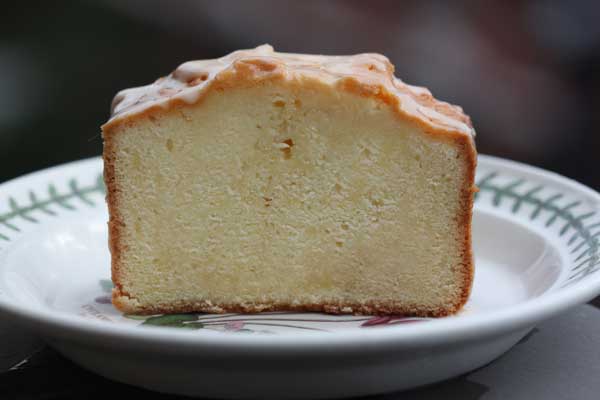 One thing you should know before baking (not quite) Aunt Irene's Lemon Apricot Loaf is that it requires attention to detail.  For instance, the leavening power comes from eggs and air, so you really have to whip the butter and sugar and eggs. Also, make sure to use a loaf pan that has at least 6 cups capacity. I first made the cake in a 1 pound (8x4 inch loaf pan with about a 4 cup capacity) and it was too small. A slightly larger (8 ½ by 4 ½ inch with around 6 cup capacity) loaf pan was just right.
Velvety Texture and Interesting Flavor
The cake isn't tall and stately, but rather velvety and dense like a frozen pound cake. I really don't care for lemon extract, but I do love the flavor of Boyajian lemon oil, so I used that. Use whatever you like. The lemon combined with the apricot juice reminds me of the flavor of lemon cake mix or lemon pudding. That being said, I didn't care much for the glaze. It was okay, but next time I'll just go with a a straight lemon glaze of lemon juice and powdered sugar.
Recipe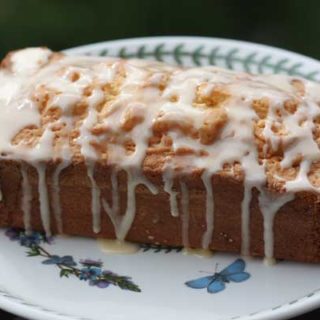 Lemon Apricot Loaf
Lemon Apricot Loaf is a lemon flavored pound cake made with lemon oil and apricot nectar
Ingredients 
12

tablespoons

6 oz unsalted butter at cool room temperature

1 ⅓

cup

ultra fine sugar or regular granulated

2

extra large eggs

1

extra large egg yolk

1

teaspoon

lemon oil

Boyajian or ½ teaspoon lemon extract

½

teaspoon

salt

1 ½

cups

SIFTED cake flour

sift and then measure about 5.4 oz by weight total

¼

cup

plus 2 tablespoons apricot nectar
Glaze:
1

cup

powdered sugar mixed with 2 tablespoons of apricot nectar or lemon juice

I recommend lemon juice
Instructions 
Preheat oven to 325 degrees F. Thoroughly grease an 8 ½ by 4 ½ inch with at least 6 cup capacity loaf pan and line with a strip of parchment paper. Dust with flour.

In the bowl of a stand mixer with the whisk attached, beat the butter until creamy. Gradually add the sugar and continue beating, scraping bowl often, for about 3 minutes.

Add one egg and beat on medium-low just until incorporated, then increase mixer speed and beat for 30 seconds. Repeat with second egg and egg yolk, starting at medium-low until egg is incorporated, and then mixing on high. When all eggs are incorporated, let the mixer go for about 3 minutes, stopping once to scrape the side of the bowl. The goal is a light whipped mixture. Beat in the lemon oil and salt.

Remove bowl from mixer stand, and with a heavy silicone scraper, stir in the flour alternately with the apricot nectar until batter is blended. Beat by hand for about 40 strokes. Scrape it into the prepared loaf pan.

Bake cake for about 60 to 65 minutes or until it appears set and skewer inserted comes out clean. Let cool for about 10 minutes, then loosen any stuck edges with a knife. Let cool for 40 minutes in the pan set on a rack.

When completely cool, lift from the pan, wrap tightly and freeze or serve immediately. I found that in both cases, this cake was even better after being frozen and thawed.
Notes
8 tablespoons of butter and 4 tablespoons of shortening also works. If you don't like traditional shortening, try the non-hydrogenated kind.
If you try the Lemon Apricot Loaf, let me know!