This week I've been making Caraway Cottage Cheese Bread. Based on a bread recipe from The Home Cook, It's a no-knead yeast bread made with cottage cheese, blackstrap molasses, honey, wheat germ and caraway. So shout out to Alex Guarnaschelli! I've made this 5 times already, thank you. Sometimes I even followed the directions.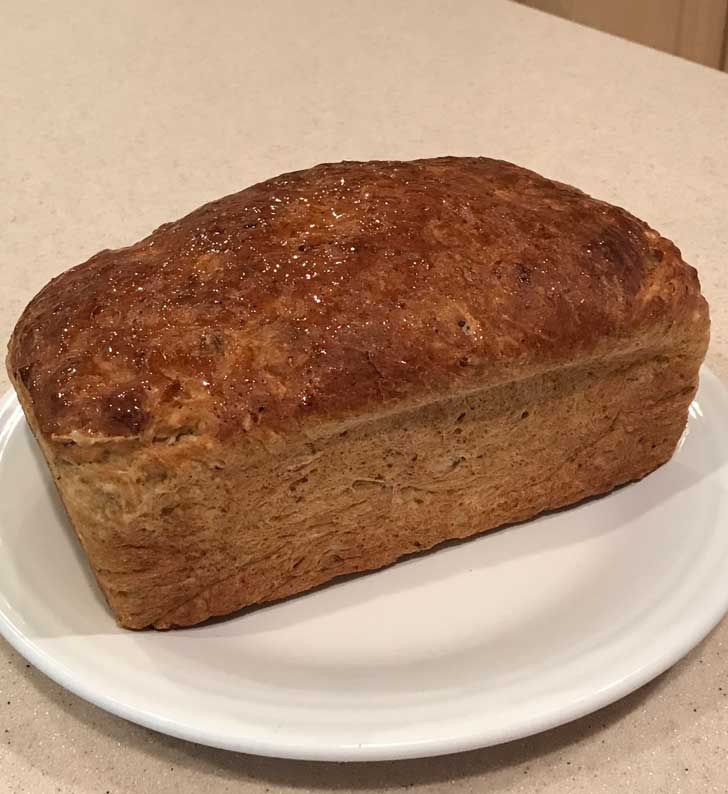 Just kidding. I actually followed the directions the first two times and had got tasty loaves of bread, Unfortunately they looked like the loaf below, so I had to make a few adjustments to the recipe.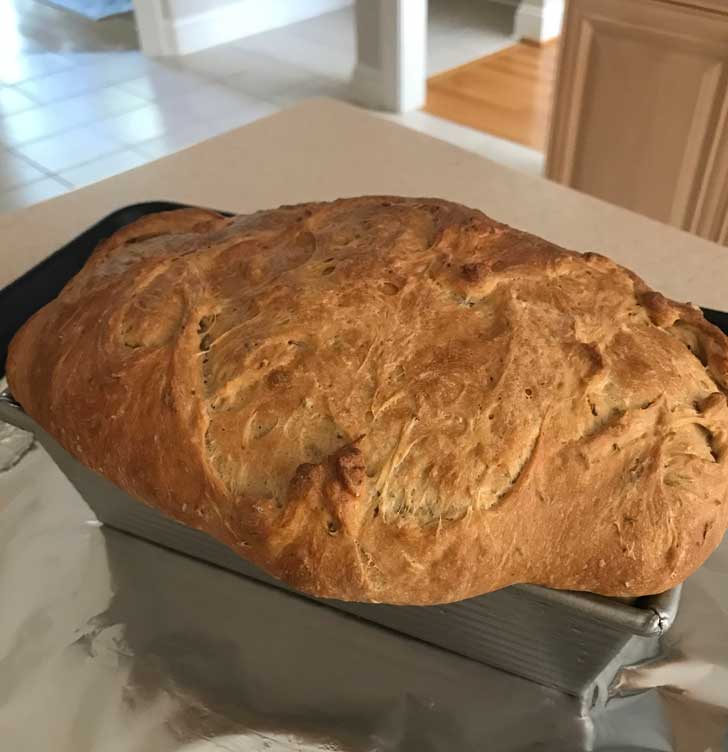 Caraway Cottage Cheese Bread
Caraway Cottage Cheese Bread is a no-knead yeast bread. It's similar to a batter bread, which is the kind where you mix all the ingredients, skip kneading, let the mixture rise in the bowl, then once again in a loaf pan. No-knead breads are designed to be simple since they don't involve kneading, but they can also be tricky if the amount of flour or liquid is off, the loaf pan is the wrong size or the type of yeast is not the same as the type used by the recipe developer. That's why a recipe like Cottage Cheese Bread on Allrecipes.com has such a wide range of reviews. This Caraway Cottage Cheese Bread is similar in makeup, but has a lot more going on.
Bread Made with Cottage Cheese
The fun starts with the cottage cheese. I've used it in savory breads like the Cottage Cheese Dill Bread, but I don't use it often enough in yeast breads. In this recipe the cottage cheeses enhances the texture by adding moisture and structure and mimics the flavor of sourdough or a good ferment. Plus it goes so well with the wheat germ, caraway, blackstrap and honey. It really does make what Alex describes as "edgy" BLTS.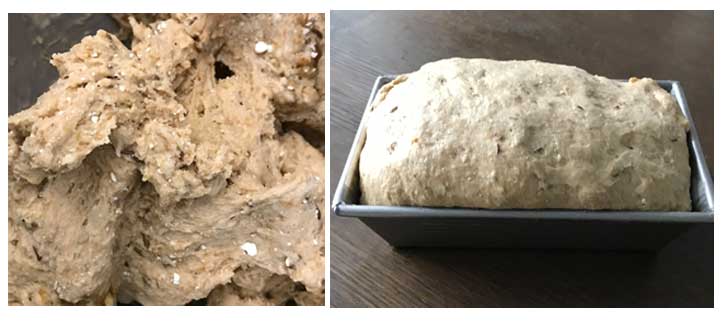 Getting the Liquid Right
So as mentioned, I had challenges getting the consistency of the dough just right, and in the end had to alter the liquid amount from the original recipe. The picture above is what the dough looked like for my most successful batch, along with how it looked when ready to go in the oven. The picture below shows it baked and sliced. It works for sandwiches, though it helps to toast it since it's soft.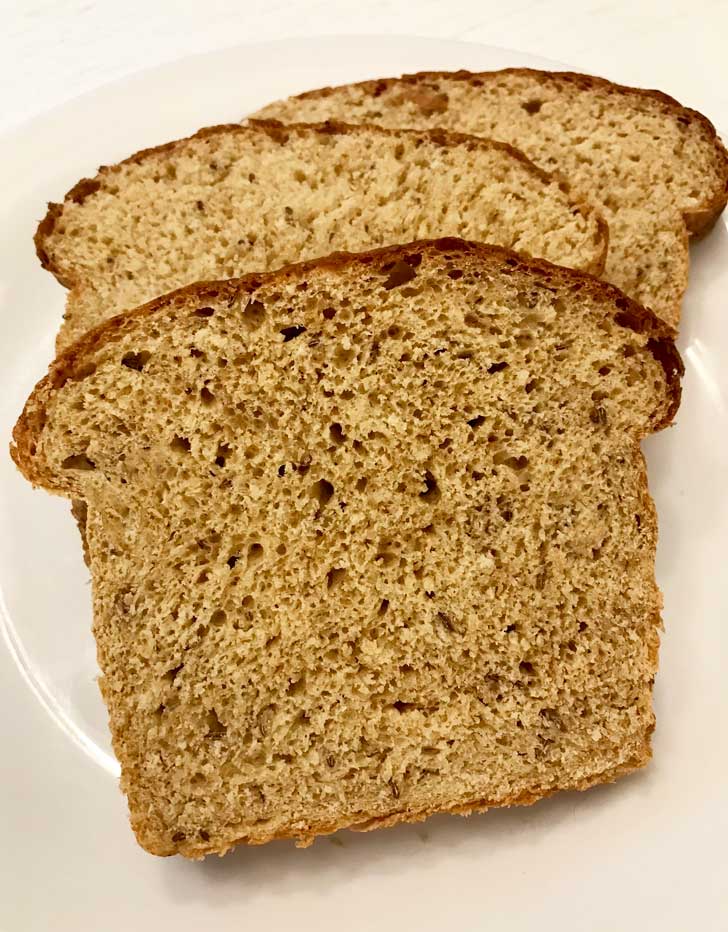 Below is the recipe that worked the best for me, but you may have to make alterations in your own kitchen.
Few More Notes
If you have a copy of The Home Cook (and if not, I highly recommend it AND Cook With Me), you might notice that the original recipe calls for 1 tablespoon of wheat germ, 1 tablespoon of caraway seeds and a full tablespoon of salt. I increased the wheat germ and caraway seeds for flavor. As for the salt, Alex calls for a tablespoon, but I think she uses Diamond crystals, which are larger and require more. 1 ¼ teaspoon of regular Morton kosher is plenty. And finally, you can make this as a kneaded bread as well. I've put a note on how to do it. Or at least how I did it. The kneaded version was just as good.
Related Recipes
Recipe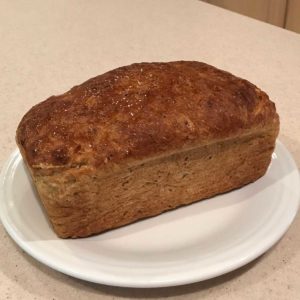 Caraway Cottage Cheese Bread
A very flavorful loaf that can be used for sandwiches or toasting.
Ingredients 
2 ¼

teaspoons

active dry yeast

⅓

cup

warm water, plus a little more if needed

3

cups

bread flour (I use King Arthur)

(400 grams)

1 ½

tablespoons

caraway seeds

2

tablespoons

wheat germ, toasted or untoasted

1 ¼

teaspoons

salt

2

tablespoons

clover honey

(40 grams)

1

tablespoon

blackstrap molasses

(20 grams)

1

cup

small curd cottage cheese, whole milk**

(230 grams)

1

large

egg, room temperature, lightly beaten, room temp

(50 grams)

honey or molasses for brushing
Instructions 
Put the water in the bowl of a stand mixer. Stir in the yeast. Allow it to sit until it bubbles (proof), then add 3 cups of flour (400 grams), caraway seeds, wheat germ, salt, 2 tablespoons of honey, molasses, cottage cheese and egg.

At this point you'll have a very thick mixture and will need to use the paddle attachment to mix. Beat with the paddle until you have a soft dough.

Cover the mixing bowl and let the dough rise until doubled. This should take an hour to an hour and a half.

Punch down dough and fit it into a very well greased 8 ½ by 4 ½ inch loaf pan. Cover with a greased piece of plastic wrap and let rise in a warm place for another 45 minutes to an hour or until it's an inch above the rim in the center. Sometimes it's hard to know how long the second rise will take, so the most important thing is to go by what you see rather than the time.

Shortly before you are ready to bake, preheat the oven to 400 degrees F. Put the risen loaf in the 400 degree oven, then close the door and reduce the heat to 350. Bake for 35 minutes or until golden and loaf sounds hollow.

Remove from oven and brush hot loaf with honey. Let cool for about 10 to 15 minutes, then remove from loaf pan and let cool completely before slicing.
Notes
To substitute low fat cottage cheese, add ½ tablespoon oil or softened butter.  For a kneaded bread, start with ½ cup of water.  Use the 400 grams of flour as directed.  Knead with the dough hook, but as you knead add flour (up to ½ cup) until dough clears the side of the bowl and is less sticky.  Transfer to a very oily or buttery bowl and let rise, then let rise again in the loaf pan.