Cheers to the first Cookie Madness recipe of 2017! It's slightly goofy, but a fun way to use up leftover champagne. Champagne Banana Muffins are very light textured, non-crumbly, high rising muffins that get a little boost from the bubbles. Or maybe it was just all the baking powder? I don't know. I came up with the recipe last night while drinking champagne and staring at some over-ripe bananas. A few minutes later I was weighing out the flour and mashing up bananas (typical New Year's Eve for me actually).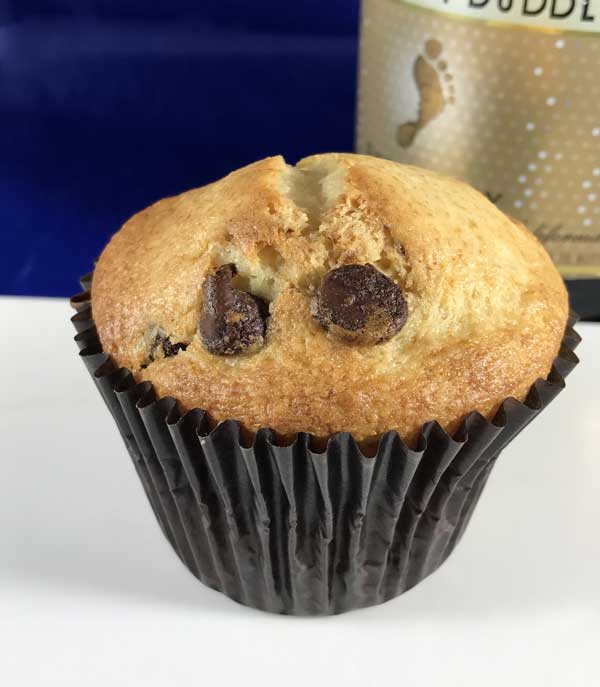 Champagne Banana Muffins Texture
We liked these! The texture, as you can see, is very light – more like a cupcake than a muffin, but not as crumbly as a cupcake. The champagne flavor is present, yet subtle. I'm not sure if it was actually the bubbles from the champagne or just the baking powder doing all the leavening, so I think I'll try these again with a few different liquids. Maybe Ginger Ale?  Milk? I'm also going to try them with mini chocolate chips so they won't sink as much.
If you try Champagne Banana Muffins, let me know what you think!
Recipe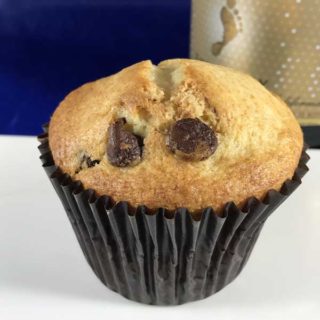 Champagne Banana Cupcakes
Champagne Banana Muffins are chocolate chip banana muffins that rise high thanks to a combination of baking powder and champagne.
Ingredients 
1 ½

cups

6.7 oz all-purpose flour, weigh or stir it and aerate before measuring lightly

2

teaspoons

baking powder

¼

teaspoon

salt

1

large egg

½

cup

granulated sugar

¼

cup

vegetable oil

¾

cup

very mashed ripe banana

1 ½ bananans

1

teaspoon

vanilla extract

½

cup

extra dry champagne

½

cup

mini chocolate chips or pecans
Instructions 
Preheat oven to 425 degrees. Line 8 to 10 muffin cups with paper liners.

Whisk together the flour, baking powder and salt and set aside.

In a large mixing bowl, beat the egg with an electric mixer until very light, then add the sugar and beat until thick and yellow. Gradually add the oil, beating all the while.

With a mixing spoon or heavy duty scraper, add the flour mixture and stir until blended. It will be very thick. Stir in the banana until it is fully blended. Add the champagne and stir until thick and smooth. Stir in chocolate chips (if using).

Divide the batter evenly between the muffin cups.

Place in the oven and bake at 425 degrees for 5 minutes.

REDUCE OVEN HEAT TO 375 degrees and continue baking for an additional 18-20 minutes or until tops appear set.

Remove from the oven and let the muffins cool for about 5 minutes before removing them from the tin.
Notes
My muffin papers are slightly taller, so even though I baked these in standard size muffin tins, the papers might have held slightly more batter. I got 8 muffins. You may get 10 or 12. If your muffins are smaller, bake time will be slightly shorter, so check after 15 minutes at 375.