High Top Banana Muffins were kind of a happy accident. I was trying to use up some ingredients including one over-ripe banana, some coconut Greek yogurt and bleached flour I bought back when unbleached was scarce. Using what was on hand including my six cup muffin pan, I made six muffins that looked like this.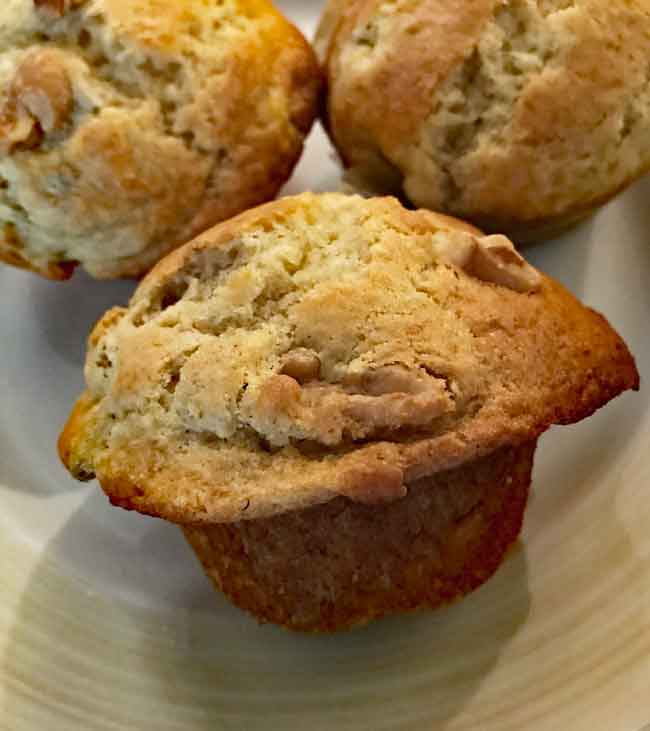 They had super high tops and were just so pretty! Their texture was lighter than other banana muffins, and they were about average sweetness. Next time I'll use plain or vanilla yogurt rather than coconut, but if you like a hint of coconut with your banana you could stick with the coconut yogurt
This may not be the most exciting recipe in the world, but it's always nice to have a banana bread or banana muffin recipe that uses just one banana.  So now if you have one over-ripe banana sitting around you can use it to make six muffins! And while I'm on the subject, these banana muffins made with mayonnaise are also surprisingly good. They don't have as high tops as the ones here, but the mayonnaise gives them a moist and light texture.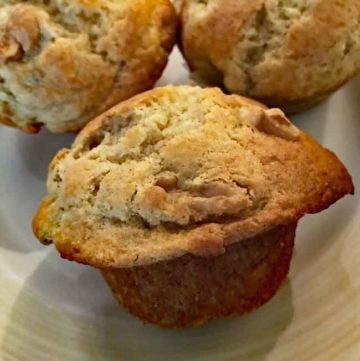 High Top Banana Muffins
This recipe should give you muffins with high tops (crowns).
Ingredients 
1 ¼

cups

all-purpose flour

160 grams – Pillsbury's Best Bleached AP

1 1/2

teaspoons

baking powder

1/2

teaspoon

baking soda

1/4

teaspoon

salt

1/4

cup

brown sugar

50 grams

1/4

cup

granulated sugar

50 grams

1

large egg

1/4

cup

plus 2 tablespoons vanilla yogurt

84 grams

1

large very ripe banana

mashed with a fork

¼

teaspoon

vanilla

optional

4

tablespoons

vegetable oil or a mixture of half melted coconut oil and half melted butter/margarine

1/3

cup

walnuts

coarsely chopped or broken (optional)
Instructions 
Preheat oven to 400 degrees F. Grease a 6 portion muffin tin or line with muffin papers.

In a bowl, combine the flour, baking powder, baking soda, salt and both types sugar. Stir well.

In a second bowl, stir or whisk together the egg and yogurt, then stir in mashed banana and vanilla.

Combine flour mixture and egg mixture and stir until evenly blended, then add oil (or butter oil mixture) and stir until blended without overbeating. Batter should be thick. Stir in walnuts if using

Divide batter among the muffin cups, piling toward the center.

Put the muffins in the oven and set timer for 5 minutes. Bake at 400 for 5 minutes.

Reduce oven heat to 375 degrees F and continue baking for 13 minutes for a total bake time of about 18 minutes.