There are macarons and there are macaroons. Macarons are the colorful French sandwich cookies made of egg whites and almond flour, while macaroons are coconut cookies often made with eggs, flour and/or condensed milk. We love both types, but Fuzz had some coconut leftover from a Claremont Diner pie recipe, so I used it to make these brown rice flour based Gluten-Free Vegan Coconut Macaroons.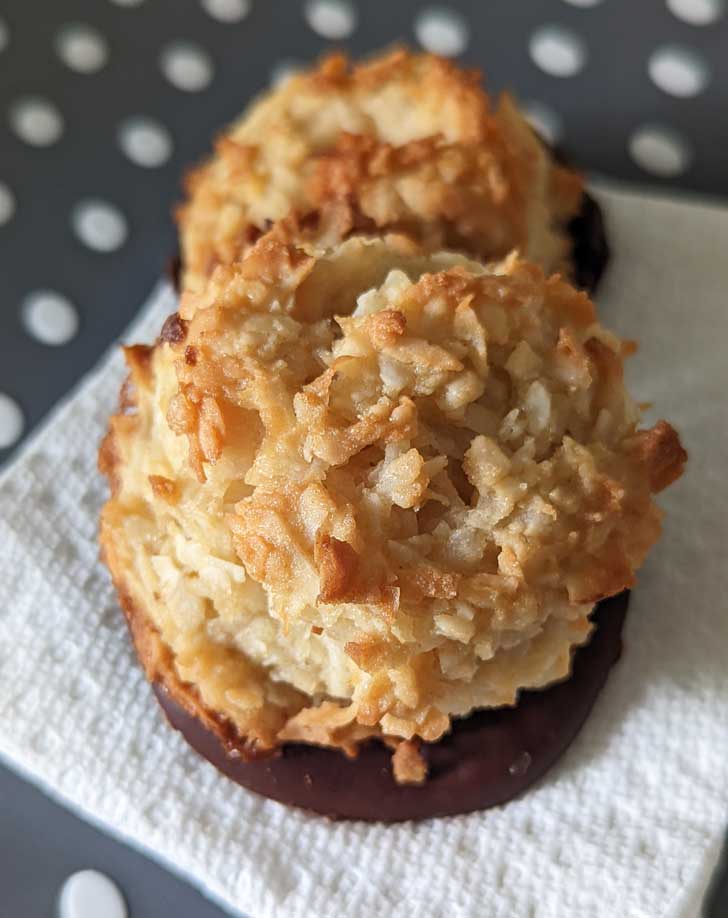 Gluten-Free Vegan Coconut Macaroons
My favorite coconut macaroons are the ones that include condensed milk. I love how it browns and the burnt milk flavor melds with the coconut. This recipe is a little different. These are gluten-free vegan macaroons that use coconut milk in place of condensed milk and brown rice flour instead of wheat flour. They're sweet, chewy and have just enough chocolate for a chocoholics. We really like them -- especially straight out of the freezer.
Brown Rice Flour vs Gluten-Free 1:1
For this recipe you need brown rice flour. I tried subtituting a 1:1 blend (a brand called Good Measures) and the cookies spread. Maybe using a different 1:1 blend would work (and I do plan to test more), but for now I recommend the brown rice flour since I know it works. If you can't find it at your grocery store, you can order it. Brown rice flour is used in a lot of different gluten-free recipes, so you shouldn't have problems making your way through the whole bag.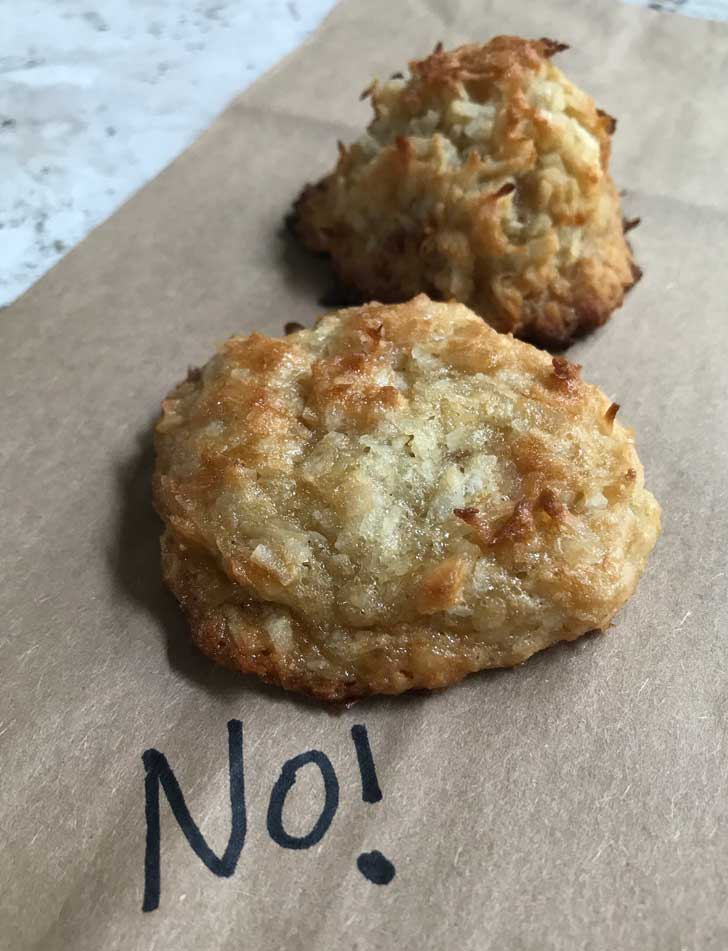 Tiny Batch Gluten-Free Vegan Macaroons
The recipe makes 12 large macaroons, but if you just want to please one or two coconut lovers, you can make a half batch. In fact, the small 6 cookie batch is a great way to use up leftover coconut milk or flaked coconut from other projects. I tested this recipe a few times and even made a batch of 3. It worked just fine, but you might as well make at least 6 because these are stored in the freezer and will last for a while.
Ingredient Rundown
Canned Coconut Milk -- Full fat canned type, not light.
Maple Syrup or Golden Syrup -- I've had good luck with both! If you need to use unsweetened coconut, increase to 5 T.
Brown Rice Flour -- I currently use Bob's Red Mill brand.
Vanilla Extract -- Any kind works, but the vanilla flavor is key here so use one you really like. I've been Sonoma Syrups Vanilla Bean Crush which is a blend of Tahitian and Madagascar v
Cream of Tartar -- I have not tested with baking powder, but will update when I do.
Baking Soda
Sweetened Flaked Coconut -- Baker's Angel Flake Coconut, since it's readily available. I've never tested these with unsweetened coconut, but I have a very similar recipe from Baking You Happy that does.
Chocolate -- Any! You melt it, put a puddle of it on a piece of parchment paper and stick the macaroon right in it. No messy dipping involved.
Recipe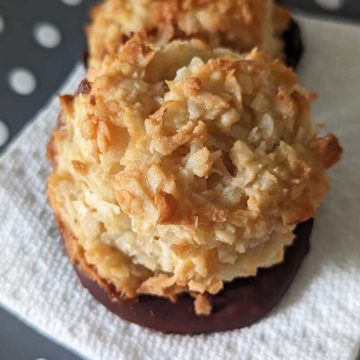 Gluten-Free Vegan Chocolate Dipped Macaroons
Gluten-Free Vegan Macaroons with a thick layer of chocolate on the bottom.
Ingredients 
⅔

cup

canned coconut milk (full fat, not lite)

(145 grams)

¼

cup

maple syrup or golden syrup or half of each

(80 grams)

⅓

cup

brown rice flour

(56 grams)

1

teaspoon

vanilla extract

¼

teaspoon

cream of tartar

¼

teaspoon

baking soda

2 ¼

cups

sweetened flaked coconut

(225-250 grams)

½

cup

best quality chocolate chips or about 3 or 4 oz dark chocolate, chopped
Instructions 
Preheat oven to 375F and line one large baking sheetswith parchment. If you are using anything smaller than a 13x18 inch sheet pan, you might need to use two. Or you can just bake six, change out the parchment and use the same pan twice.

In a mixing bowl, stir together the coconut milk, maple syrup, brown rice flour and vanilla until evenly blended.

Add the cream of tartar and baking soda and stir well, then stir in the coconut. If you are using unsweetened, first stir in 2 cups and add more as needed. I have not tested with unsweetened, so I can't give the exact amount yet.

The batter should hold together fairly well when scooped, but the mounds still might seem a little loose. If the batter seems too losoe to pack, allow it to stand for about 10 minutes. Using a generously packed medium cookie scoop, scoop out 12 balls onto the one or two parchment lined baking sheets.

Bake one sheet at a time for about 14 minutes or until nicely browned. I like my macaroons pretty brown, so I sometimes bake for even longer. Remove from oven and let cool completely, then peel away from the parchment.

Melt the chocolate chips (or dark chocolate) in the microwave using 50% power and stirring every 60 seconds.

Line a couple of dinner plates or something you can fit in your freezer with parchment. Spoon a tablespoon or so size circle of melted chocolate onto the parchment, then plop one of the macaroons right on it. Continue doing this with all the macaroons. Put them in the freezer for about 20 minutes or until chocolate has set, then peel away from the parchment.

Store in the freezer. They're great cold!
Notes
Brown rice flour seems to work the best.  I tested with a 1:1 gluten-free blend and the cookies tasted okay, but spread quite a bit. 
This recipe is loosely adapted from The Sweet Freedom Bakery recipe. The original recipe calls for unsweetened coconut milk and agave. I don't use agave very often and don't always have unsweetened coconut, so I use the readily available sweetened Angel Flake plus maple syrup. If you want to try these with unsweetened coconut, increase your syrup by 1 tablespoon.