Last night's Miniature Coconut Macaroon Cheesecake was a success. I was worried I'd overcooked it, and while I think it could have come out of the oven a bit sooner, it still had a good texture – that is, if you like thick and dense cheesecakes. I've typed up how I made it and shaved a couple of minutes off the first cook-time. For the second cook-time (after the meringue is added), I raised the temp so that it would brown faster.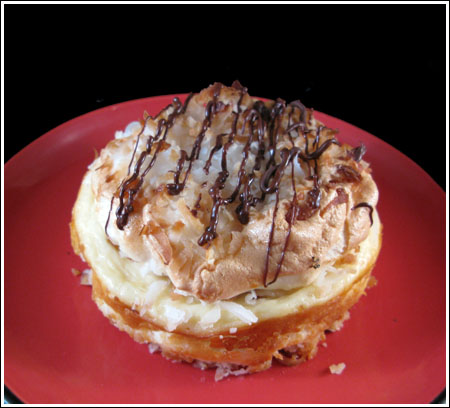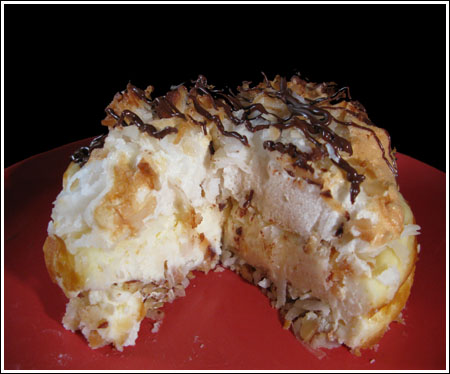 Miniature Coconut Macaroon Cheesecake
Crust
3 tablespoons shredded sweetened coconut
1 1/2 tablespoons ground almonds (toasted)
1 teaspoon melted butter
Filling
4 ounces softened cream cheese
1 tablespoons plus 2 teaspoons granulated sugar
1 teaspoon amaretto or 1/8 teaspoon almond extract
1 1/2 tablespoons egg
2 tablespoons shredded sweetened un-toasted coconut (divided use)
1 egg white, room temperature
Tiny Pinch of cream of tartar
1 tablespoon sugar
1/4 teaspoon vanilla extract
Garnish: handful of semi-sweet chocolate melted with a teaspoon of shortening
Preheat oven to 350 degree F. Rub a 4 inch mini springform pan with butter and lay a small circle of parchment over the bottom.
Prepare Crust: Combine 3 tablespoons coconut, almonds, and melted butter in a small mixing bowl. Press mixture into pan bottom.
Filling: Beat cream cheese, 1 ½ tablespoons sugar, and amaretto (or almond extract) in a small mixing bowl until smooth. Add the 1 ½ T. of egg and stir until combined. Do not overbeat. Pour filling into crust-lined pan. Place the pan on a cookie sheet and bake at 325 for 18 minutes – cheesecake should not quite be done when you pull it out.
Pull out the cheesecake and raise oven heat to 350 degrees F.
Combine egg white and cream of tartar in a mixing bowl. Beat with an electric mixer on high speed until soft peaks form. Gradually beat in the 1 tablespoon sugar. Beat on high speed until stiff peaks form. Beat in vanilla.
Sprinkle 1 tablespoon of coconut over the baked cheesecake. Spoon a big mound of beaten egg white mixture in center of cheesecake and spread it so that it comes about ¾ inch from pan edges. Sprinkle the fluffy egg white mixture with the remaining shredded coconut.
Return to oven and bake 13 minutes more or until lightly browned. Set the cheesecake on a wire rack and let cool for 15 minutes. Loosen the sides of the cheesecake from the pan. Cool 30 minutes more. Remove sides of the springform pan and let cheesecake cool for 1 hour.
Cover and chill at least 4 hours before serving.
Just before serving, heat chocolate and shortening in a small saucepan over low heat until melted.  Drizzle.
Serves 2