The cold weather had me craving biscotti, so this week I baked up a new flavor -- White Chip Macadamia Lemon Biscotti. As you can see I didn't do the best job dipping, but we were all happy with the flavor and texture.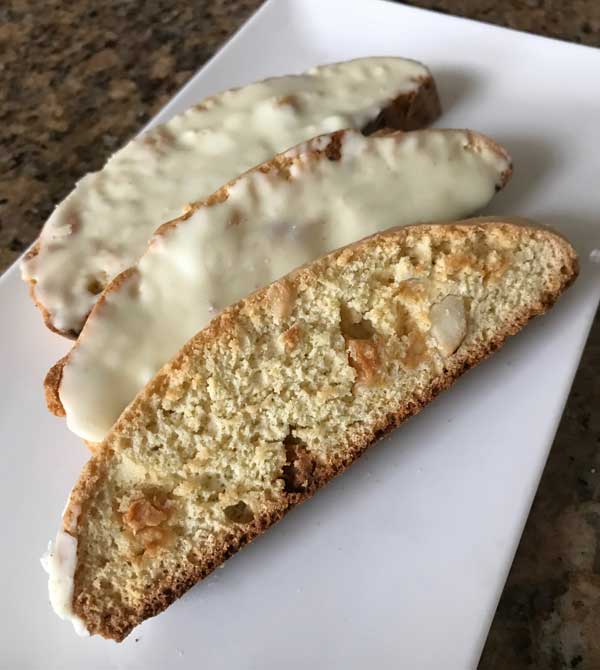 The recipe calls for lemon zest rather than lemon extract so the lemon flavor is natural. You can add lemon extract if you want, but in my opinion you don't need to. Also, this biscotti is made with a small amount of oil rather than butter, so it's crunchy and not as crumbly as some other recipes.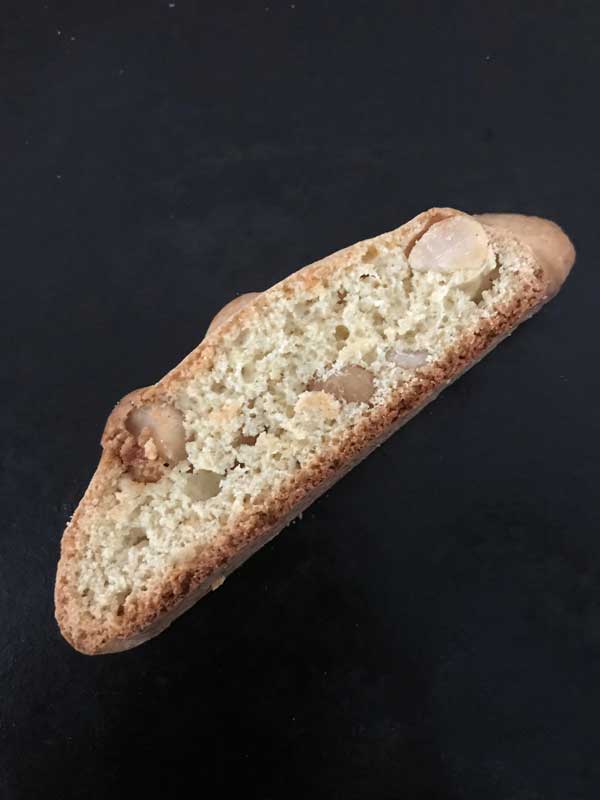 And finally, it calls for a double dose of white chocolate. White chips go in the biscotti, and the dipped portion is made with two melted Lindt chocolate bars. I melted them in a wide and shallow bowl in the microwave then plunged the whole cookie right in. Next time I'll probably dip them vertically or just drizzle the chocolate over the top. Either way, I'll definitely make these again.
Recipe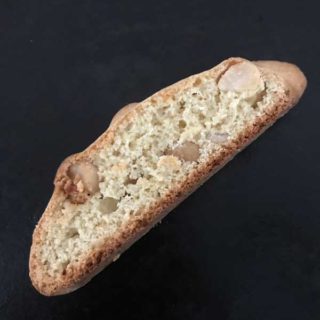 White Chip Macadamia Lemon Biscotti
Lemon flavored biscotti with white chips and macadamia nuts.
Ingredients 
4

large eggs

1 ¼

cups

granulated sugar

225 grams

3 ½

tablespoons

canola oil

3 ½

tablespoons

lemon zest

1

tablespoon

fresh lemon juice

3 ¼

cups

all-purpose flour

460 grams

2

teaspoons

baking powder

½

teaspoon

salt

1

cup

macadamia nuts

1

cup

white chips
Instructions 
Preheat the oven to 350 degrees F. Have ready two large baking sheets lined with parchment.

In a mixing bowl, beat the eggs with an electric mixer until well blended. Add the sugar and beat on medium high for about one minute, then slowly drizzle in the oil. Beat in the zest and lemon juice.

In a second bowl, mix together the flour, baking powder and salt. With a mixing spoon or heavy duty scraper, add the flour mixture to the egg mixture and stir until incorporated. Stir in the white chips and the nuts.

Divide dough into half and shape each halve into a log that is about 12 inches long and 3 inches wide.

Bake logs at 350 for about 30 minutes, one pan on each rack and rotating halfway through.

Remove from the oven and let cool for about 15 minutes.

Meanwhile, reduce oven heat to 300 degrees F.

Slide parchment onto a cutting board and using a serrated knife, cut slightly diagonally to make half inch slices.

Lay the slices back on the baking sheets.

Bake the slices at 300 for about 15-18 minutes, turning halfway through, or until slices appear dry. Transfer to a rack and let cool. Note: I usually check at about 12 or 15 minute and remove the smaller, stubbier pieces. The large pieces can go a little longer.