If you are in the mood to bake, then this is not your recipe.  This is actually a quick, no-bake throw-together freezer dessert made with convenience items.  In this case, that means Oreos, condensed milk, Cool Whip, and instant coffee.  Still with me?  If so, then you will probably love Frozen Mocha Cheesecake Loaf from Taste of Home. Not only is it very tasty, but it comes in two versions -- regular and "makeover" which is lighter.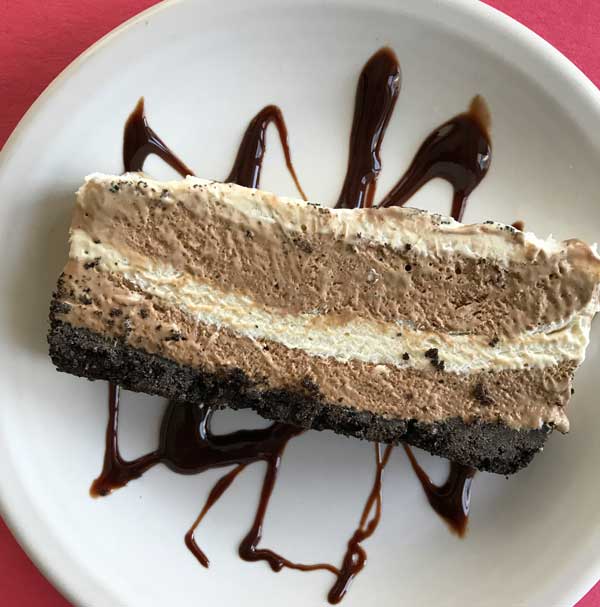 Old Weight Watchers Mud Pies
Back in the eighties Weight Watchers made these individual frozen desserts. One variety was a low calorie Mud Pie, and this recipe reminds me of the old Weight Watchers Mud Pie from years ago. As for appearance, Frozen Mocha Cheesecake Loaf is pretty after it's plated. Don't even think about bringing it to the table and making a grand presentation, because it's quite tacky looking before being cut. You have to peel away the foil, cut it in slices and plate it. If company is coming, add a garnish of berries.
Convenience aside, this is a pretty tasty and fun weeknight dessert for mocha lovers.
Recipe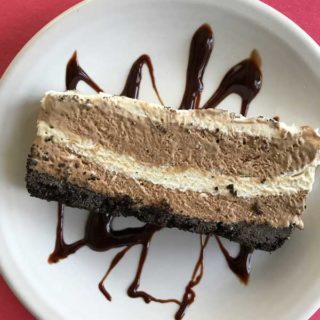 Taste of Home Makeover Frozen Cheesecake Loaf
This is a great weeknight dessert, classy enough for company if you slice it and plate it. The recipe can me made with regular or reduced fat ingredients and gets good reviews both ways.
Ingredients 
1 ½

cups

Oreo cookie crumbs

2

tablespoons

butter

melted

1

package

8 ounces cream cheese, softened (reduced fat okay)

1

can

14 ounces sweetened condensed milk (or fat free)

1

teaspoon

vanilla extract

4

cups

reduced-fat whipped topping

7

teaspoons

instant coffee granules**

1

tablespoon

hot water

½

cup

chocolate syrup
Instructions 
Line the inside of a 9x5-in. loaf pan with heavy-duty foil.

Mix together the cookie crumbs and butter and press firmly onto the bottom and a half inch up the sides of the loaf pan. Set aside while you make the filling.

In a large bowl, beat cream cheese until light and fluffy. Add condensed milk and vanilla and mix well. Fold in all of the whipped topping. Spoon about half of the mixture into another bowl and set aside.

Dissolve coffee granules in hot water, then fold into the first bowl of cream cheese mixture. Fold in chocolate syrup.

Spoon half of the chocolate mixture over crust. Top with half of the reserved cream cheese mixture. Repeat. Pan will be full. Freeze uncovered just until set, then cover and freeze for at least 6 hours or overnight. I recommend overnight.

To serve, carefully loosen foil from sides of pan and lift out. Cut into slices, then plate and serve immediately.
Notes
The original version on Taste of Home says it makes 12 servings, but at our house it's more like 8 to 10.