If you're too hot to bake but could go for something sweet, salty and chocolate-y, here's an easy recipe made with cashews. These are called Rocky Road Cashew Candies.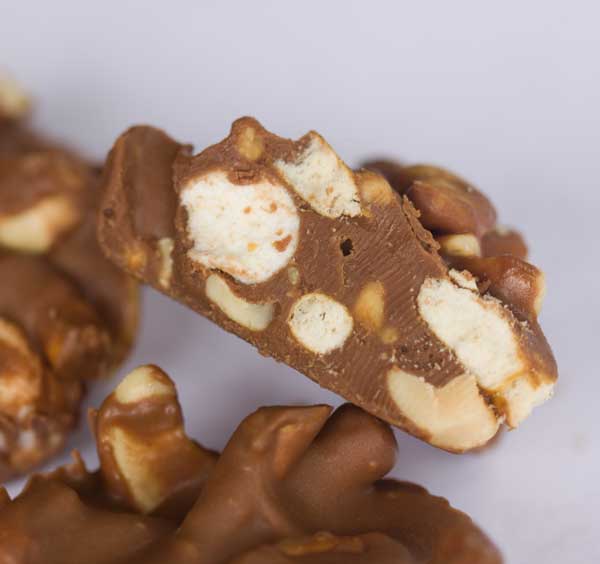 The recipe is a variation on a candy called "Mud", but in this version you divide the ingredients between paper lined muffin cups, chill, and peel away the paper to get little rounds of professional looking candy! For something so simple, it's incredibly delicious and perfect for hot days when the oven should stay off.
Rocky Road Cashew Candies
No-bake candy made with pretzels, peanut butter, cashews and assorted chocolate chips.
Ingredients
1 cup (6 oz) dark chocolate chips (l used Guittard extra dark)
1 cup butterscotch chips (Nestle or Hershey's)
1/2 cup peanut butter
1 cup frozen mini marshmallows (freezing helps prevent them from melting)
1 heaping cup of salted cashews (use more or less to taste)
1 cup broken pretzels (more or less to taste)
Instructions
Line 24 cupcake cups with paper liners.
In a large microwave-safe bowl or in the top of a double boiler, combine chips and peanut butter and stir well, coating the chips in peanut butter. Heat in the double boiler until melted, or melt in the microwave using high and stirring every 30 seconds.
Stir in the frozen marshmallows, cashews and pretzel pieces.
Divide the mixture evenly between the cups and put in the refrigerator to set the chocolate.
To serve, peel away the paper liners.
Store in the refrigerator.