Cinnamon Apple Scones are a variation on a recipe from Foster's Market in Durham, NC. Foster's version is double this and they make their scones a bit larger. In addition to their Cinnamon Apple Scones, Foster's makes Plain, Mixed Berry, Chocolate Chip Espresso, Lemon-Almond and more! So if apple's not your thing, there are some options in the notes.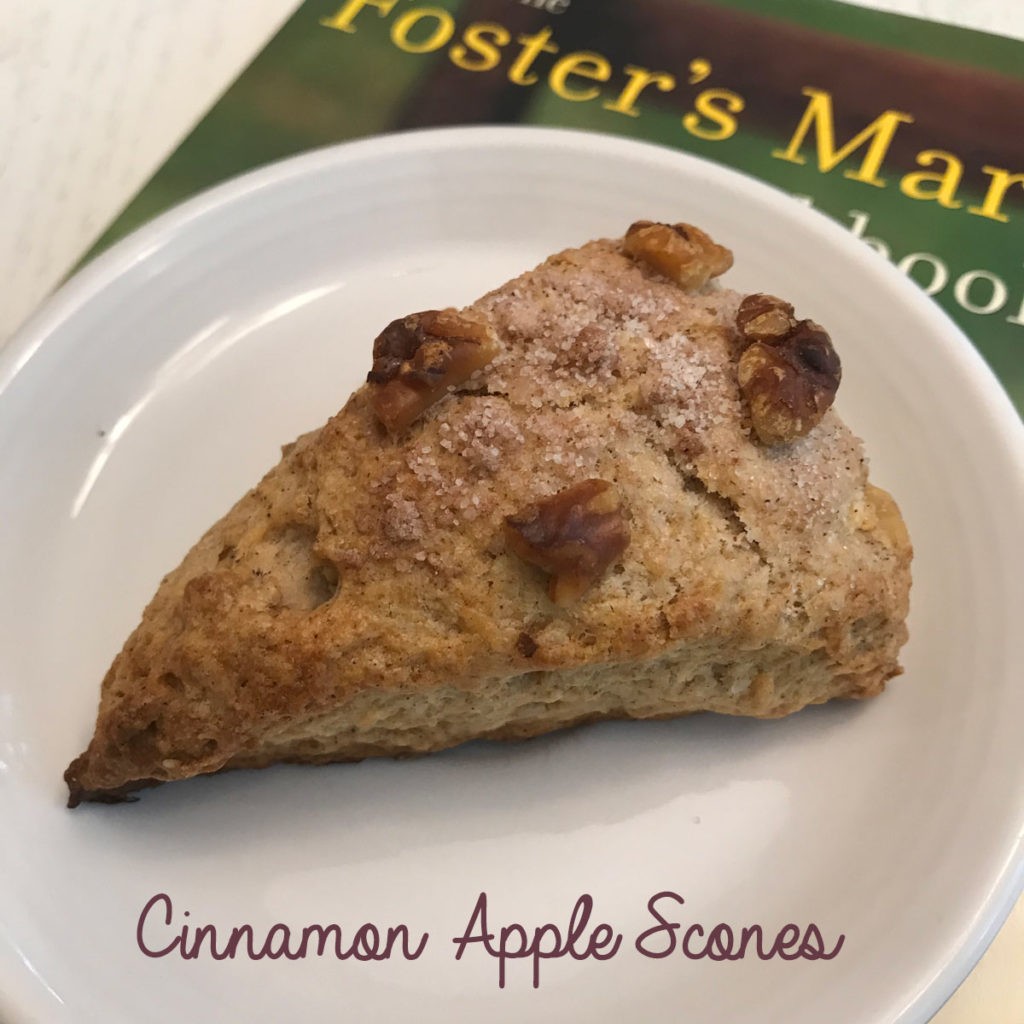 But if you do like a little apple in your scones, the Cinnamon Apple Scones are quite good. They're softer than most scones thanks to the apple, but they still have very crusty edges and are rich with butter.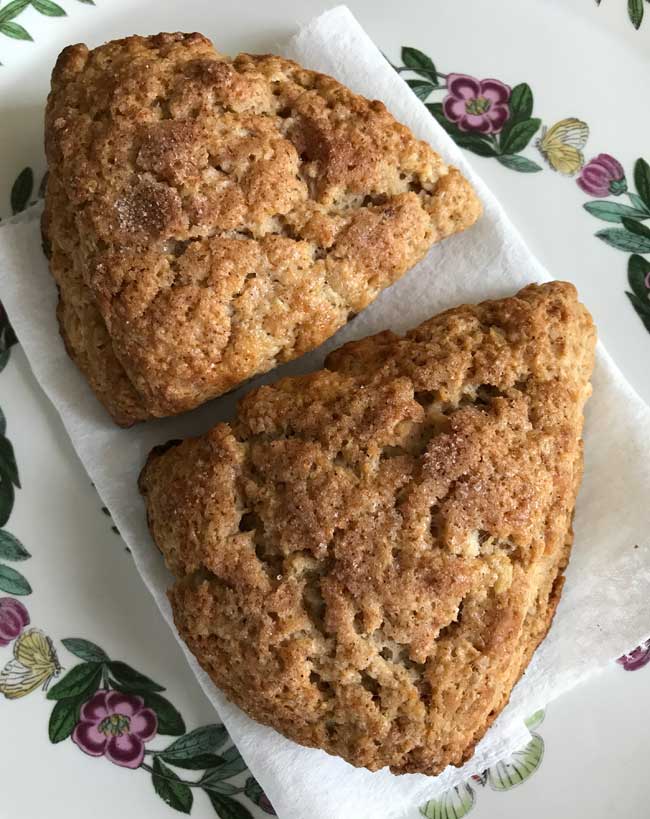 Scone Making Tips
Make sure to add the liquid gradually rather than all at once to ensure the dough doesn't get too sticky. If the dough is too sticky, the scones will spread.   For instance, the scones in the picture above were made with a wetter, stickier dough than the dough in the first photo. Also, these are not too sweet. I recommend topping them with a good bit of cinnamon sugar.
Half Batch Apple Scones
If you want to make scones but don't need a full batch, you can halve most any scone recipe.  Just halve all the ingredients, shape into a half-circle instead of a circle, and cut into triangles. Another way of shaping for a half batch is to make a rectangle and cut it into four triangles.  Or forget halving and just freeze the dough.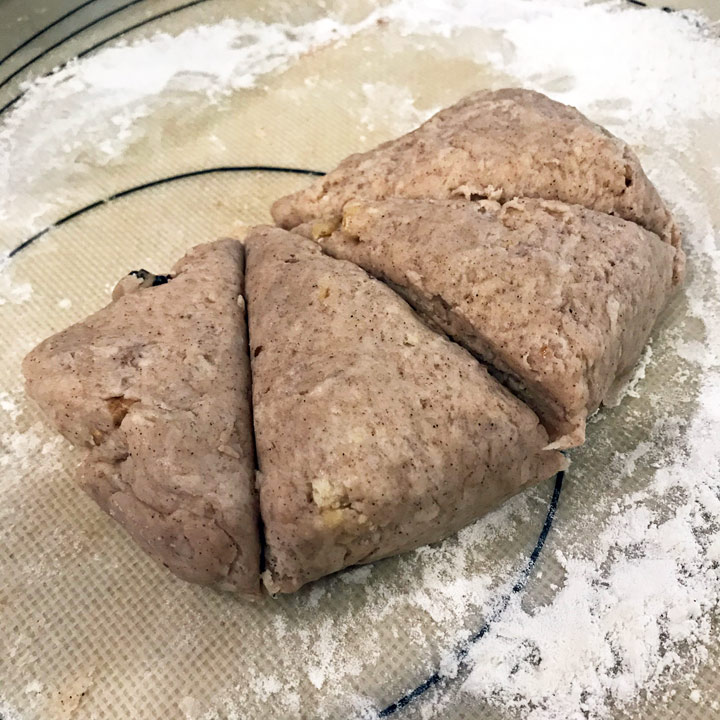 Apple Pie Scones
I recently came up with a version of scones that have actual apple pie in the dough. It's a variation on this recipe, and it's in the notes. You use white whole wheat flour in place of AP, omit 1 tablespoon of sugar, reduce cinnamon to 1 teaspoon, add a pinch of cardamom, then use 6 ounces/170 grams of mashed or chunked up apple pie in place of the apples. The apple pie gets worked into the dough so you end up needing less buttermilk. The end result is an apple pie flavored scones with chunks of cooked apples and little bits of pie crust!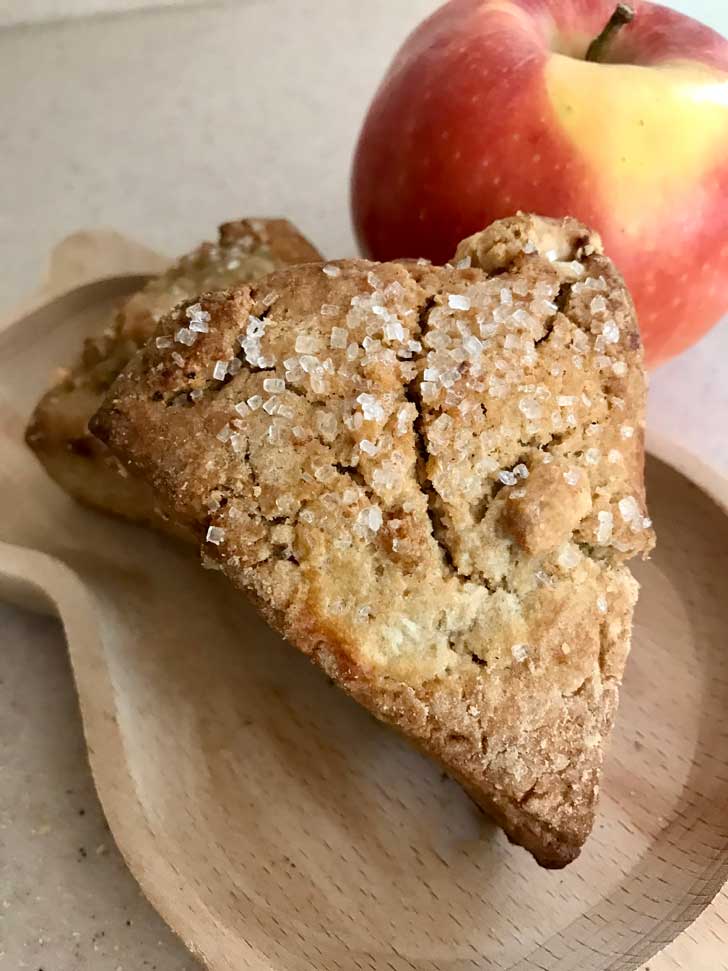 Recipe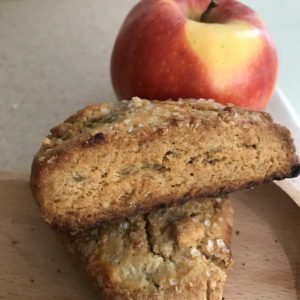 Cinnamon Apple Scones
Adapted from the Foster's Market scones, this recipe gives you 8 very cinnamon-y scones.
Ingredients 
2 ¼

cups

all-purpose flour

290 grams

¼

cup

sugar

50 grams

1

teaspoon

baking powder

¼

teaspoon

baking soda

¼

teaspoon

salt

plus an extra pinch

1 ½

teaspoons

ground cinnamon

⅔

cup

finely chopped

peeled Granny Smith apple

12

tablespoons

cold unsalted butter

144 grams (or use half butter & half shortening)**

½

cup

plus 2 tablespoons buttermilk plus more buttermilk if needed

1-2

tablespoons

of heavy cream for brushing tops

2

teaspoons

cinnamon sugar

mix 2 teaspoons sugar with a pinch of cinnamon
Instructions 
Preheat the oven to 400 degrees. Have ready a large heavy duty baking sheet lined with nonstick foil or parchment.

Combine the flour, sugar, baking powder, baking soda, salt and ground cinnamon in food processor and pulse to mix.

Add the butter and pulse until coarse and crumbly, then add the chopped apple and pulse until coarse. Add the buttermilk 2 tablespoons at a time and pulse until just combined and the dough begins to stick together. Add a tiny bit more buttermilk only if mixture seems very dry.

Empty the crumbly mixture onto a floured surface. Shape into a 6 ½ inch round.

Using a buttered chef's knife, cut round into 8 triangles.

Brush tops of scones with a little heavy cream and sprinkle with cinnamon sugar if desired.

Bake 25 minutes or until golden brown. Let cool for about 10 minutes before serving.
Notes
These are great with a handful of walnuts thrown in!  Also, I had to use half shortening for one batch and it actually improved the texture of the scones.  If you are okay with shortening, give it a try.
Variations:
For Apple Pie Scones, use white whole wheat in place of AP.  Add a pinch of cardamom and reduce cinnamon to 1 teaspoon.  Reduce sugar to 3 tablespoons and add a mashed or cut up piece of apple pie to the dry mixture before adding the buttermilk.  You'll end up needing much less buttermilk, so start by adding 2 tablespoons.
For Chocolate Chip Espresso Scones, add ½ cup semisweet chocolate chips to the dough.  Add about 2 tablespoons instant coffee mix to the buttermilk. 
For Mixed Berry Scones, use 2 to 3 tablespoons less buttermilk and use mixed berries instead of apple. 
For Lemon-Almond Scones, add the grated zest of 2 lemons and 2 tablespoons of lemon juice to the buttermilk.  Add almonds.
If you like the idea of scones but not Cinnamon Apple Scones, here are some more scone recipes I've posted over the years.