This Japanese Milk Bread is a recipe I've been making on and off for a couple of years. It was inspired by bread served at Kindred, a family restaurant in Davidson, North Carolina.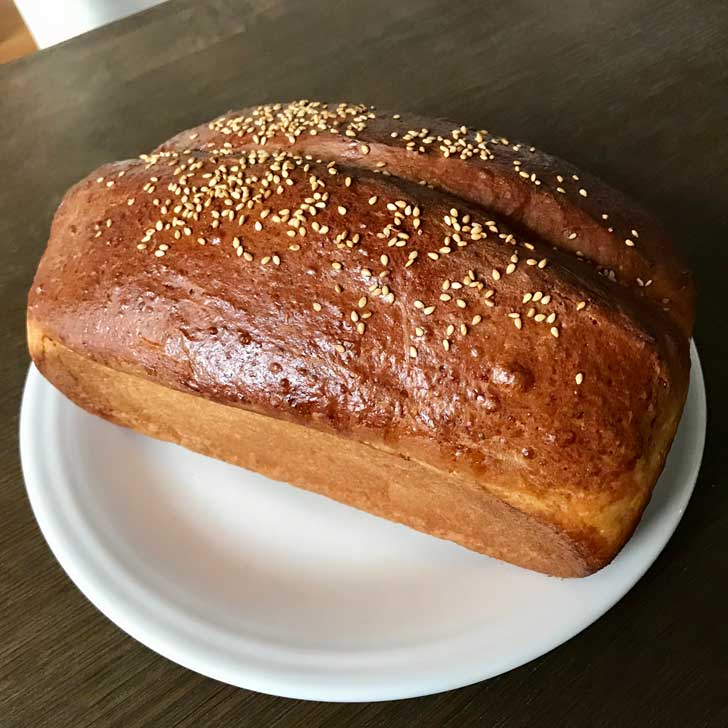 Kindred's milk bread is made using a Japanese technique called tangzhong, in which a mixture of flour and liquid is boiled together to make a starchy paste. When added to the dough, this paste helps make the bread soft and fluffy. In addition to enhancing the texture, it keeps the bread a little fresher for a longer time. I've yet to test that theory.
When I first made this, I started with a recipe from Food 52 but halved it and made some adjustments. If you plan on making the full batch I recommend using the original version. Just be sure to use a 9x5 inch pan rather than an 8 ½ by 4 ½! I used the smaller size and the loaf baked way high up over the sides of the pan. These pictures are from my first loaf. It was misshapen, but delicious and light textured.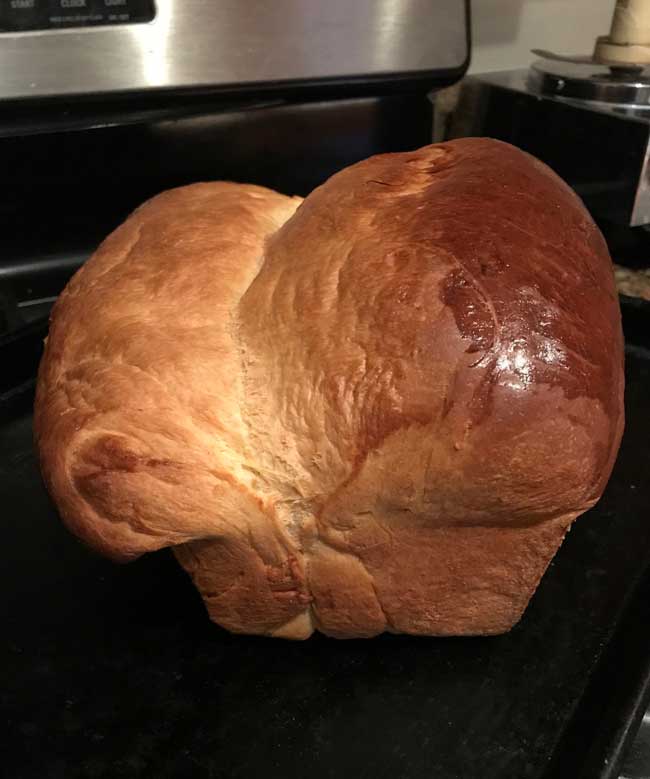 Here's another texture shot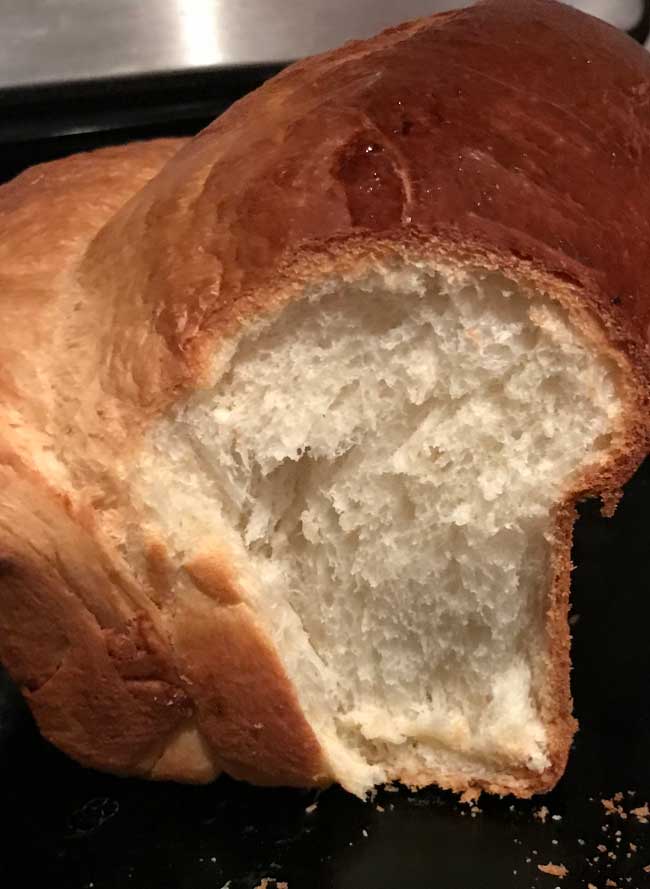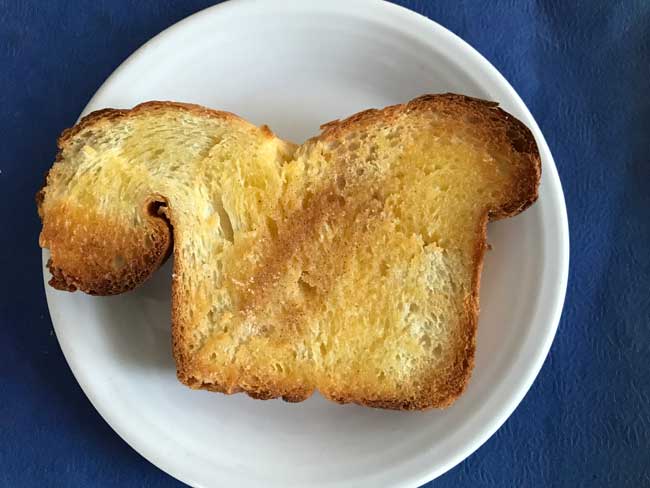 Milk Bread Ingredient Notes
Bread Flour -- I use King Arthur brand and go by weight.
Instant Yeast -- All of the loaves pictured were made with instant yeast or Platinum. I have yet to test this recipe with active dry yeast.
Salt -- The double version of this recipe on Food 52 called for 2 tablespoons salt, so I'm assuming they used Diamond kosher, which has bigger crystals and is about half as salty. If you are using Morton kosher or table salt, you only need 1 ½ teaspoon for one loaf.
Honey -- I always measure by weight and use 50 grams.
Recipe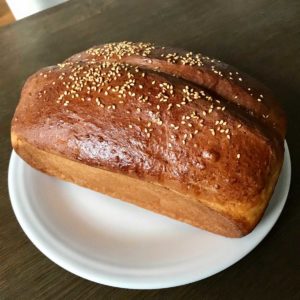 Kindred Inspired Japanese Milk Bread
Japanese Milk Bread is a fluffy, soft, brioche like bread. It's great straight out of the oven with a little butter, or toasted with garlic butter or cinnamon sugar.
Ingredients 
2 ½

cups

bread flour, plus another 2 ½ T.

350 grams plus another 20 grams

½

cup

water

½

cup

heavy cream

2 ½

tablespoons

honey

1 ½

tablespoons

nonfat dry milk powder

1 ½

teaspoons

salt

Morton kosher

1

packet

instant yeast

fast rising (2 ¼ teaspoons)

1

large

egg

room temperature

2

tablespoons

unsalted butter, softened

(28 grams), cut into small pieces

Eggwash

a little beaten egg mixed with a little water
Instructions 
Combine the 2 ½ tablespoons flour (20 grams) and the ½ cup water in a small saucepan. Cook over medium heat, whisking constantly, until a thick paste forms. Add cream and honey and cook, whisking to blend, until honey dissolves. This should only take a few minutes.

Scrape mixture into a stand mixer bowl and add the milk powder, salt, 2 ½ cups of flour and Platinum yeast. Stir with the paddle attachment or by hand until things start to look pretty well blended, then beat in the egg.

Attach the dough hook and let the machine knead the mixture until smooth. When dough starts to look smooth, add pieces of butter (mixer still going) and continue kneading for another 5 minutes or until dough is smooth and elastic. It is a soft dough and just slightly sticky. You should be able to move it around with a scraper. Also, it should clear the sides of the bowl as it is kneaded . If it is sticking to the sides of the bowl, add 1 or 2 tablespoons of flour.

Rub a large bowl with butter or grease with oil or spray with cooking spray, then scrape the elastic dough into the bowl. Cover with plastic wrap and let rise in a warm place for about 45 minutes.

Meanwhile, grease and flour a 9x5 inch loaf pan. If you want, you can grease, then line with a strip of parchment, then grease and flour again.

Turn out dough onto a floured surface and punch it gently into kind of a rectangle about the size of the loaf pan. Cut into two halves and set them next to each other running down the length of the pan.

Cover loosely with a greased piece of plastic wrap and let shaped dough rise in a warm, draft-free place until doubled in size (dough should be just puffing over top of pan), about 45 minutes.

Preheat oven to 375° F. Beat remaining egg with 1 teaspoon water in a small bowl to blend. Brush top of dough with egg wash and sprinkle with sea salt or sesame seeds if desired.

Bake the bread until bread is deep golden brown and baked through, about 35 minutes.