If you like baking with flax, be it for the flavor or health benefits, you have to try Soft Flax Bread. It is one of the fluffiest, softest (yet still chewy) homemade bread recipes on Cookie Madness. It reminds me of the Marathon Bread sold at Wegmans, but simpler and with fewer ingredients. It's perfect for toast, but also firm enough for sandwiches. Everyone in our family including HAL and Lizzie love this bread.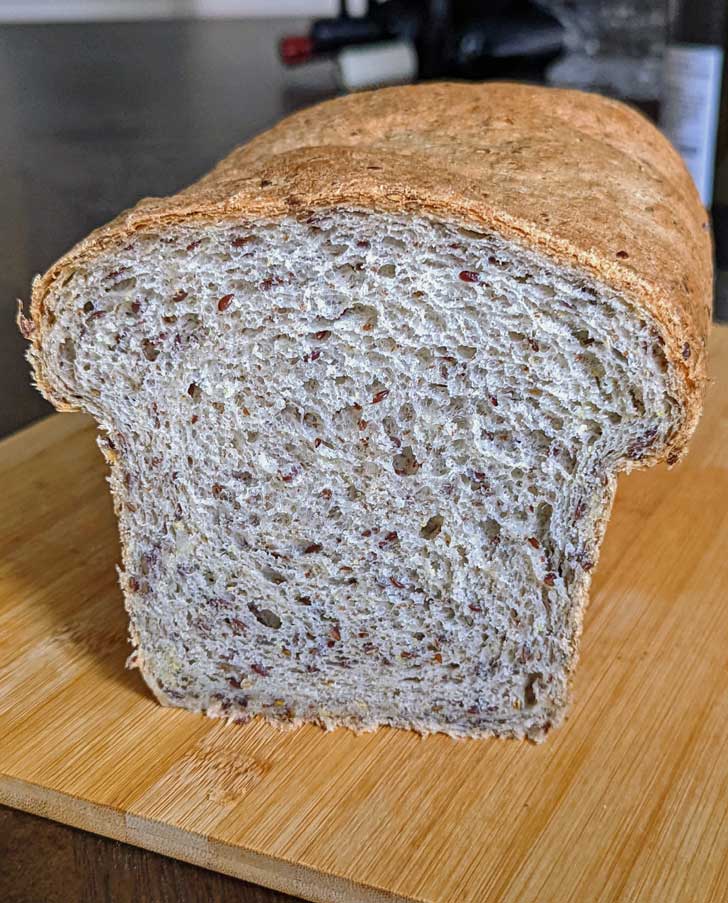 Flax Bread Notes
The recipe is originally from King Arthur, and it has all kinds of helpful reviews, including negative ones saying it's too soft or too salty, and/or not tall enough. After making this bread at least 10 times, here are my thoughts: -- It is soft and fluffy, but that's what I love about it. I do not think it is overly soft. -- Salty? I don't find it too salty, though I suppose it could be if you use table salt. Be sure to use Morton kosher. 1 ½ scant teaspoons weighs 7 grams, whereas 1 ½ regular (not scant) teaspoons of table salt weighs 12 grams. 1 ½ teaspoons of Diamond Crystals (not scant) weighs 6. So I use Morton kosher and keep the measurements scant. You could also use 1 ½ teaspoons Diamond. -- As for height, using an 8 ½ by 4 ½ inch loaf pan rather than a 9x5 takes care of that.
King Arthur Soft Flax Bread Recipe
The original King Arthur version is terrific and you may want to just try that one first. My version is a little chewier because I add soaked whole flax seeds. I also use butter instead of oil and sometimes use sugar rather than honey. The ingredients are interchangeable. For instance, if you want a vegan loaf you can use sugar and oil, or you can use butter and honey for a more full flavored loaf. Just keep in mind that any changes might affect the amount of flour needed for the dough, and getting that just right is the key to this recipe.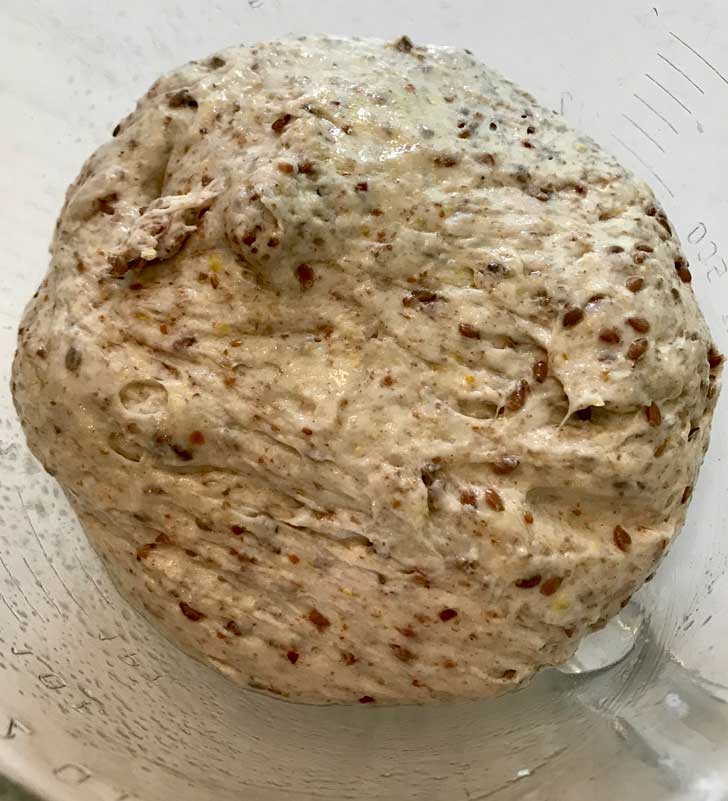 Dough Texture
This is a sticky dough. I've messed it up more than once by giving in to the temptation of adding extra flour. This dough starts out sticky and stays sticky throughout kneading. By the time you've finished kneading it will have some elasticity to it, but it will still need to be scraped from the side of the mixing bowl, so make sure you have a good heavy duty scraper. This has been my go-to scraper for the past two decades. After you scrape it into the oily bowl and roll it in oil, it will be slick, should have kind of a bouncy feel to it and be very manageable.
Despite being sticky, the dough is pretty strong. Here it is risen and ready to bake.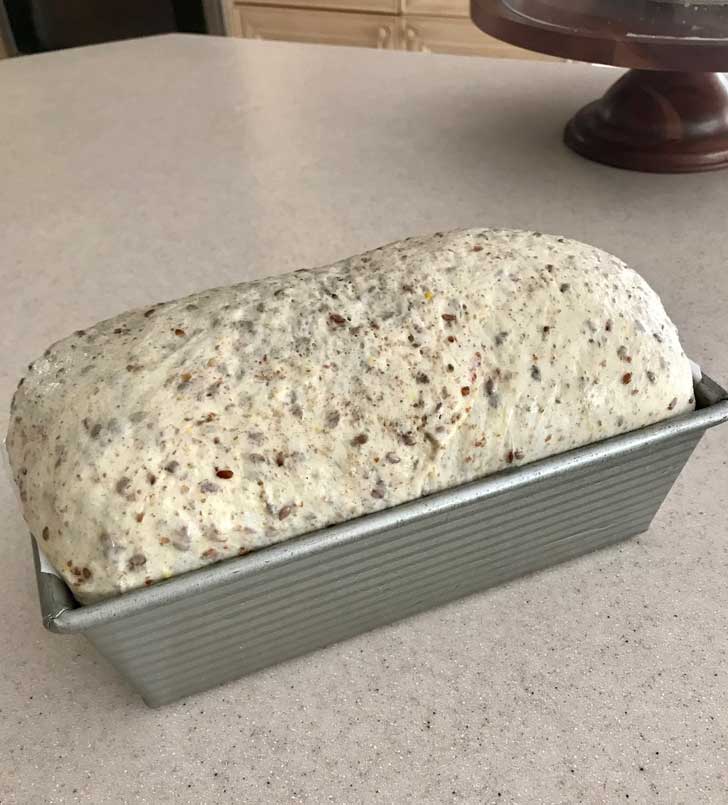 The bread will be soft at first, but will be firm and easy to slice once cool. As usual, I put it in the refrigerator for a few hours to make it easier to slice.
Soft Flax Bread Ingredients
Flax - You'll need both whole seeds and ground.
Water -- If using sugar, start with 1 cup of water. If using honey, start with ¾ cup and 2 T.
Instant Yeast -- I use Lesaffre SAF instant yeast. Instant yeast does not need to be dissolved in water, but I tend to do it anyway.
Bread Flour -- King Arthur Bread Flour. You'll start with 2 cups (280 grams) and add about 50 to 70 grams toward the end. If you use honey in place of sugar or oil in place of butter, you may end up needed a little bit more.
Salt -- Morton brand kosher. The 1 ½ teaspoons sounds like a lot, but is actually the correct amount. If you use table salt you may want to cut it down to 1 teaspoon.
Softened Butter -- If using salted, reduce the salt by ¼ teaspoon. If you'd rather use oil, you can use coconut, canola, grapeseed or olive oil.
Recipe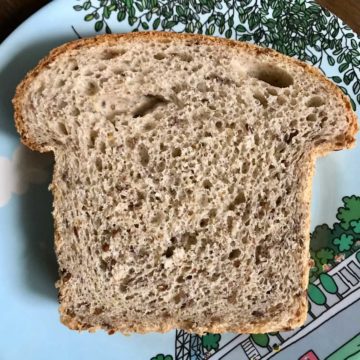 Soft Flax Bread
A sandwich bread made with whole and ground flax.
Equipment
Stand mixer with dough hook
Ingredients 
Flax & Water Mixture
4

tablespoons

whole flaxseeds

(40 grams)

5

tablespoons

warm water

(60 grams)
Dough
1

cup

warm water (110-115 degrees F)

(230 grams) OR use 210 grams if using honey.

2

teaspoons

instant yeast

2

tablespoons

sugar or honey plus a pinch of sugar

(30 grams sugar) (40 grams honey or maple)

2 ½

cups

bread flour flour, divided use (2 and ½ cups)

(280 plus 70/80 grams)

½

cup

ground flax

(55 grams)

1 ½

teaspoon

scant teaspoons kosher salt (Morton)

(7 grams)

¼

cup

softened unsalted butter

(56 grams) or (40 grams coconut oil)
Instructions 
Combine the 40 grams of whole flax seeds with 60 grams of warm (not boiling!) water. Set aside for at least a ½ hour or until you are ready to use. The flax will absorb the water and plump up.

In the bowl of a stand mixer, combine the 1 cup (or ¾ cup and 2 T. if using honey) warm water and yeast. Add a pinch of sugar. Stir to dissolve yeast, then wait for it to bubble a bit so that you know it's active.

Add the sugar or honey, 2 cups (280 grams) of the bread flour (reserve ½ cup for later), and salt. Stir with a heavy duty scraper until blended, then stir in your extremely soft butter and ground flax. Stir until blended.

Put the mixing bowl on the stand mixer and beat with the dough hook for about 30 seconds or until very well mixed. Remove from the stand and scrape in the soaked flax seeds and about half of the reserved ½ cup of flour.

Return to mixer stand and let the hook knead. Dough should still be sticking to the sides of the bowl at this point. Add remaining flour gradually until most of the dough clings to the hook. Some dough will still stick to the sides. Stop and scrape the sides and continue to knead on low, stopping again to scrape bowl, for about 5 minutes.

Grease a large bowl with oil or spray with cooking spray. Scrape the dough into the bowl and turn so that it is slick (or give it a spritz of cooking spray). Cover the bowl with greased plastic wrap and allow it to double in size (about 1 to 1 ½ hours).

Punch down the dough. I like to plop it out on a pastry mat, press it into a rectangle and turn it a few times. It should be easy to handle and not at all sticky at this point. Press into a big rectangle, then roll into a tight cylinder, pressing air out as you go, and shape into a loaf.

Press into a greased 8 ½ x 4 ½ inch loaf pan. Cover with greased plastic wrap and let rise again. This should take about 45 minutes to an hour Dough should rise up over an inch in the middle.

Bake at 375 degrees F for the first 20 minutes, then reduce heat to 350 and bake for another 20 minutes until browned and appears done.

Let cool for a good 2 hours before you slice it. This is a soft bread, but if you refrigerate it for a bit it will be firmer and easier to slice.