One of my favorite things in life is a high rising loaf of bread, so Cottage Cheese Bread makes me very happy! This is one of the highest rising and lightest textured loaves I've ever made. The recipe is not new. The original version is on Allrecipes.com where it is designed for a bread machine. Since I don't have a bread machine, I converted it to a stand mixer recipe, made a few tiny adjustments and baked it in a loaf pan.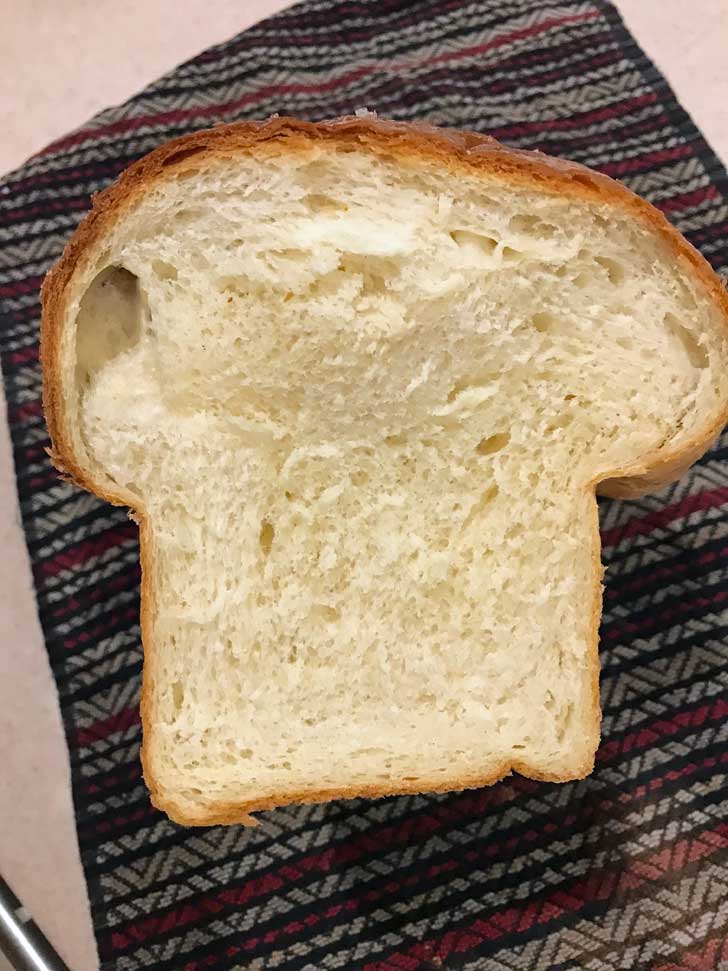 Here it is in a cast iron loaf pan, fresh out of the oven, after being brushed with honey and flaky sea salt. I was worried I wouldn't be able to slice it since it rose so ridiculously high, but once cooled it sliced just fine. It was even easier to slice after being chilled, which is typical.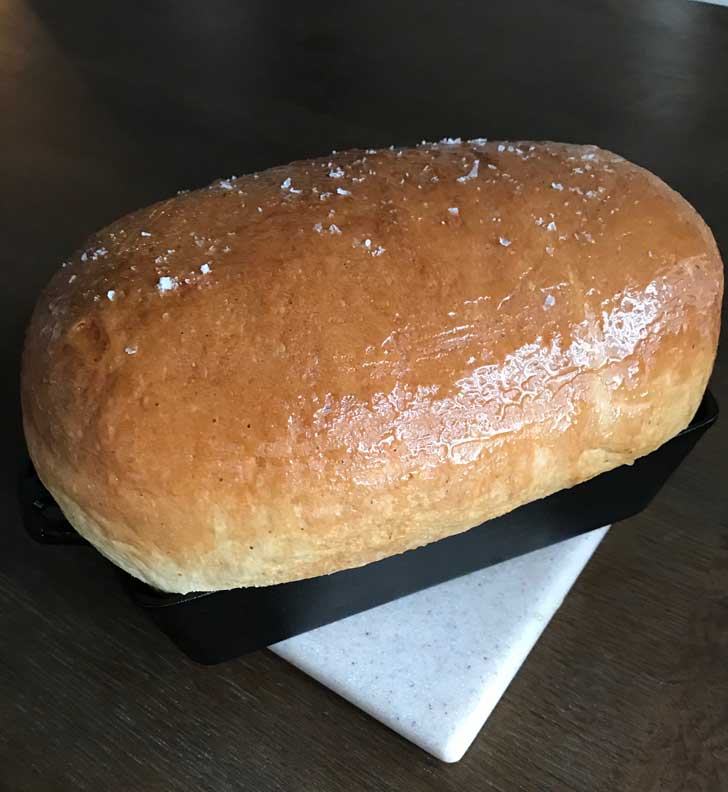 Here's what the dough looked like before and after. Usually when my bread rises this high in the pan it doesn't rise more in the oven. Not the case here. And it didn't collapse, which I attribute to the cottage cheese (and its protein) providing some structure.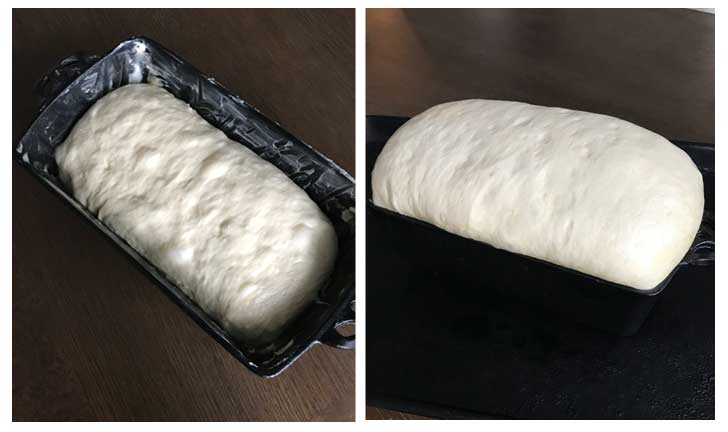 One of the old reviews described the texture as somewhat like angel food cake. I was a bit skeptical, but that person was right. The texture is a bit like angel food cake, but chewier and stable enough to hold sandwich fillings. It's amazing for garlic toast!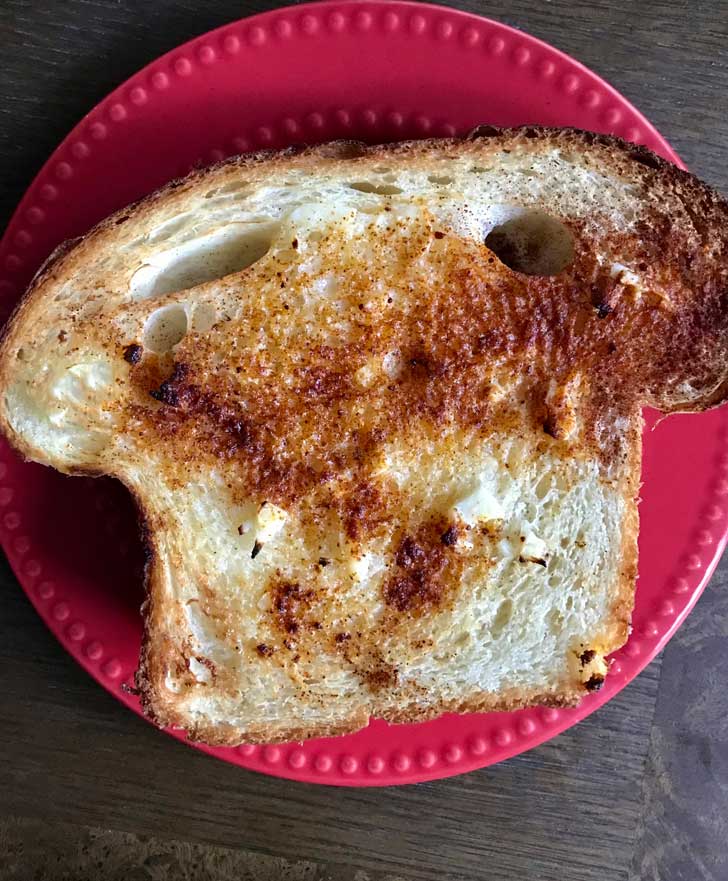 Cottage Cheese Bread in a Pullman Loaf
I finally tried making the bread in a Pullman loaf pan. I've been using my Pullman for a while because I love the high sides, but this was the first time I ever tried using the lid. I wasnt sure how much dough to use, so I took a chance and just squashed all 2 pounds of it in there pretty much knowing there'd be issues. The dough rose about ½ inch over, so when it was time to put the lid on and bake, I had to really squash it in there. Plus I'd left a little vent near the edge because I couldn't quite get the lid to close, and a bit of the dough baked up and my loaf had a little tail coming out of it. But even still, it worked! I cut the tail right off.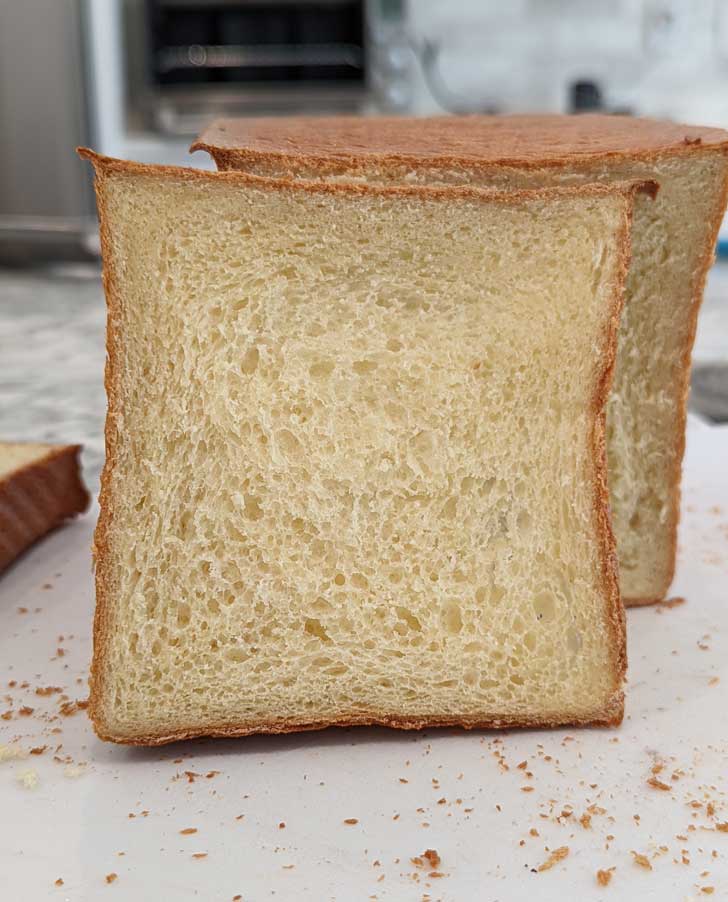 How Much Dough in a Pullman?
If I had planned better I would have used the equation from Kneadrisebake.com to get the correct amount of dough. Chris and Carrie say that the correct amount of dough to use in a Pullman should be about 5 ½ times whatever the volume is of your Pullman pan in grams. So you first have to know the volume of your Pullman pan. To figure that out, you just multiply the pan's DxWxH. You then multiply that number by 5, multiply it again by 6, then add the two numbers and divide by 2 to get the average. Updating to say the reason you multiple by 5 and by 6 rather than just saying 5.5 is you want to know the bottom end and the top end of the range.
Example. My Pullman pan measures 4"D x 7.6"W x 4.5"H so the volume is 137 cubic inches. 137x5=685 137x6=822. 685+822/2=753. So the "target" amount of dough should have been around 753 grams. I could have used as little as 685 or up to 822. I squished in a little under 900 grams which was just a tad too much. Next time when I make the cottage cheese bread I'll discard some of the dough and use 753 grams, which is 27 ounces or about 1 pound 11 ounces.
Will this equation work for other types of dough? We'll see! But the equations seems to work well in this cottage cheese bread recipe. I'll have to give it a try with my basic white bread.
Gluten-Free Cottage Cheese Bread
I recently tested this recipe with the new King Arthur Gluten-Free Bread Flour. I made the mistake of just dumping in 400 grams of flour rather than adding gradually, so I ended up with a dry dough that needed more water. Apparently the new gluten-free bread flour absorbs moisture quicker than all-purpose. Despite that, I got a pretty nice loaf of gluten-free sandwich bread enriched with cottage cheese. I'm going to test it again with the new gluten-free bread flour, but use only 300 grams to start. Update: Made it again with gluten-free flour and it worked! It only needed between 250 and 300 grams. Update: Tried it again with the gluten-free bread flour and it did sink a bit. It tastes good, but it doesn't have the fluffy texture of the wheat version. I'm working on a new version of the gluten-free version and will post it soon.
More Recipes with Cottage Cheese
Recipe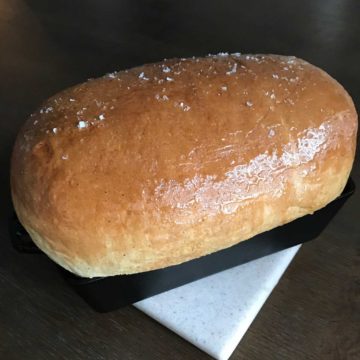 Cottage Cheese Sandwich Bread
This is a very light textured, high rising loaf bread with lots of flavor. For even more flavor, brush the top with honey and sprinkle with sea salt.
Ingredients 
½

cup

warm water (110-115 degrees)

2

teaspoons

instant yeast

4

teaspoons

sugar

3 ½

cups

all-purpose flour, divided use

(470 grams)

¼

teaspoon

baking soda

1

teaspoon

salt

1

cup

cottage cheese, not too cold (microwave for 10 sec)

1

large

egg, room temperature**

(60 grams)

2

tablespoons

olive oil or use half oil and half butter

(28 grams)
Instructions 
Put the ½ cup (114 grams) of warm water in a stand mixer bowl and add the yeast to proof. Add a teaspoon of the sugar. When you start seeing bubbles, add remaining sugar, ONLY 3 cups (400 grams) of the flour, baking soda and salt and stir to mix. Stir in the cottage cheese, egg and oil (or oil/butter combo). Use the paddle attachment of a stand mixer to blend.

Switch to the dough hook and begin kneading. It should be very sticky, so add another ¼ cup of flour. Continue to knead and scrape sides of bowl. Continue adding flour by tablespoons and kneading until dough climbs up the hook and doesn't stick to the sides of the bowl. Dough will be a tiny bit sticky, but easy to handle with a little oil on your fingers. This is a very smooth but firm and not too airy or fluffy dough. It will rise, but it takes its time, so be patient.

Put a little extra olive oil in a large bowl.

Put the dough into the oily bowl and then turn so that the dough is coated with oil Cover and let rise until it doubles in size. This should take at least an hour and maybe up to an hour and a half.

Punch down the dough and shape into a rectangle. Roll into a cylinder, pressing out air as you roll.

Pinch down the ends and put in a greased 8 ½ x 4 ½ inch loaf pan or a 9x5 inch loaf pan. Note: If you use the 8 ½ by 4 ½ inch pan, it will rise VERY high and be a little more awkward to cut. I kind of like the drama in that, so I use that size anyway. A 9x5 inch is more practical.

Cover loosely with some greased plastic wrap and let rise in a warm place until the dough domes about an inch (in the center) over the edge of the pan. This should take around 45 minutes.

Preheat oven to 400 degrees F. Put the loaf in the 400 degree oven, then close door and turn the heat down to 375F. Bake for 35 minutes. Remove from oven and brush hot loaf with honey and sprinkle top with a little sea salt.

Let cool in pan for about 20 minutes, then remove from pan and let cool completely.